Microsoft has come up with a new app called Send aiming to reduce the time it takes to respond to emails on your smartphones. It makes emailing more like instant messaging as it says goodbye to formal email constructs like Subject Line. Send app has been designed for in-and-out email.
With this new app, you are saved from following the tedious process to send an email from your smartphone. It makes email like SMS by taking you directly to the contacts lists without need to add a subject line. No signatures, subject lines or salutations are required when you make use of Send app. It gives the benefits of quick communications with your email contacts. It will surface your contacts right when you open the app. And when your contact is also a Send user, you can also see when they are typing response.
This is what Microsoft said in its blog post, "While tools like text messaging and IM are great for short messages, you often don't have your co-worker's cell phone number or an IM app on your work phone. And we've heard loud and clear from people at work, they want all their communications available in Outlook—even if they send them from other apps. This is where Send comes in! Send gives you the simple, quick text message-like experience while allowing you to reach all co-workers and have all of your communications in Outlook for reference later."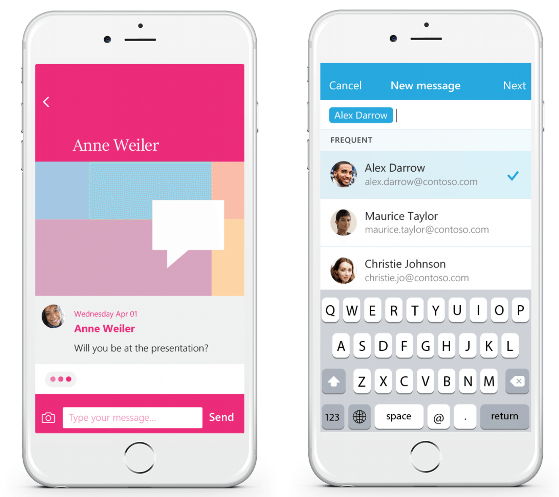 Presently, email process is considered as cumbersome, where you are required to open the app, then a compose window, type your contact, write a subject line and then you get to your message. Send removes all these steps and allowing you to directly come to your message and send it right away. Also, many email contacts are without a phone number and you might need to invite them to a separate messaging app. Send gives you the benefits of fast communications with your email contacts.
Send app chooses to show only the messages created and sent within the app itself. When the user connects his app to an Office 365 account, he will be able to pick up conversations anywhere.
The app is currently available in United States and Canada for iOS platform. It is coming soon to Windows Phone and Android Phones. You can download it for free from iOS app store and give it a try!
Let us know your thoughts about Send app in the comments!
If you like our content, please consider sharing, leaving a comment or subscribing to our RSS feed to have future posts delivered to your feed reader.

Please follow us on twitter @CodeRewind and like us on facebook