Asus ROG Strix XG27VQ Launched
Asus has come up with a new gaming monitor called ROG Strix XG27VQ. It is an inexpensive and impressive curved 27-inch screen and comes with a high refresh rate and AMD's FreeSync technology. It is aimed at gamers. This monitor costs $349 and is now up for order at Amazon. Here, we take a close look at its features.
Bright Display
With Asus ROG Strix XG27VQ, the ROG continues the design legacy and includes a bold and streamlined design. It features iconic tripod stand and has Aura RGB lighting on the back. It features a full HD display with 144Hz refresh rate. With such refresh rate, the fast-moving visuals are of no problem for the gaming monitor.
For Gaming Enthusiasts
The monitor comes with gaming-inspired design and integrates onboard Asus Aura RGB lighting and customizable light signature. It is designed with professional gamers in mind and offers a perfect blend of silky-smooth graphics and gorgeous aesthetics. The gaming monitor delivers incredible gaming experiences.
Proprietary Features
Asus includes a host of proprietary features such as Extreme Low Motion Blur technology in combination with Adaptive-Sync to make smooth visuals. This eliminates smearing and motion blur while making objects in motion look sharper. The adaptive-sync technology aims at delivering the smoothest and most breathtaking gaming visuals by eliminating screen tearing and minimizing display stutter and input lag.
Customization
Asus focuses on personalization and allows users to customize lighting via profiles in Asus Aura RGB software. Also, the gaming monitor has a unique light signature to allow gamers to create and customize light-projection effects. Asus Eye Care technology minimizes eye fatigue and ailments with flicker-free backlighting and blue light filters.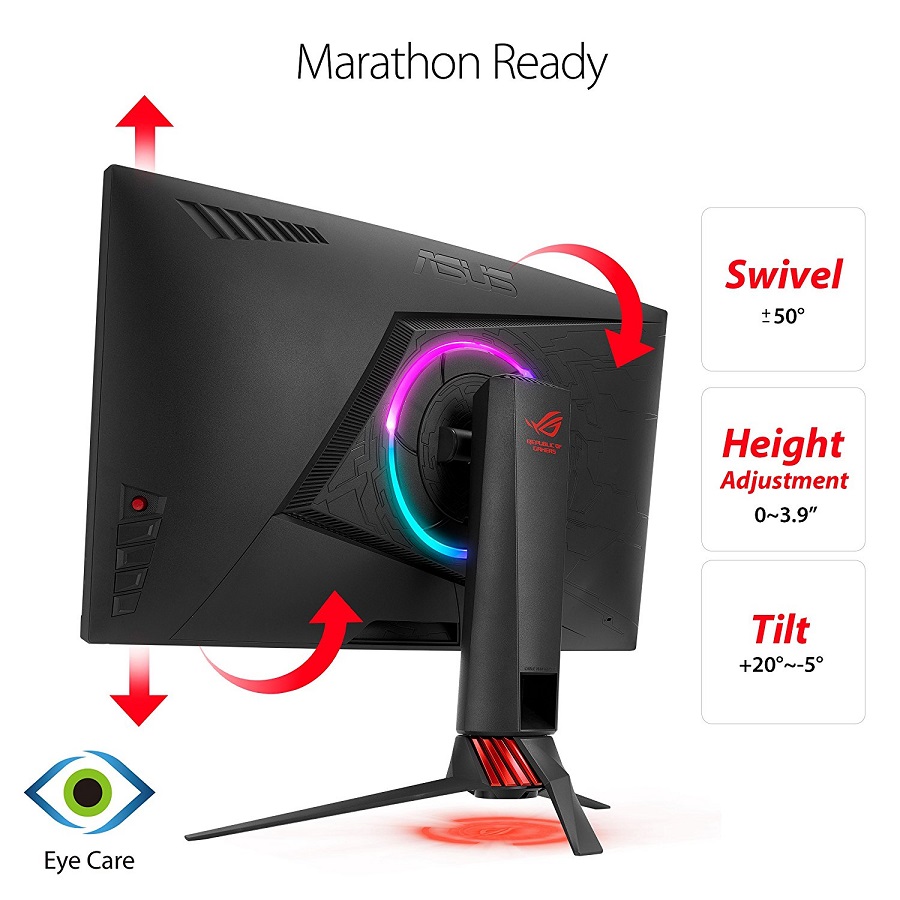 Exclusive Functionalities
The new MOBA mode offers exclusive GamePlus and GameVisual for more focused gameplay. GamePlus allows you to assign a hotkey for in-game enhancements. GameVisual technology provides up to seven preset display modes to optimize visuals as per the type of game. Then, there's DisplayWidget software that lets you weak settings of the monitor or apps included with the display.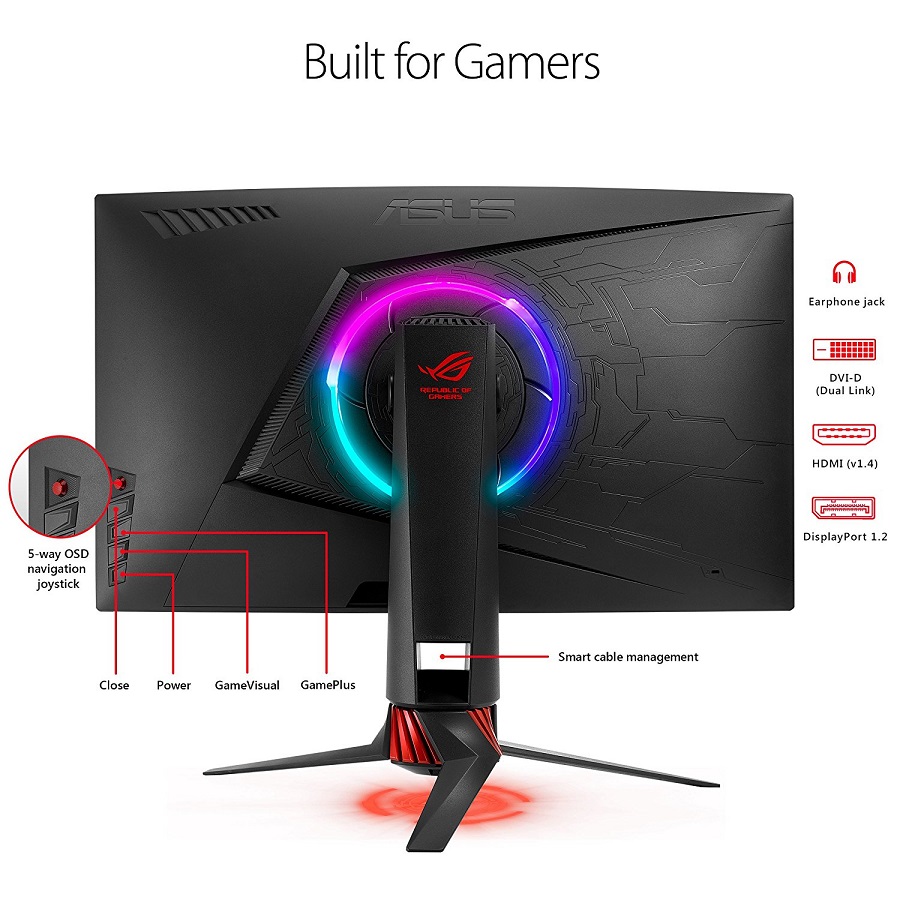 Other Details
It has included RGB functionality via a downward facing light and there's a ring surrounding where the stand connects to the display. The stand features an ergonomic designed stand to offer extensive swivel, tilt and height adjustment. In terms of inputs, it includes a single HDMI port and DisplayPort, supporting Adpative-Sync.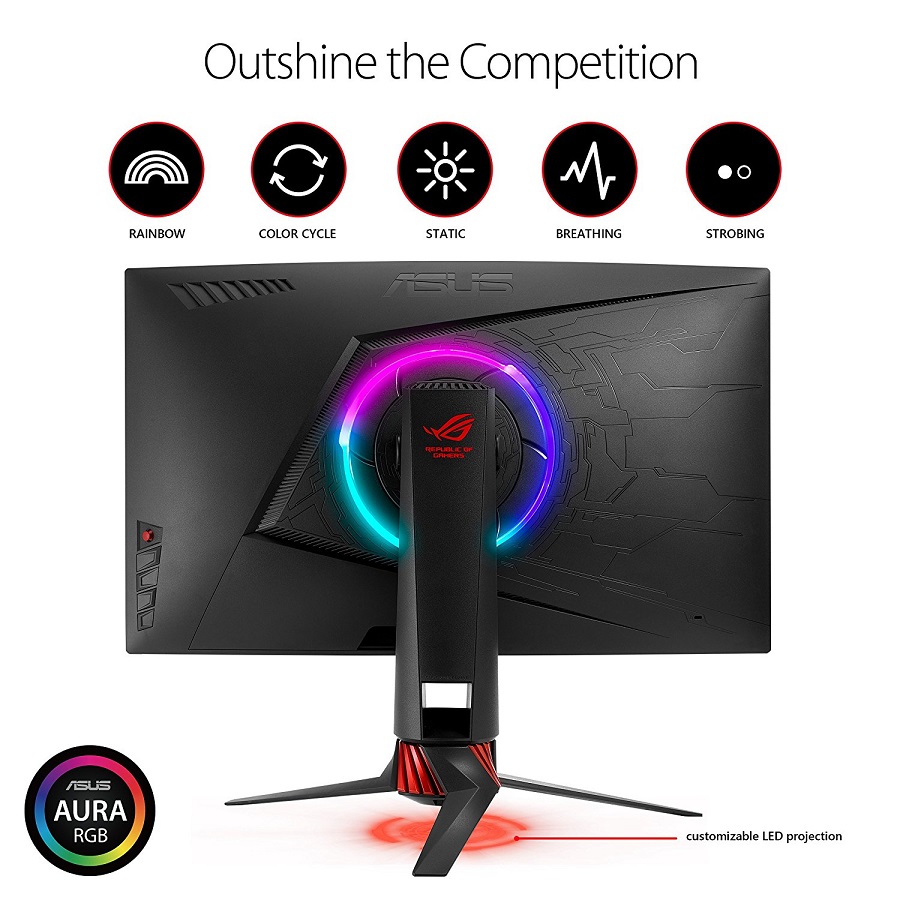 A quick look at specifications of Asus ROG Strix XG27VQ:
Specifications
Details
Panel
27-inch
Refresh Rate
144 Hz
Response Time
4ms
Resolution
1920 x 1080 pixels
Brightness
300 cd/m²
Contrast
3000:1
Inputs
1 × HDMI 1.4, 1 × DP 1.2
1 × DL-DVI-D
Price
$349
Available at
Amazon
Buy it from Amazon
It is now available for pre-order with shipping estimated in one to four weeks.
Are you planning to purchase it? Share your views about this gaming monitor with us in the comments.