Google Jamboard – Giant Whiteboard
Google has given a price and release date for the Jamboard. It is a 55-inch touchscreen display which comes with a pretty high price of $4,999 plus a $600 annual fee. But, it is still cheaper when compared to Microsoft's similar Surface Hub system. Also, if you buy the device before September, Google will cut the yearly fee to $300 and will also include a wall mount. Google Jamboard was first unveiled in developer preview last year and will be made available for enterprises in May 2017 in US.
Innovative Product
This innovative cloud-based digital whiteboard uses a 55-inch display at 4K resolution with a soft-touch plastic touchscreen panel. It is capable of picking up 16 touch points at once. It connects via HDMI and has built-in camera, speakers and wheeled custom stand. Google has also packed in Chromecast and NFC support.
Using It
The 55-inch touchscreen allows one to write, draw, sketch and scribble with handwriting recognition off or on. Google Jamboard is designed for whiteboarding and teleconferencing. All work you post on Jamboard is saved on Google's online storage service called Drive. Also, Jamboard has android and Apple apps as well. This allows for seamless transfer of files. Employees can use it to post their ideas, documents and images via cloud. Even, they can use their fingers, stylus or smartphones to share information and content from anywhere with an online connection.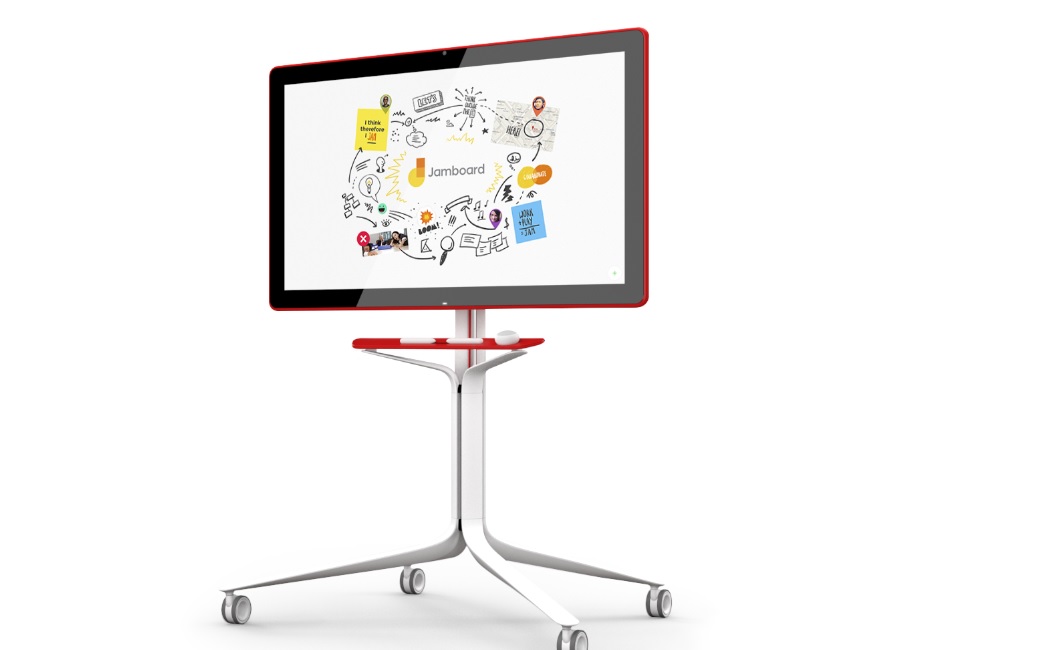 G-Suite
The interactive display allows for improved collaboration during meetings. Participants can also contribute to Jamboard via their mobile devices. Jamboard works best with G Suite and also offers multi-user support from different devices. Obviously, you don't have to be using G-Suite to buy a Jamboard. This product works seamlessly with existing mobile devices as well. It will also sync with the Hangouts Meet app. This giant 55-inch whiteboard sits on a rollers-attached stand which you move around the office easily.
A quick look at features of Google Jamboard:
55-inch 4K UHD display
16-simultaneous touch points
Handwriting and shape recognition
Google Cast
NFC
Built-in microphones
HDMI 2.0, USB Type C, 2 X USB 3.0
Google Cast
120Hz touch scan rate
For all those companies who have invested heavily in Google's products like G-Suite, Cloud etc., buying Jamboard does make sense. The device will become available in May and comes with two styli and one eraser.
What are your thoughts about Google Jamboard? Let us know in the comments!