Google Allo for Web
Now, you can access Google Allo via your web browser. The full Google Allo service now works from your computer. But, there's a small caveat. It works on a computer if you use an Android phone. You can only install it by scanning QR code on your Android phone. Also, it won't work if you try to view Allo for web on your mobile browser. Google Allo was launched as a messaging app to do a lot more than just sending messaging to other people. This smart messaging app has the power of Google built-in and can learn over the period of time. Now, Google is expanding its features.
Getting Started
To get started, you need Google Chrome browser. You need the latest version of Google Allo on your Android phone.
Now, go to app's menu and click on Allo for Web.
On your computer, visit https://allo.google.com/.
On your phone, open Google Allo app.
Tap Menu, Allo for Web and Scan QR code.
Scan the Code on Allo for Web.
It automatically connects and Allo opens up on the browser.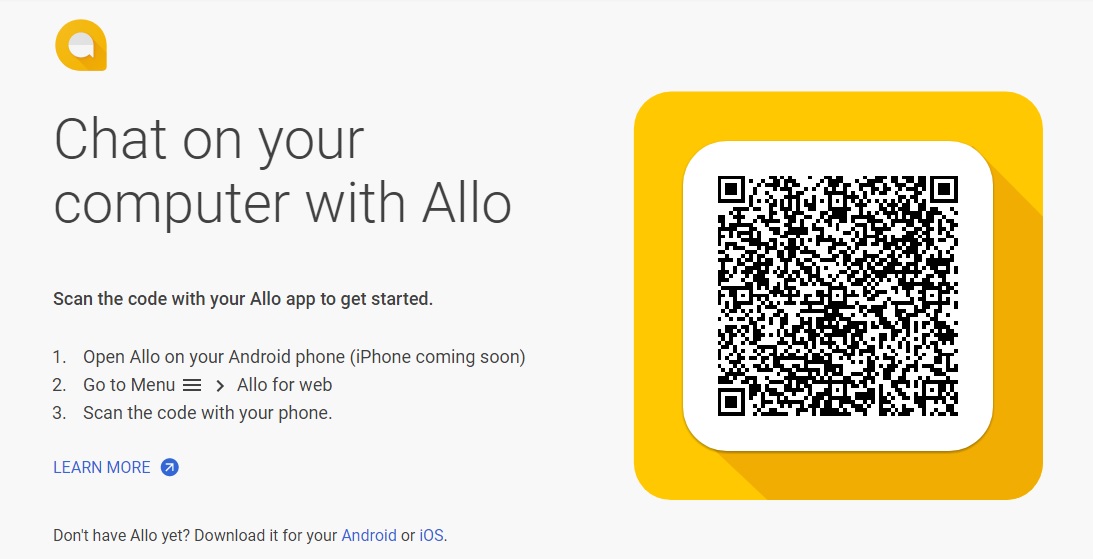 Web Interface
The web interface is easy to navigate just as the mobile one. There's a sidebar of your conversations and a collapsible list of sticker packs. The missed out features include iMessage-style animation that indicates the other person is typing and also you won't be able to make selfie stickers. You can summon Assistant into conversations, attach files and more. But, there's no way to access the camera.
Also, the Google Allo for web shows what's on the mobile app. For example, if your phone runs out of battery or if you exit the mobile app, the web version would not work. The feature works in a very similar way as WhatsApp for web. Your phone needs to be online and running the Allo app for the web interface to connect.
All of your conversations will be pulled over and you will be able to quickly continue the conversation where you left off. All Allo features are supported ranging from group chats to stickers to incognito conversations and more.
Do you use Google Allo? Do you find this feature useful? Share your views with us in the comments.