Organizing and displaying photos together has its own charm. It gives you a broad visual view and context of the photos. There are many different apps for Android and iOS, which has different features to make the photo collages look attractive. We have compiled a list of the best photo collage makers; here are a few from them:
1. Layout
Layout is a free collage maker made by Instagram. It is user-friendly, and it makes sharing with your friends easier. You can take photos within the app, or you can import from your photo albums. The editing within the app is easy, as it allows you to resize, replace, or mirror images with a tap. A good thing about using Layout is that it doesn't require you to create an account. With this photo app, you can use up to 9 photos to create a layout. The Faces tab in the app will let you find photos with people in them. The layout which you created through the app can be saved in your camera roll.
2. PicCollage Grid and Photo Editor
The PicCollage App can be used not only for making collages but for stories, wallpapers, and cards. There are more than 100 photo grids available in the app, along with stickers and festive backgrounds. The PiCollage app can also be used to clip, draw, and decorate your collages. There are instant layout features in the app, which can automatically arrange your photos. The collages from the app can be printed in the form of greeting cards or made into a custom phone case. With the premium version of the app, you can remove ads and watermark from the photos and get more features.
3. Moldiv
Moldiv is a multi-purpose app which has a camera, collage maker, and a photo editor built-in. With Moldiv, you can make collages which looks like a magazine with the help of 135 magazines presets. The app also has more than 300 stylish frames which you can add in the collages. The collage aspect ratio can be freely adjusted, and the user interface is quite intuitive to create a collage easily.
4. Diptic
With Diptic, you can photo collages and video collages as well. There are more than 190 layouts from which you can create a photo collage, and each of them is customizable according to your needs. You can add captions, filters, borders, and more. You can put up to 9 videos or photos in each layout. There are paid features like expandable layouts which can be used to create rectangular Diptics. The files can be imported in the app through your camera roll, Instagram, Facebook, Dropbox, or Flickr. The collages created within the app can be exported in high resolution.
5. PicStitch
PicStitch can be used to create photo collages and video collages. The app also has a photo editor to enhance your photos. There are over 300 layouts which you can use to create collages. The 15 aspect ratios can be used to change the image dimensions. PicStitch can add music to your collages to make it more lively and engaging. After creating your collage, you can export any platform that accepts JPEG images like Instagram, Dropbox, etc. There are many filters available which you can apply to give effects to your photos. The images you created can be saved in high resolution and shared via email or social media channels.
6. PhotoGrid
With the PhotoGrid app, you can edit the photos, design them into grids, and finally put them in frames. The app also allows you to create video grids where you can even combine photos and videos. The scrapbook is another feature of the app where you can create freestyle albums. There are more than 300 layouts for grids, and in each grid, you can add up to 15 photos. To add effects to the photos, you get more than 100 filters. The app provides basic editing features like crop, resize, rotate, watermark, etc.
7. Fotor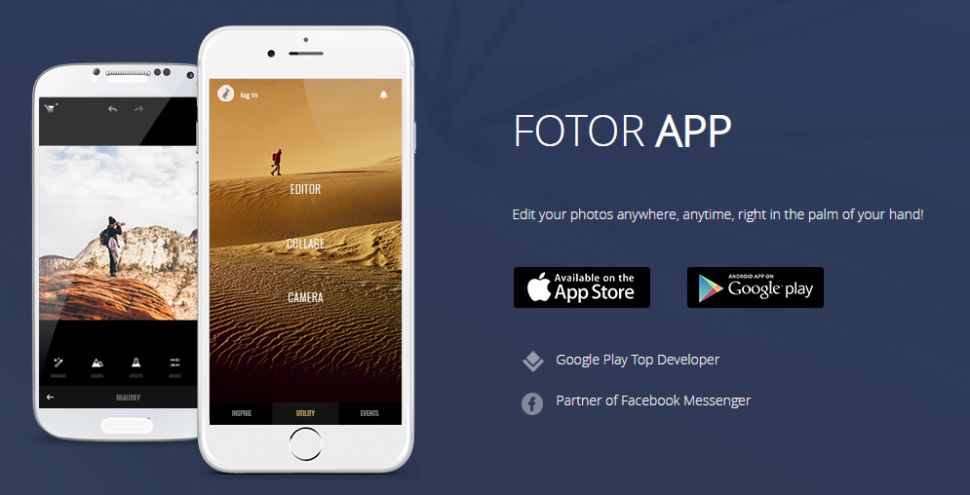 Fotor is a revolutionary Photo Editor and Collage Maker. Most of the basic features of a photo editor app is free with premium features available for a subscription fee. Fotor provides hundreds of collage templates in various styles to make creative photo collages. You can pick Classic, Artistic, Funky collages or use the Photo Stitching tool to create best photo collages. Fotor.com also offers online Photo editor with plenty of features.
Your Pick
Which is your favorite app when it comes to creating photo collages? Is your favorite app included in our list or do you have a different choice? Let us know your thoughts in the comments below.