Thanks to the number and varieties of apps, our smartphones have transformed into a productive and entertaining device. There is now a lot much more than just great hardware and software on a phone. Today, apps play an important role in helping customers decide what phone or platform they should go for. As compared to iOS and Android, Windows Phone has typically been trailing behind in terms of number of apps.
[leaderad]
But, now the situation is improving. According to Microsoft, they are boasting and Windows Phone Store has crossed the 300,000 mark, with number of apps being added on regular basis. Microsoft has updated its "by the numbers" page to represent that Windows Phone Store has surpassed 300,000 app milestone. Windows Phone apps have shown massive increase and now many recognized brands and businesses have their apps on Windows Platform as well.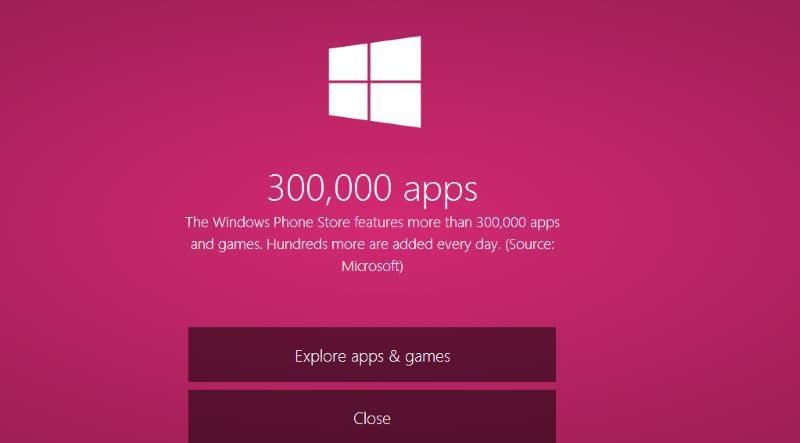 Over the past few months, we have seen many popular developers coming to Windows Phone platform. Also, it is not just about new Windows Phone apps, developers have also started to upgrade their apps more often. We see Windows Phone is gaining market share in several global market. Back in 2013, Microsoft revealed that they had around 200,000 apps and in less than a year, they have managed to break the 300,000 mark. A Microsoft spokesperson said, "In the past year alone the Windows and Windows Phone app catalog has grown 94%, while the number of active developers has grown by 50%."
Hopefully the rate at which Windows Phone apps are growing will increase and they will finally be able to catchup to iOS and android in near future. Some of you guys may wonder why does anyone need that much number of apps? Well, you may end up using a fraction of available ones, but it is good to know that there are lots of choices when you are looking for an app to perform specific tasks. Download all required Windows Phone apps today!
Have something to add to this story? Let us know your comments.