Microsoft Surface Pro 5
The leaks and rumors about Microsoft Surface Pro 5 are in the air. Some specifications and details have emerged online and it looks like consumers need to wait for a bit long before they can finally get their hands on the tablet. Reportedly, Kaby Lake processors might delay the launch of Microsoft Surface Pro 5. It is speculated that the forthcoming Kaby Lake processors are faster than the Skylake processors. Here are the details we know so far about Microsoft Surface Pro 5.
Design
The upcoming Microsoft Surface Pro 5 will come with same design and appearance as its previous counterpart. The device will flaunt a tablet body with an optional keyboard which can be detached from the device. The rumored specs include a 4K UHD display, a higher capacity battery and an improved Surface Pen. Most news suggests that the upcoming Surface Pro 5 will feature the same qualities with recently released Asus Transformer 3 Pro.
Display
When it comes to screen resolution, Microsoft Surface Pro 4 offered a razer-sharp 267 ppi at 2736 x 1824 pixels within a 12.3-inch screen. Now, it is expected to be much sharper and equipped with a 4K screen. This would rip its productivity and entertainment capabilities. Though Surface Pro 4 is big enough for all tasks, but is still not the common default size of most laptops: 13.3 inches. This could be due to Surface Pro as a line between laptop and tablet. Some expect that the screen size will also increase along with the resolution to 13.3 inches. The surface book has a 13.5-inch display and is already a hybrid. It seems Microsoft will keep an obvious size between the two ranges.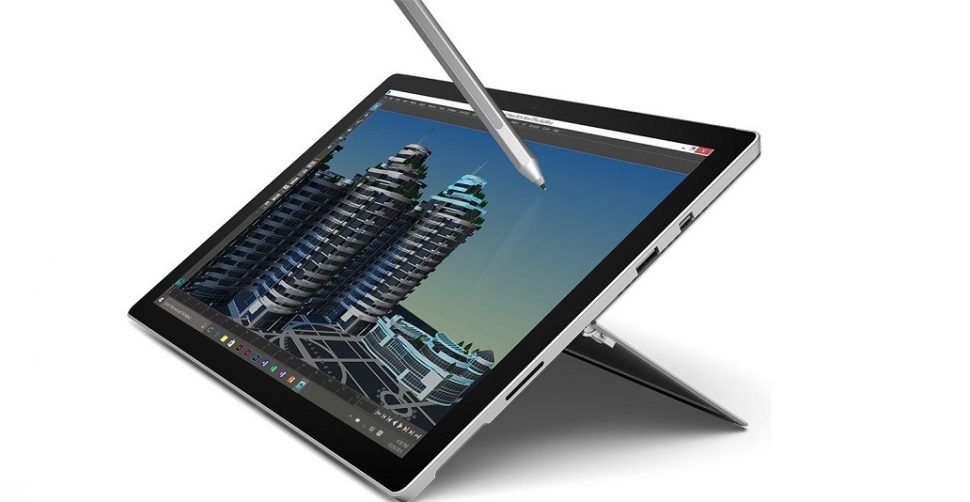 Image: Microsoft Surface Pro 4
Processor
The Intel Core i7-7700K Kaby Lake processor is capable of a GPU performance of 37.41MP per second, a DDR4 latency of 23.3 nanoseconds and 313.84MP per sec multimedia processing. It will be powered by an Intel Core M Processor up to 16GB of RAM, up to 512GB eMMC storage space which will be accompanied by high capacity rear camera, most likely 16MP. The new Intel processor is said to improve the battery performance of the tablet. This could be a key part of the new Surface Pro. This could address the issues faced by Surface Pro 4 users for low battery performance issues. If reports are to be believed, it could feature the upcoming next-generation AMD graphics processor codenamed Polaris, or NVIDIA's Pascal.
Stylus
The touchscreen stylus is included by default which is a nice upgrade from the current model. If the reports are to be believed, the Surface Pen's triple A or button cell battery would be replaced by a rechargeable battery. It is very likely that Microsoft will upgrade its Surface Pen stylus accessory.
USB C port
We could potentially see a USB C port added to the Surface Pro 5. It will include a USB 3.0 port, a Mini DisplayPort for video, a microSD card slot and an audio jack.
Price and Availability
As far as published reports are concerned, it may launch in October 2016. Last year, the Surface Pro 4 was announced in October 2015 and hit shelves later the same month. It is likely that the pricing of the device will start at $899 and escalate from there depending upon the configuration and accessories chosen.
Are you waiting for the release of Microsoft Surface Pro 5? Share your views with us in the comments.