Pinterest, the popular online social network, is all set to transform scrapbooks into storefront. The company made the announcement that it is launching buyable pins during a media event at its San Francisco headquarters. These buyable pins will enable shoppers to purchase products directly off Pinterest by tapping a blue Buy it button. Users will get the opportunity to choose from among two million pinned products displaying the new button along with red colored Pin It button.
These pins will let users make purchases directly from the mobile app. The buy buttons will roll out on iPhone and iPad for U.S. users later this month. Android and desktop support will come later. One will be able to pay for the items via Apple Pay or credit card.
When these Pins will be live, you'll see prices for the items and can buy those products in the pins from within the Pinterest app. When you have found something you like, you can swipe in the app for color choices and there will be a new price filter as well. Users will be able to select size and color in the app and the merchant will ship their product.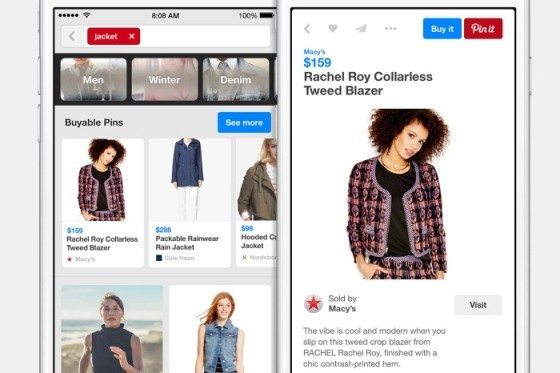 Pinterest Product Manager, Michael Yamartino, said that shopper won't have to pay any additional fees for buying products on the site. "There's no fee for Pinners, and there's no fee for merchants. We've done this for two reasons. First, we want Pinners to shop with confidence, knowing that the price they see on Pinterest is the same price they find on the merchant's website. We want to make it easy and affordable," he added.
This initiative is being supported by several Pinterest partners that include Neiman Marcus, Macy's, Cole Haan, Kate Spade, Michael's, Poler Outdoor Stuff, SOBU, and many more.
We are pretty excited about mobile shopping on Pinterest. What are your views about buyable pins by Pinterest? Do you like the idea? Let us know your thoughts in the comments!