When it comes to choosing PC boost up tools, there's no dearth of options available. In addition to the popular CCleaner, Ad-Aware and Spybot Search & Destroy, there are other useful and comprehensive solutions as well. One of the popular among them is the iolo Technologies' System Mechanic for PCs that promises all aspects in one tool.
System Mechanic combines over 50 diagnostic, repair and optimization features to quickly get the repairs done. There's a nice registry cleaner and an equally efficient registry defragger as well.
Let's have a close look at its features:
Getting started
Iolo System Mechanic is compatible with all PCs running Windows XP and higher. You can install the software on any number of computers for household purposes. The interface is clean and has several options in the left pane. These include Overview, ActiveCare, Internet Security, Toolbox and Reports.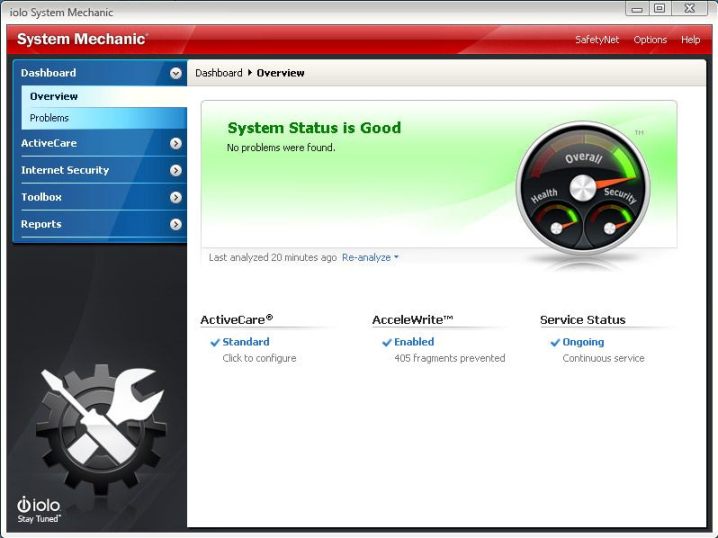 Diagnose Problems
Here is the screenshot showing you problems of your system. This will help you determine the performance of your computer. You can choose to repair the selected problem or can repair all of them at once.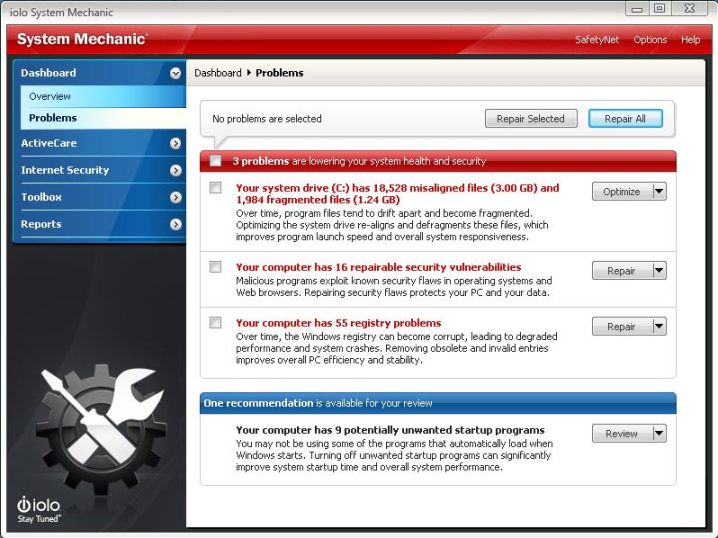 Startup Optimizer
Under the Problems section, you can optimize Windows Startup. This section allows you to change the settings for startup programs. You can prevent the phone from starting automatically or keep it on if you don't want to be prompted about in at the later date.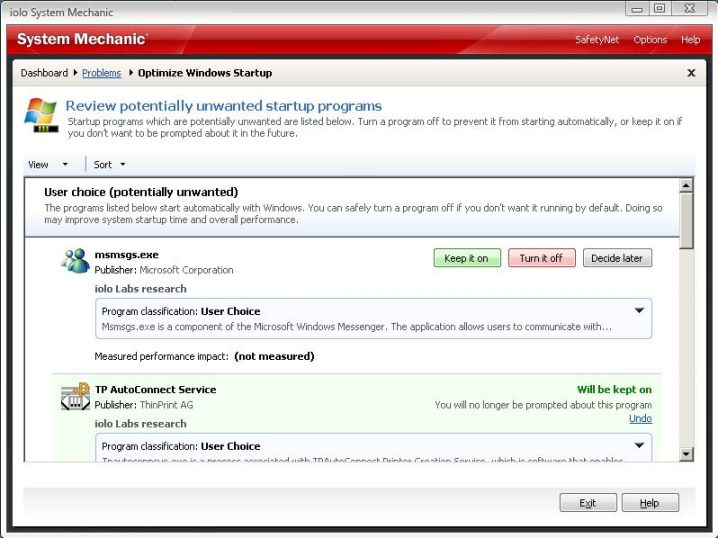 SSD Accelerator
System Mechanic is a comprehensive tool and under individual tools, you are offered with several options. SSD Accelerator allows you to optimize the drives you want to. The optimization process is quick and fast.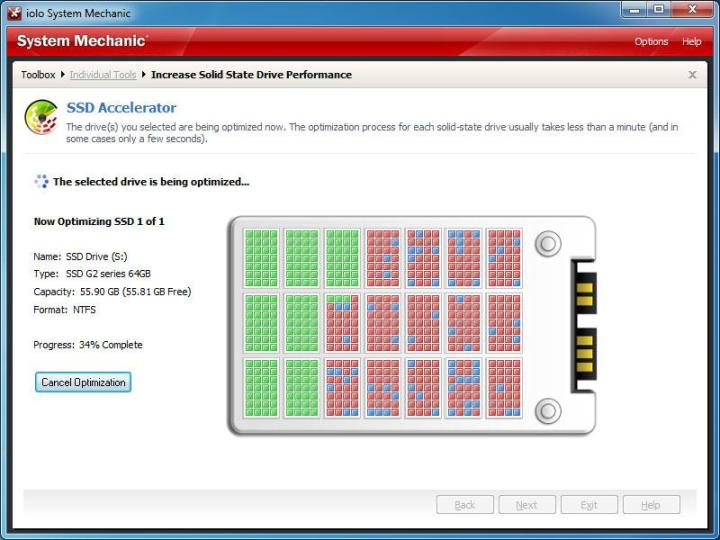 Program Accelerator
A useful tool offered by System Mechanic is Program Accelerator. Re-aligning program on hard drive becomes easy and convenient with this tool. You can optimize selected drives and re-align files on the selected drives.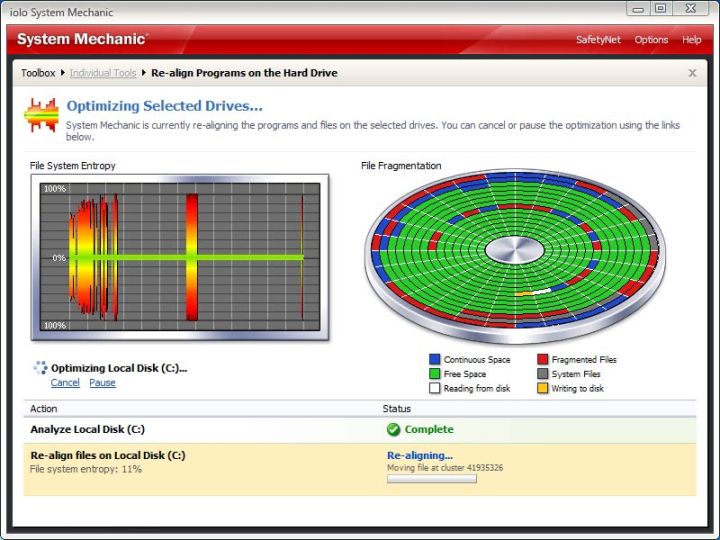 CRUDD Remover
This efficient tool allows you to remove software redundancies that impact performance and stability of the computer. It includes flexible options to let you manage each task effectively. You can flag a program or uninstall it or take no action for the time being.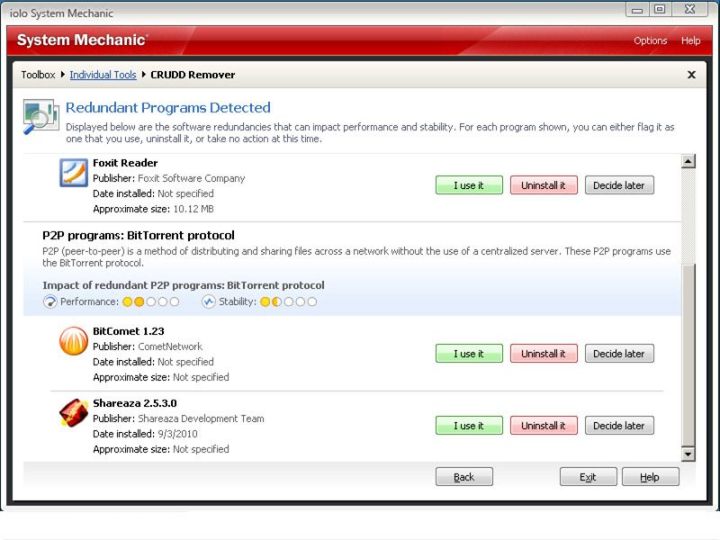 All-in-one Tools
System Mechanic includes a complete set of tools to optimize the performance of your system. This solid program keeps your computer running at its peak performance. This is a recommended computer optimization utility to have. It offers great power tools for the power users. These tools cover PC Accelerator, PC Repair, PC Cleanup, PC Security and more.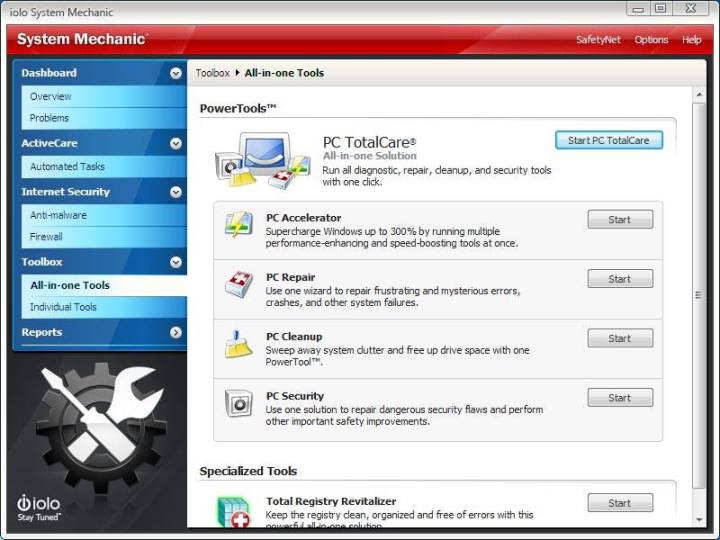 ActiveCare
The ActiveCare portion of the program is a patented technology that repairs any detected problems and keeps your PC optimized and trouble-free. It analyzes your PC and runs when you are not using your computer. Here, you can choose the tasks that will be performed automatically when you're away from computer.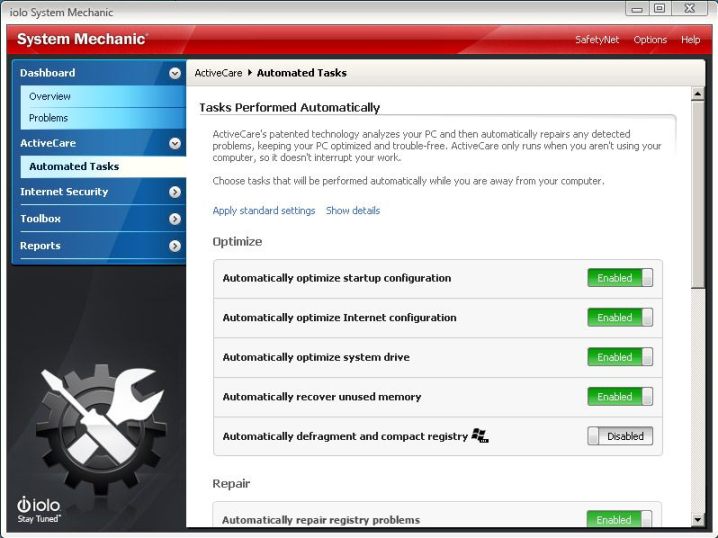 Firewall
There's an Internet Security section that uses iolo's System Shield as a defense against spyware and viruses. Windows Firefox protects your system from hackers and other external attacks.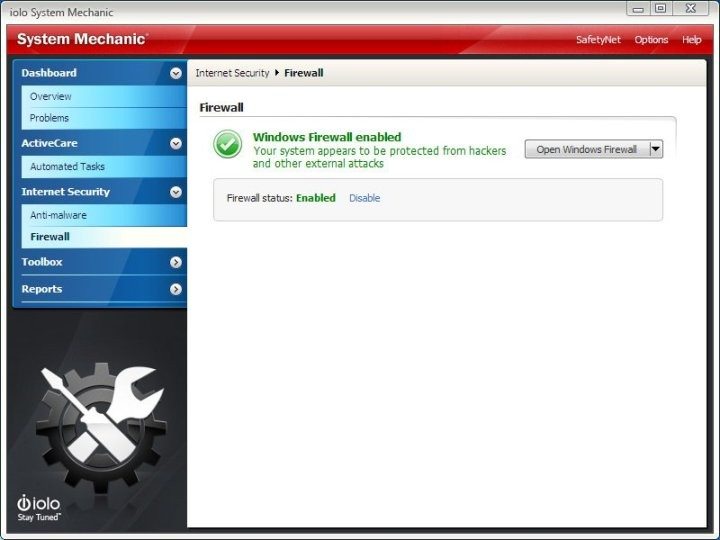 IntelliStatus
Coming to the reports section, IntelliStatus tells you about hard drive space and system memory. It lets you know about the total free space in your hard drive as well as free system memory.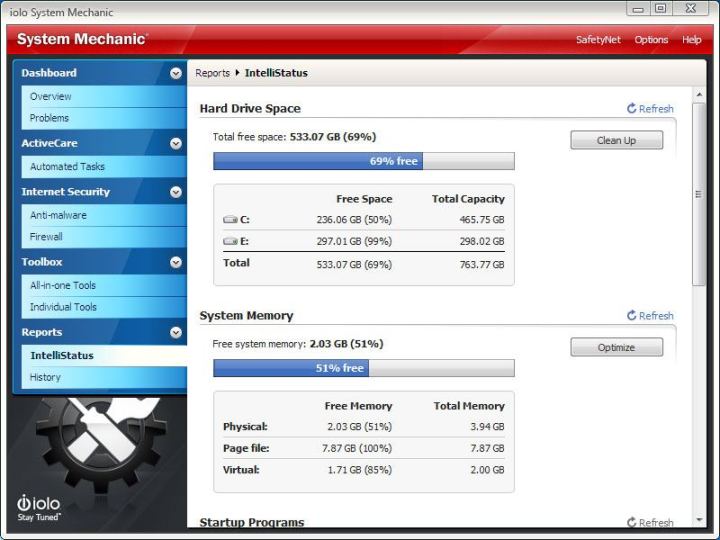 Reports
History section tells you about your recent actions taken. It generates informative and comprehensive reports.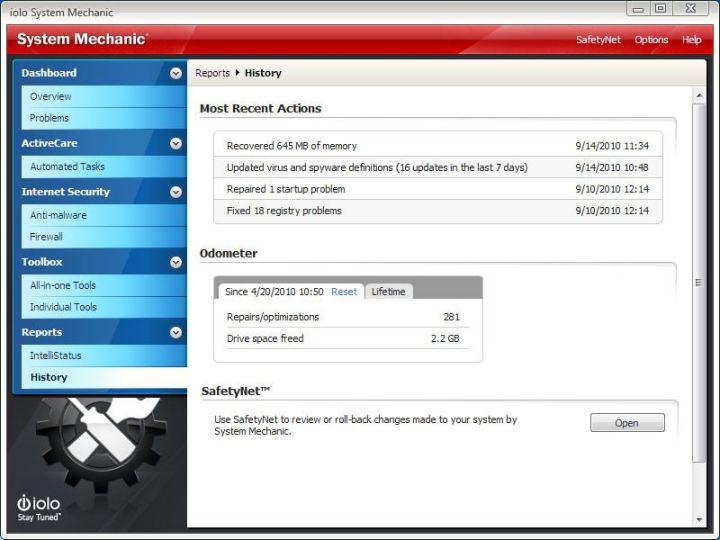 Wrapping Up
Iolo System Mechanic includes a useful suite to tune-up tool that can improve your PC's performance significantly. It may seem pricey given the availability of free tools, but is totally worth the price. It comes with a huge plethora of boost up tools that fine-tune your PC dramatically. It is one of the top tune-up utilities available in the market today.
Try out free trial and if you like it, you can purchase it from the website. Let us know your views about it in the comments!
If you like our content, please consider sharing, leaving a comment or subscribing to our RSS feed to have future posts delivered to your feed reader.

Please follow us on twitter @CodeRewind and like us on facebook