iDrive is a universal online backup tool that allows one to sync their files across all platforms: Windows, OS X, iOS as well as Android devices. iDrive is essentially a leader in the field of online backup. Everyone knows the importance of backing up a PC hard drive to a cloud-storage service but at the same time, this can take up many hours or even days. An excellent solution to this problem is offered by cloud backup service called iDrive. Offering three main plans based on GB storage, it is one of the best choices available for online backup and storage services.
Let's have a close look at its features:
Getting Started
The iDrive dashboard is user-friendly and lets you perform several tasks in an organized way. The interface is simple and you can choose your own key for encrypting data. You can create a strong password for additional security. The Scheduler feature allows one to set the time for ongoing backups. The service called as Continuous Data Protection allows one to store important files every 10 minutes. Real-Time backup feature recognizes changes in important files and automatically updates them in real time. If you delete a file from iDrive online data storage, you have 30 days to recover it.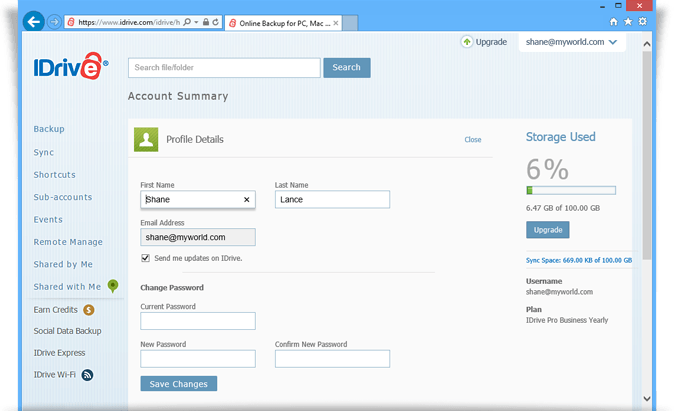 Backup and Restore
Though iDrive does not offer truly unlimited cloud storage capacity but provides enough space to satisfy most people's needs. The Pro Personal accounts come with 1 TB of space and that can be expanded to a maximum of 10 TB. One can also share files that you have stored to the cloud via email, Facebook or Twitter. Online file sync is an amazing feature that ensures that the changes to your saved files are instantly synced across all connected devices.

Security
iDrive encrypts your files with 256-bit AES encryption during and after transfers. It also implements additional security features such as constant video surveillance, motion detectors and alarms, and more. Also, the physical safety of data center equipment is protected through fire suppression systems, raised floors and more. All stored data is again mirrored to separate iDrive data facility.

Mobile Clients
iDrive offers powerful mobile apps for Android, iOS and Windows Phone. With mobile app, you can remotely access your stored files and download them to your phone. Also, you can backup your data from smartphone to the cloud effortlessly. iDrive mobile app can be used to backup photo and videos, files such as texts and contact lists. There's an auto-uploader for photos, and Facebook and Instagram backup.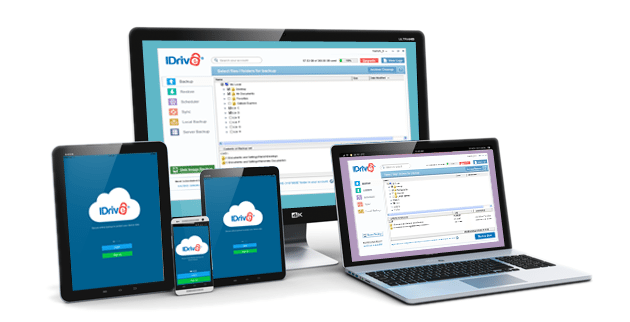 iDrive Special Features
iDrive Express Service allows you to backup your files using a physical drive. The USB drive stores up to 3 TB of data without having to clog up your internet connection.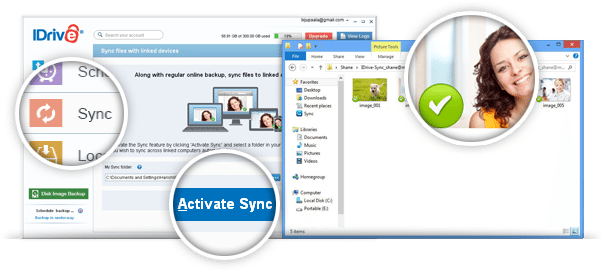 Remote management
iDrive allows one to access their management tools remotely to set backup schedules, download files and more.
Permanent storage
iDrive doe not delete any data of its own. Archive Cleanup option makes the backup match the folders and files on your PC.
Multiple accounts
With iDrive, one can create multiple sub-accounts for backup and storage and can manage them from the main administrator interface.
iDrive Wi-Fi
This is a secure local storage for all important files. It is an ideal complement to your cloud backup.
Pricing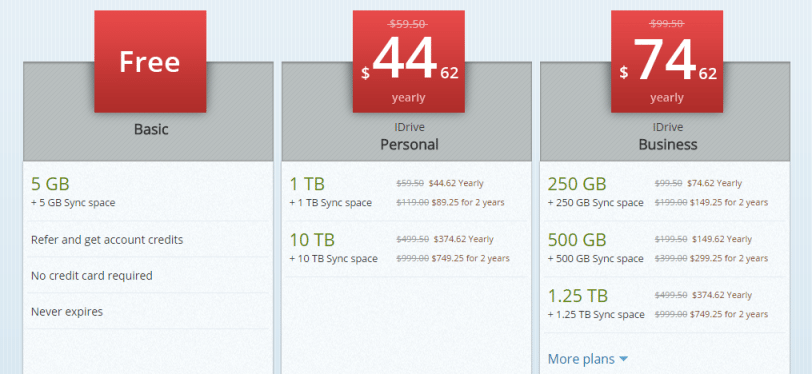 A quick look at iDrive:
| | |
| --- | --- |
| Specifications | Details |
| Free Storage | Yes |
| File Sharing | Yes |
| External HD backup | Yes |
| Free Trial | No |
| Continuous backup | Yes |
| Multiple accounts | Yes |
| File Size Limit | Unlimited |
| Backup Scheduling | Yes |
| Share photo albums | No |
| Folder Collaboration | Yes |
| Outlook Backup | Yes |
| Music Streaming | No |
| Network Drives | Yes |
---
Pros:
Excellent storage
Familiar interface
Share files easily
Unlimited devices in a single account
Continuous backup option
Resumes upload after connection is interrupted
True archiving features
Cons:
Online data storage is not unlimited
No free trial
Auto renew at higher price
Yearly contract plans only
Redundant photo and video backups across multiple devices
---
Wrapping Up
iDrive is the best choice for people with multiple computers and machines requiring online backup. The service works very fast and allows you to restore files quickly. It boasts high-level security, comprehensive support channels, great mobile app functionality and a host of great features to automate the backup needs. It is one of the most popular choices for online backup services.
Share your thoughts with us in the comments!
If you like our content, please consider sharing, leaving a comment or subscribing to our RSS feed to have future posts delivered to your feed reader.

Please follow us on twitter @CodeRewind and like us on facebook