While working a full day on computers, we should sit with right posture and organize our gear in a comfortable way so that we don't feel discomfort on a daily basis. Obviously, avoiding the computer is not an option today and the challenge here is to ensure that we don't end up developing permanent health problems. Microsoft has come up with an amazingly designed Microsoft Sculpt Ergonomic Desktop that attempts to end poor posture at our workstations. This keyboard comes with a stylish and comfortable design along with providing a solid typing experience.
Microsoft Sculpt Ergonomic Desktop has a wireless mouse and keyboard. It comes with a separate, unattached number pad which can be great tool for accountants and others who regularly use numbers. All the three devices connect to your PC via 2.4GHz wireless signal through a shared USB receiver. Impressively, these three wireless peripherals require just one USB dongle to function.
[leaderad]

It has been designed keeping in mind Windows 8 and the built-in features to provide a more intuitive Windows experience to the users. Although all three devices are compatible with Windows, Mac, and Linux PCs but many features are for Windows only.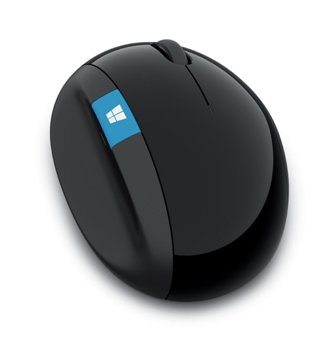 The mouse is very comfortable to hold. It has a geometric-looking design and an overall spherical shape. The left-side features a soft touch finish and a thumb groove that makes it easy to grip and scroll wheel. This round mouse is more comfortable as you can rest gently on top of it, thus taking the strain off your wrist. It has a button that takes you to Windows 8 Start menu with just one tap. The mouse and keyboard are respectively powered with two AA and AAA batteries. This Sculpt Ergonomic Mouse features an optical sensor with 1000 dpi tracking.
The keyboard has built-in media controls and several hotkeys to perform specific functions on the Windows Charms Bar. It has especially been designed flat on the sides and gradually rises towards the center. This helps to keep your hands into the proper position. It is partially split just off the center so that your fingers are positioned more naturally and they don't have to stretch as much to hit the keys while typing. The idea is to lessen stress when using keyboard for long periods of time. Undoubtedly, the keyboard itself is stylishly designed and keys are nice and firm. There's a padded wrist rest that runs along the bottom of keyboard to keep your arms, wrist as well as hands in a comfortable position while you are typing.

---
Pros:
Stylish
Great typing experience
One USB connects the entire bundle
Ease of setup
Cons:
High price tag
USB Adapter sticks out far
Requires large desk space
---
Our Verdict
Microsoft Sculpt Ergonomic Desktop comes with some of the best ergonomic features, making it comfortable for users. This stylish designed, distinctive keyboard is one of the prominent choices for wireless keyboards. The cost-effectiveness, comfortable design, simple set-up and marvelous typing experience make it worth the price tag. When you require ergonomic peripherals, Microsoft Sculpt Ergonomic Desktop is a perfect choice.
You can purchase it in a brand new condition at an amazing discount from Amazon.com. Click on the link and get it today along with free shipping.
What are your views about the new design of this keyboard? Do you like the design? Will you go for it? Let us know your thoughts in the comments.