Ashampoo WinOptimizer 12 is a feature-packed PC maintenance and optimization suite that ensures that your computer performs at its peak. It offers all optimization tools wrapped up in a nice interface. This powerful system optimization tool cleans your disks and also protects your privacy. The application includes more than 30 tools to cover all tasks around maintenance, system analysis and more. This Windows Optimization suite impresses customers as well as media representatives.
Ashampoo WinOptimizer is a comprehensive application that offers great functionalities. Some of the benefits that come with this Windows Optimization suite are:
Automatic live tuning offers you great performance
Registry defragmentation results in adequate data consistency
Protects your privacy
More free memory resources
Accelerated system boots
File deletion for data security
DiskSpace Explorer allows to never lose track of your data
Boot sector optimization
Game Booster
Tweaking support for individually customize the look and feel of Windows
HDD inspector
And lots more!
Startup Screen
On successful download and installation of Ashampoo WinOptimizer 12, you will see options for cleanup, optimize and protect under the overview tab.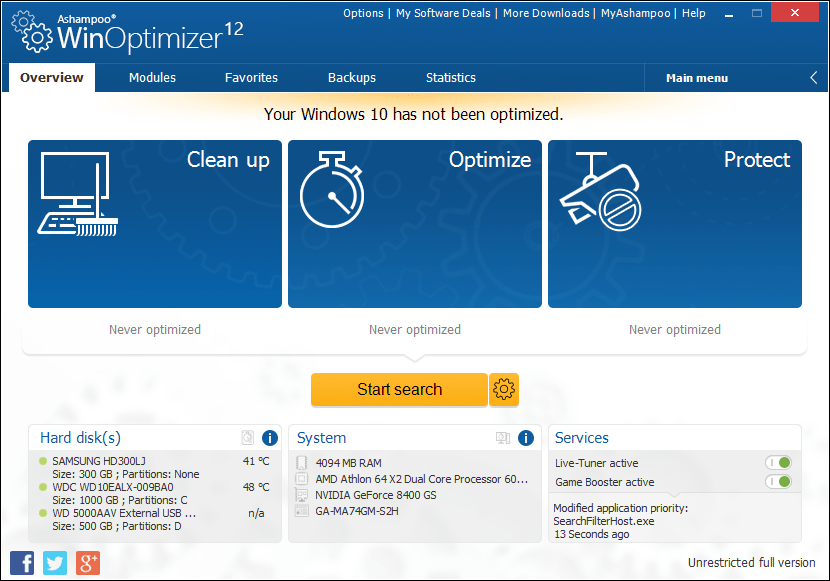 Diagnose Errors
Now, it is the time to diagnose the errors so that you can remove them from your computer. This will results in significant improvement in the performance of your computer. The application will start diagnosing all errors and issues with just one click. Click on Start search and it will start to do its work.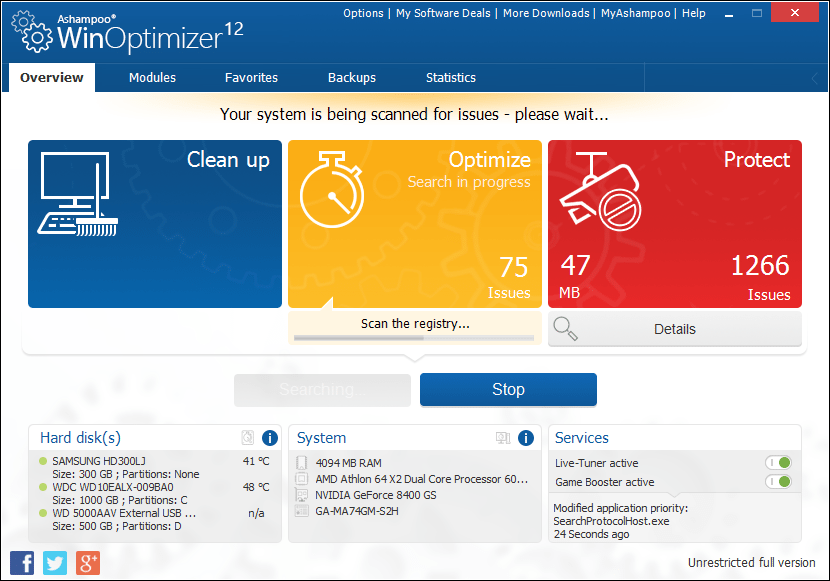 Fix Errors
After diagnosing the problems, it is essential to fix them. The application quickly and efficiently finds all issues running in your system and offers you the option of fix them now. Click on Fix Now and get all issues resolved at just one click. The interface is simple to understand and you will love the functionality and simplicity of the application.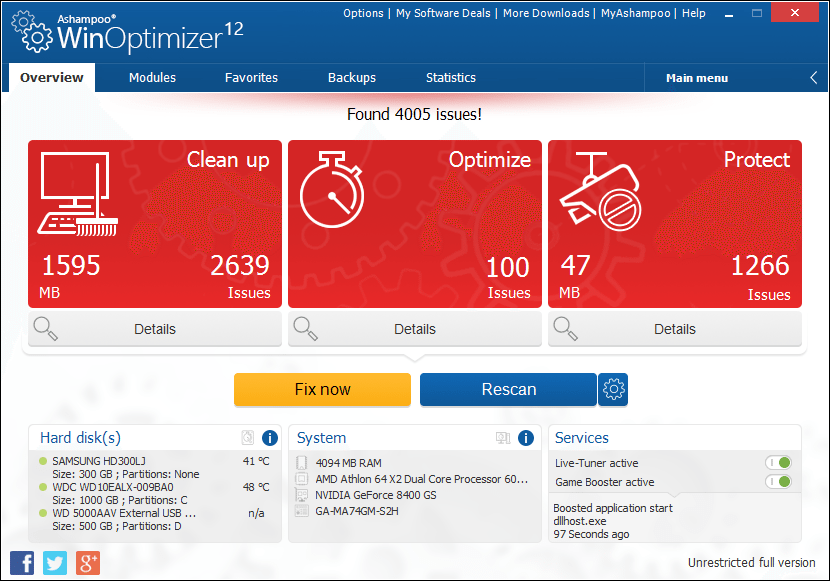 Cleanup & Optimization Status
When all issues have been fixed, you will see a clean window with no issues for clean up, optimize and protect. Now, you can move on to try out other useful functions that come with Ashampoo WinOptimizer 12. You can also choose to rescan the results if you want to.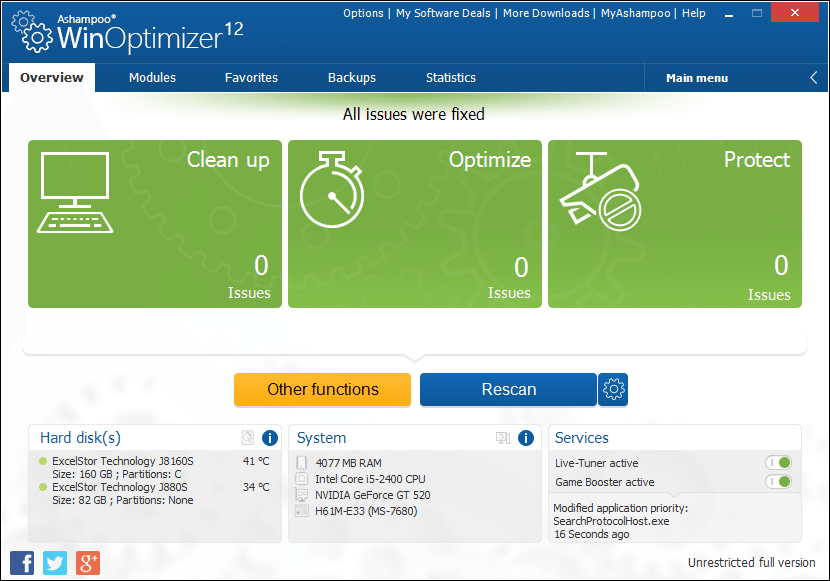 Let's have a look at other functions of Ashampoo WinOptimizer 12:
Registry Optimizer
Using Registry Optimizer, you can clean all registry errors and fix any issues concerning file formats, COM, OLE and ActiveX items, application paths, start menu, history lists and more. It is all-in-one system optimization tool that eliminates old, redundant and broken registry entries. It efficiently does registry defragmentation and cleaning for perfect data consistency.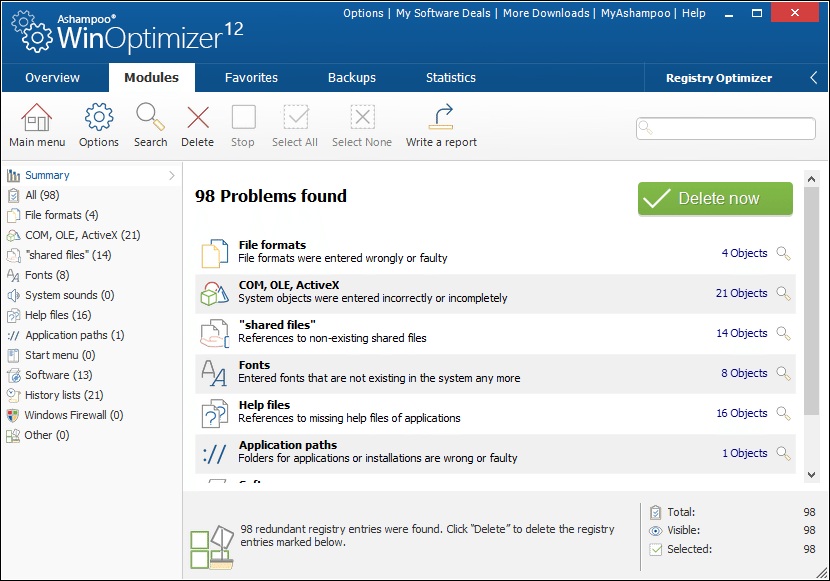 Customize Tweaking Assistant
Initially, it is necessary to answer several questions to optimize settings. You can customize the Tweaking Assistant through Change Profile. There are four settings which you can customize with this option. These settings include: SSD Drive, Hibernation, Windows search/Indexing, and Delete old update backup files.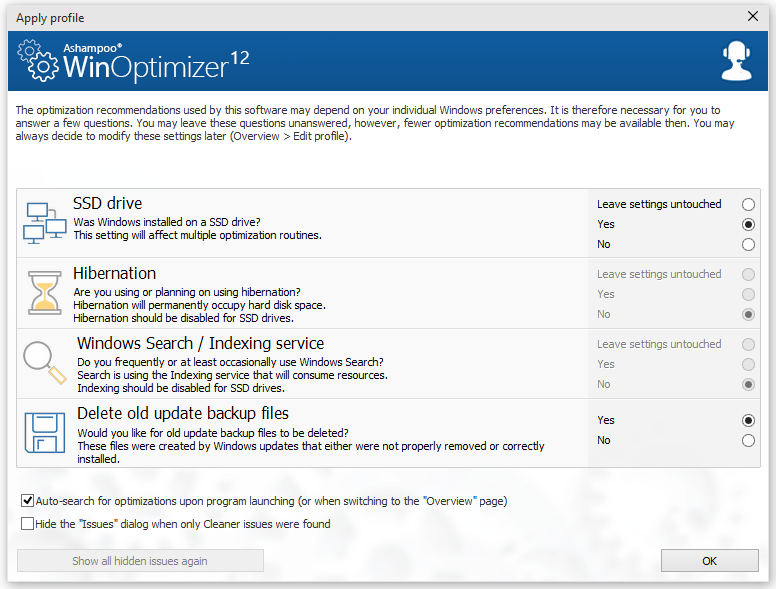 Categories under Ashampoo WinOptimizer
Under the Modules tab, you will see various categories listed here. These categories are One Click Optimizer, Drive Cleaner, Registry Optimizer, Internet Cleaner, Defrag 3 and Registry Defrag. Click on any of these options and the specific tool will start functioning. The interface is clean and one can easily choose the required tool and improve the performance of the system.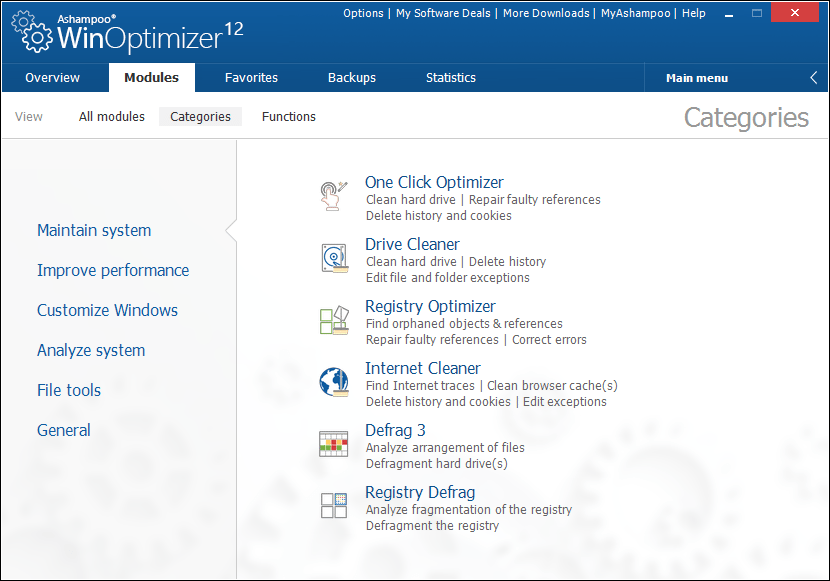 Internet Cleaner
With Ashampoo WinOptimizer 12, users will enjoy newly developed Internet Cleaner that comes with multi-user support. The internet cleaner allows you to quickly delete complete surfing trail and offers separate settings for IE, Firefox and Opera. It has been updated with support for bandwidths higher than 25 Mbit.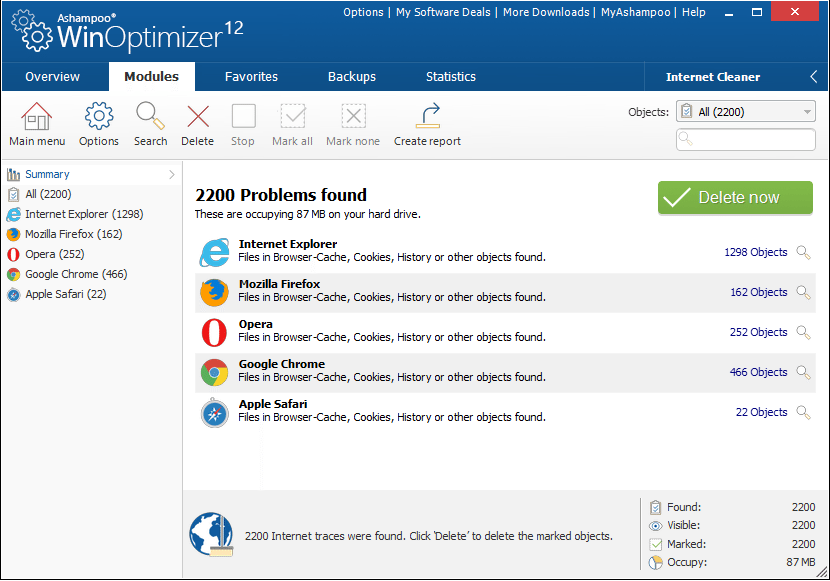 Drive Cleaner
Drive Cleaner efficiently identifies and deletes garbage files, frees up space and removes dead weight. The latest version comes with a powerful drive cleaner to offer more significant improved results. This will results in even faster performance.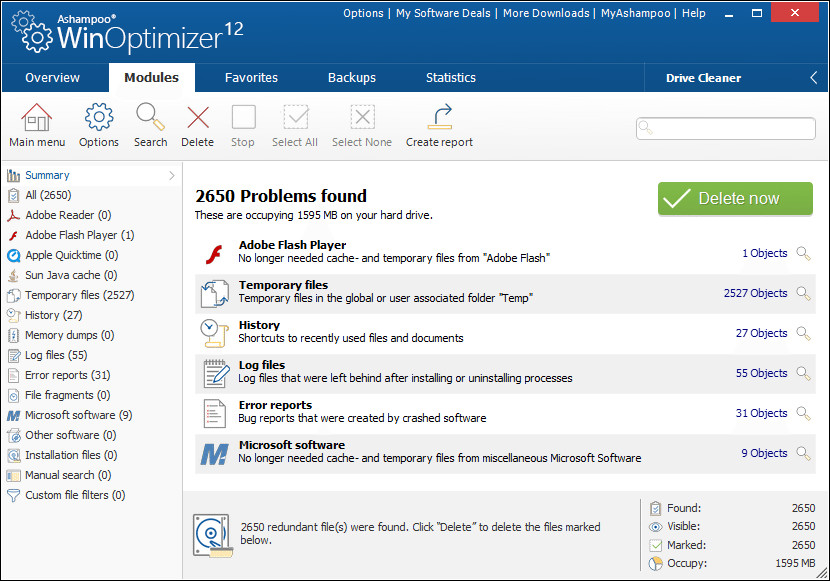 Innovative Hard Drive Benchmark
The hard disk is one of the important components and it should be checked regularly to avoid potential errors. A disk failure can result in loss of your useful data, so it is vital to detect early and prevent its failure. Version 12 comes with a benchmark tool for hard disk drives and full compatibility with Windows 10. The latest version of Ashampoo WinOptimizer offers direct access to detailed results.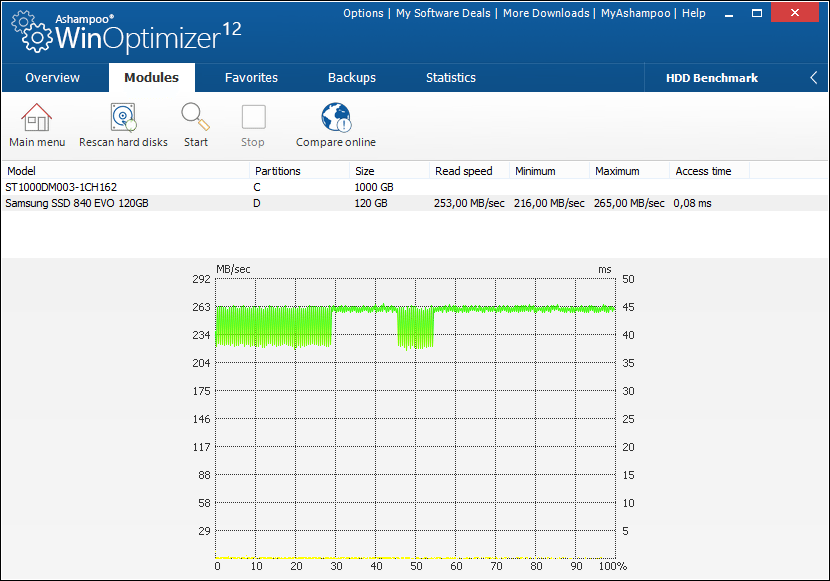 Registry Defrag
Windows Registry gets fragmented over time and this results in measurable performance loss. Registry Defrag offers numerous features that make defragmenting more comfortable and easier. It offers an extensive set of options and it will defragment and optimize registry database to offer smooth system boot ups. It helps to improve the performance of your computer and regain hard disk space as well.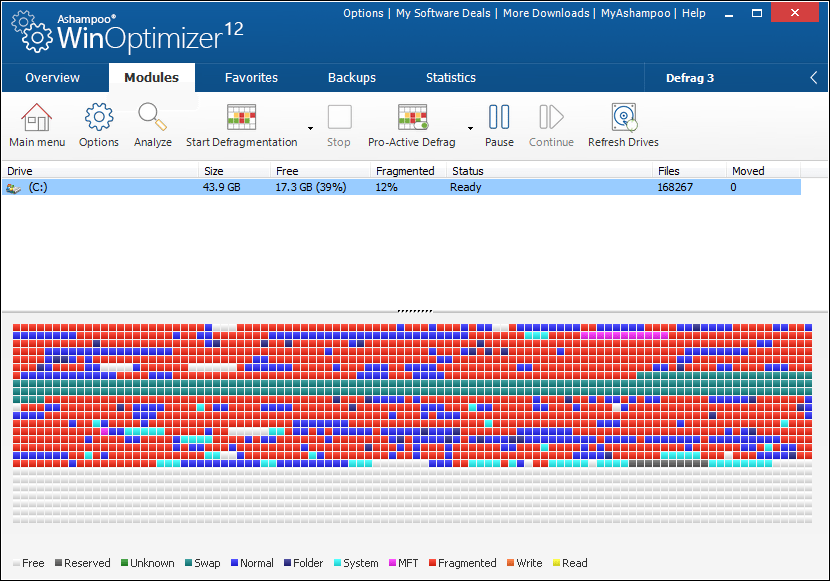 Updated Tweaking Tool
Tweaking modules help to eliminate all your Windows Operating System and PC bottlenecks, and are easily accessible under one interface. The tweaking tools allow you to directly access hundreds of Windows and application configuration and performance settings. Tweaking support has been added to customize the look and feel of Windows.
A quick look at Ashampoo WinOptimizer 12:
| | |
| --- | --- |
| Specifications | Details |
| Software | Shareware |
| Platform | Win XP, Win Vista™, Win 7, Win 8/8.1, Win10 |
| Supported Languages | German, English, Bulgarian, Catalan, Chinese (traditional), Czech, Dansk, Dutch, Finnish, French, Greek, Hungarian, Italian, Norwegian, Polish, Portuguese (Brazilian), Serbian, Serbian, Spanish (Argentina), Swedish, Turkish |
| Product page | http://www.ashampoo.com/products/4606 |
| Cost | EUR 39.99, USD 49.99 |
| Homepage | http://www.ashampoo.com/ |
Why should you upgrade to 12th version?
If you are using Ashampoo WinOptimizer and are completely satisfied with its functionalities, then you must be thinking why should I upgrade? Well, there are many reasons to upgrade the application to the latest version. Some of the exclusive features which are enjoyed by Ashampoo WinOptimizer 12 are listed here:
Updated search algorithms for all cleaner modules
System analysis with support for the latest hardware
Drive cleaner with significantly improved results
New and improved look
Hard disk benchmark with detailed results
Optimum SSD support
Search algorithms have been updated
New filter settings to narrow down search results
File Manipulator allows for safe encrypt and split up of file
Are you a user of Ashampoo WinOptimizer and upgrade it to 12 version? Or do you purchase Ashampoo WinOptimizer 12 at 50% OFF? What are your views about this Windows Optimization Suite? Let us know in the comments!
If you like our content, please consider sharing, leaving a comment or subscribing to our RSS feed to have future posts delivered to your feed reader.

Please follow us on twitter @CodeRewind and like us on facebook