17-inch Razer Blade Pro
Gaming peripheral maker, Razer, has unveiled the Blade Pro and has made significant improvements from the previous generation of the laptop. Called Razer Blade Pro 17-inch, the base device is priced at $3699 and boasts an amazing mechanical keyboard. The company claims that it is "The desktop in your laptop" with the specifications. In addition, Razer Blade Pro has three USB 3.0 ports, HDMI 2.0 video and audio out and Thunderbolt 3. It is a powerful gaming laptop. Let's check out the details.
Processor
Under the hood, it is powered by a 2.6GHz quad-core Intel Core i7-6700HQ processor made in Skylake architecture. The graphics is Nvidia GeForce GTX 1080 under the aluminum chassis. It comes with 8GB GDDR5 VRAM to offer an enjoyable gaming experience. Razer Blade Pro laptop is powered by SSD storage options for the laptop range from 512GB to 2TB.
Display
Razer Blade Pro gaming laptop sports a 17.3-inch 4K display with resolution of 2160 x 4096 pixels. To eliminate screen-tearing, it comes with support for Nvidia's G-Sync technology. The machine offers a massive screen size at 17-inches with its IGZO UHD G-Sync. It comes with a 16:9 ratio and an LED backlit display. Also, the machine contains individually backlit ultra-low profile mechanical keyboard supporting Razer Chroma. It includes a 2MP webcam for Skype calls and video calling. Facebook Messenger has also integrated video calling to its app.
Connectivity
Razer Blade measures 22.5mm in thickness and weighs a reasonable 7.8lb. It is one of the thinnest laptops with GeForce GTX 1080 inside it. In terms of connectivity options, it comes with an HDMI output, Ethernet jack, USB Type-C, three USB 3.0 ports and an SD card reader. It also includes an SDXC card reader. The laptop comes with built-in stereo speakers to offer an immersive audio experience to the user while enjoying his gaming sessions. The speakers combined with Dolby Digital Plus Home Theatre Technology is a great plus.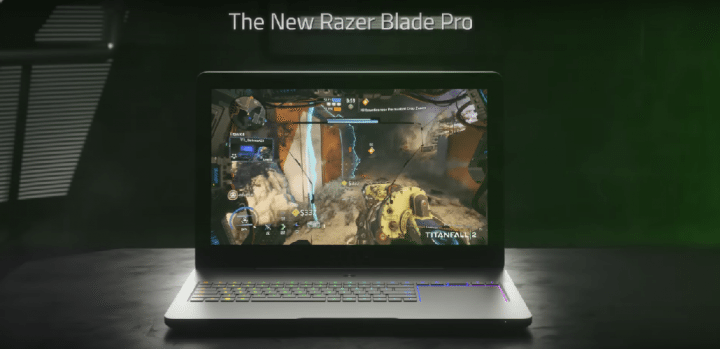 Image Credit: YouTube
A quick look at specifications of Razer Blade Pro:
Specifications
Details
Display
17.3-inch 4K
Resolution
2160 x 4096 pixels
Processor
Intel Core i7-6700HQ Quad-Core
GPU
Nvidia GeForce GTX 1080
SSD
512 GB
VRAM
8GB
Size
0.88 in.(Height) x 16.7 in.(Width) x 11 in.(Depth)
Approx. Weight
3.54kg
Built-in webcam
2.0MP
Battery
99 Wh rechargeable lithium-ion polymer
Ports
USB 3.0 port x3 (SuperSpeed)
HDMI 2.0 video and audio output
SDXC card reader
3.5 mm headphone/microphone combo port
Price
$3,699
Wrapping Up
All-in-all, Razer Blade Pro comes with a powerful set of specifications and also comes with support of VR content. As it is VR ready, it can run the HTC Vive and Oculus Rift. As far as the pricing is concerned, it starts at $3,699 and is expected to roll out in November. The laptop is available for purchase in only US from next month. It is a stylish laptop and carries the most optimal weight with the given specifications. Razer Blade Pro has solely been designed for gaming and people who wish to play high graphic games in 4K resolution. you can also check out our compilation of top 17-inch gaming laptops.
Are you waiting for the availability of Razer Blade Pro 17-inch gaming laptop? Let us know your views in the comments.