Razer has come up with a keyboard specifically designed for MMO gamers. This is the keyboard that raises your level of gameplay by offering you access to up to 7x more commands over the current ability keys you have. It creates the maximum number of macros available by providing a full seven keys below the space bar dedicated to making combination of modifier keys easy and fast. Let's get into more detail.
Design
The full-size keyboard has a traditional style. Its glowing keys pulse with changing colors to illuminate your gaming experience. Razer Anansi employs a minimalist design by bringing programmable keys as well as macro-specific keys. Its sleek glossy sides and a crisp black coating are sure to catch your attention.

Great customization features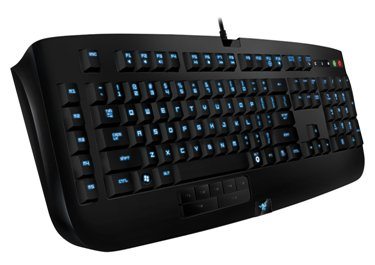 When it comes to personalizing the keys, Razer has done a good job. Anansi has been made to be stylish as well as functional. You can customize any function to any key with downloadable drivers, or by hitting the macro recorder key and typing away. The keyboard includes 12 macro-specific keys, 5 on the left side and 7 beneath the spacebar. These T1-T7 keys are differently shaped and are well placed so that you won't accidently press these keys.
Performance
Each of the keys of Razer Anansi is programmable and you can switch between 20 profiles. Each key at the front edge of the board is backlit and can change through a number of colors and brightness levels. With gaming macro keys on left and media controls placed on the function keys, the keyboard offers a great performance for the MMO gamers.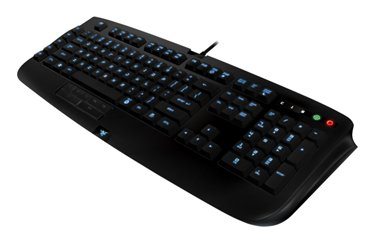 Custom backlight color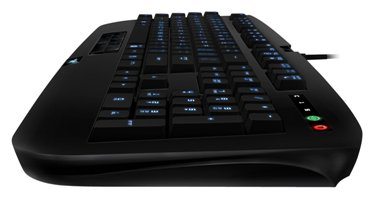 In Razer Anansi, backlighting is very easy to configure and you can also set it to rotate through the colors. With over 16 million colors to choose from, you can easily find the one that you like the most. Above the numpad is a LED display that lights up with standard caps, num scroll lights and illuminates when gaming mode is on.
Shortcomings
You need 2-USB cables: one that connects keyboard to PC and other powers the backlight. Most of the keyboards do both in one cable but Anansi requires you to connect two USB cables. Unfortunately, there are no USB or audio ports on the keyboard. The third flaw in the design of this keyboard is the key design. The medium-profile rubberized keys feel mushy.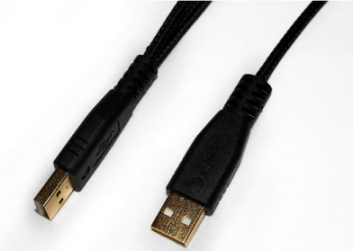 ---
Pros:
Visually appealing design
Great for MMO
Clean layout
Fully programmable keys
Good backlighting
Amazing T1-T7 keys
Cons
Requires two USB cable
Mushy keys
---
| | |
| --- | --- |
| Specifications | Details |
| Dimensions | 0.79 x 20.28 x 7.48 in |
| Approximate Weight | 2 pounds |
| Number of keys | 116 |
| Palm Rest | No |
| Backlit Keys | Yes |
| Multimedia keys | Yes |
| Wireless | No |
| Mouse Included | No |
| Compatibility | PC |
| Mac compatible | No |
Final Words
The overall design of Razer Anansi is good and is reasonably compact to fit on most desks with ease. The backlight quality is also great. You can customize beautiful color combinations. The keyboard performs well when gaming. The only flaws are the requirement for 2 USB cable and no audio ports which some users find really frustrating. Nevertheless, there are quite good features that come with Razer Anansi that can take our gaming to the next level. This high quality gaming keyboard along with Naga mouse creates an enhanced MMO experience.
You can buy it from Amazon.com at discounted prices for a limited time offer.
Have you bought Razer Anansi? Did it improve your MMO experience? Or will you consider buying it? Let us know your views in the comments section below.
If you like our content, please consider sharing, leaving a comment or subscribing to our RSS feed to have future posts delivered to your feed reader.

Please follow us on twitter @CodeRewind and like us on facebook