Are you excited about using Cortana on your desktop? Yes, Cortana which was first available for Windows Phone customers will now support PC and tablets as well with release of Windows 10.
Cortana is your personal assistant which helps you get the things done by interacting with you naturally. She provides you quick access to information, answers your queries and also makes personalized recommendations. Cortana is meant to make life easier and more fun. Whenever you need assistance on Windows, she is always there. Also, Cortana learns your preferences and provide you with more relevant recommendations and important reminders. You're always in control of what she knows.
Here are the steps to use Cortana on Windows 10 PC:
1) The foremost requirement is a valid internet connection to activate or enable Cortana.
2) When you open the Windows, search box will appear.
3) Just click on this search box.
4) When you click this default search box, you will get the screen showing Cortana.
5) To start working, permit it to access your store, location, calendar, contact, browsing as well as app usage.
6) You sign in with your Microsoft account. If you have already added Microsoft account in your Windows 10 PC, you will not be required to set it up again.
7) The next step is to set up your Name by which Cortana will call you. Enter your name and click Enter.
8) Now, you are ready to use Cortana and send email, open any settings, get weather information, or do anything you want to.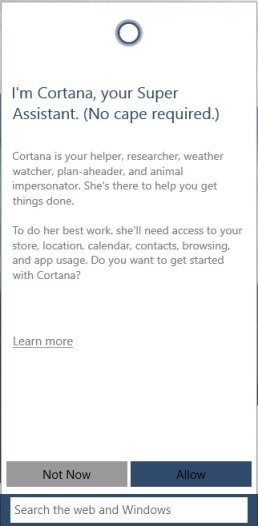 How to enable "Hey Cortana" in Windows 10?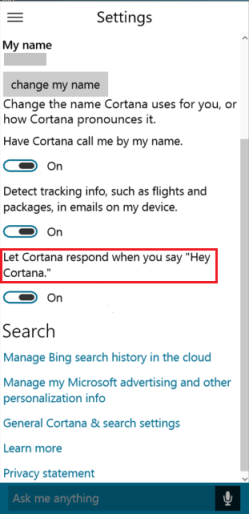 To enable this feature so that Cortana launched by your voice, these are the steps:
1) Click in the Cortana area.
2) Now, click the three lines appearing in top left corner and select Settings.
3) Now, enable the Let Cortana respond when you say "Hey Cortana" to On.
That's all! You can now launch Cortana via voice and begin to freely talk to Cortana. Just Say Hey Cortana and your question or statement, the app will respond automatically.
Cortana Shortcuts
If you like to use keyword shortcuts for calling Cortana, these can help:
Win + Q – Cortana's main screen
Win + S – Cortana's search engine
Cortana is fully integrated into the search experience in Windows 10. It makes it easy to search for anything.
What are your views about Cortana on Windows 10 desktop? Let us know in the comments!
If you like our content, please consider sharing, leaving a comment or subscribing to our RSS feed to have future posts delivered to your feed reader.

Please follow us on twitter @CodeRewind and like us on facebook