Jawbone Up4
Though there is no dearth of fitness trackers available these days but Jawbone Up4 caught our attention for being so accurate. It accurately tracks steps taken, calories burned as well as sleep monitoring. It is not only an activity tracker but also lets you pay from your wrist. It is an ideal health tracker which comes with tap-to-pay NFC functionality. Let's have a close look at its features:

Design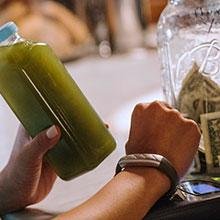 Jawbone Up4 features a clean design with accurate readings. The Up4 is made of TPU rubber and the rigid sensor is encased in anodized aluminum. It features a crosshatch pattern on the top of the module. It includes five bioimpedance sensors and the magnetic nodes that attach to the charger. It comes with one size fits most theory and measures 8.6 x 0.5 x 0.4 inches while you can adjust the placement of hook to comfortably accommodate wrist.
Smart Coach
Jawbone app is one of the amazing fitness apps available. It provides colorful and informative charts. The company's "Smart Coach" feature is really appreciable offering you personalized tips and suggestions. Smart coach can also figure out when you are more active, when you sleep more and can tell exactly when to go to sleep. The embedded smart coach gives you helpful tips about sleep and nutrition. Also, if you don't like the Jawbone app, you can download most popular third party apps on the market.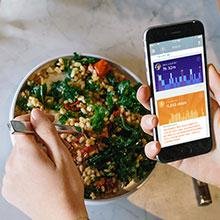 Activity Tracking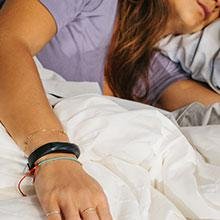 The Jawbone Up4 does everything that you expect from a basic fitness tracker. It automatically recognizes what sport you are doing and log it correctly. It can also send you activity notifications in the form of vibrating alarms. In addition to activity tracking, it also comes with sleep tracking capabilities. The home screen shows your overall sleep and step goal progress percentages. You can get more detailed information about your steps, sleep charts and other metrics.
Battery
Battery is one of the amazing features of Jawbone Up4. It comes with a seven-day battery life and as it does not have a backlit screen, it goes long between charges. It charges in less than two hours. The exercise tracker features three indicator lights that light up according to the mode like exercise, sleep or phone notification. The activity tracker is easy to use and its good battery life stands it apart from the competitors.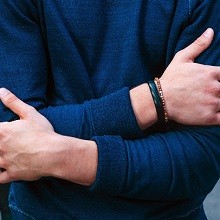 Pricing
As far as the pricing is concerned, it retails for $199.99 and faces direct competition from Fitbit Charge HR available at $149. But, the fact that you can also use it to make mobile payments make Jawbone Up4 more impressive.

---
Pros:
Smart coach
Tracks heart rate accurately
Works with third-party apps
Colorful app
Tracks heart rate accurately
Cons:
No display
Not water-proof
---
Wrapping Up
The Jawbone Up4 is an efficient choice providing ample accurate information to help you stay healthy. It is easy to wear and use. A long battery life is another plus. The continuous heart rate and biometric tracking offers you better insight about your daily fitness levels.
Buy Jawbone Up4
Do you like Jawbone Up4 activity tracker? Share your thoughts with us in the comments.