Meet Vector Luna
Vector Luna Smartwatch is stylish and features timeless stainless steel. It is vastly different to many of its rivals because of its claimed 30-day battery life. It comes with good activity tracking, fitness tracking features and is also capable of tracking quality sleep. It connects with your Vector Luna via Bluetooth Low Energy and is compatible with smartphones running iOS 8, Android 4.4 and higher and Windows 8.1 and above. Let's have a close look at its features:

Design and Display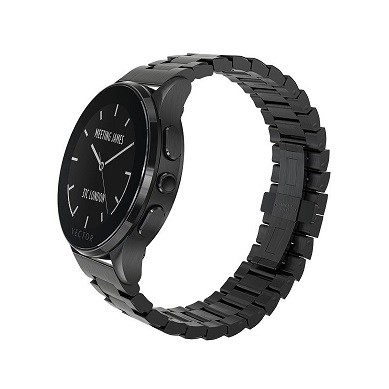 Vector Luna smartwatch has been built by a watchmaker and is more attractive than all big-name rivals such as Moto 360, LG Watch Urbane and more. It looks like a traditional timepiece and comes with a circular design like Pebble Time Round. It is clean, simple and features a small Vector logo below the face. There are three metal buttons on the right-hand edge and all feel solid.
The display of the smartwatch is always on and thus, you don't need to flick your wrist or push any buttons to see time or date. As the display is also backlit, there should not be any trouble using the Luna at night. The screen has been protected with the super-resilient sapphire crystal glass.
Simple App
The vector app features a black and gold-yellow color scheme. It is easy to navigate and features four sections: Watch Maker, Activity, Alarms and Settings. All sections are pretty self-explanatory and your activity profile tracking is set in Settings. The smartwatch delivers personal and customised notifications and messages are displayed only when you turn the watch to face you. You will get notifications for incoming calls, messages, emails and any app alerts.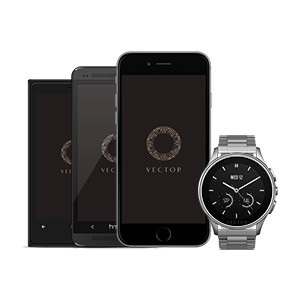 Features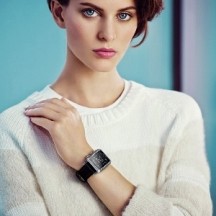 Vector Luna comes with gyroscope and an accelerometer to let you track your steps, distance, calories burned and sleep. The smartwatch does not come with optical heart-rate sensor and neither there is a GPS sensor. It is water-resistant at 5 ATM which makes you suitable for wearing while showering and swimming. But, you cannot wear it during diving. This smartwatch comes with several choices for bracelets and leather straps.
Activity and Sleep Tracking
Vector Luna tracks your daily steps, tracks your activities, calories burned, distance and quality of sleep. In terms of accuracy, it is pretty average and sleep tracking is simple. It does not deliver the same level of thorough information as some of its competitors like deep sleep, light sleep and more. You can set steps, distance, calories and sleep goals within the app. The data can be viewed on a graph on spinning your phone to landscape mode.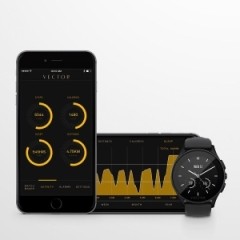 ---
Pros:
Good battery life
Clear and discreet notifications
Stylish design
Durable
Cons:
App needs more work
No optical heart-rate sensor
Lacks GPS sensor
---
Vector Luna offers a mixed bag of smartwatch features and a beautiful look. You can purchase it from Amazon.com and the price varies according to the leather strap or bracelet chosen for the smartwatch.
Do you like Vector Luna Smartwatch? Which features do you look upon in wearable? Share your thoughts with us in the comments.