In celebration of Safer Internet Day 2016, Google is giving away all its users a chance to get free 2GB Google Drive Storage by completing a security checkup of their account. You can get complete details about Safer Internet Day by visiting movement's website or check out Twitter by searching for hashtag #SaferInternetDay.
Steps to Get Free 2GB Google Drive Storage
It is an exceptionally simple process and takes less than five minutes to complete it.
The first step is to go to this link.
Now, login to your Gmail account and follow the instructions.
The phone number, email address and security question that Google use to get in touch if in case there's some unusual activity with your account.
You should make sure that no unrecognized devices have been logging into your accounts.
It checks which apps have been given permission to access your account.
Now, claim your free data.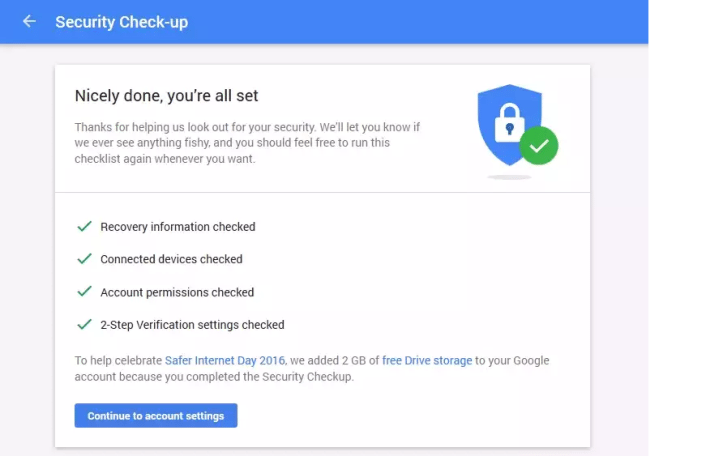 The security checkup sees if the following features are properly set up:
Recovery information
Recent activity
App passwords
2-step verification
Account permission
Once you go through these, you will see the green checkmarks and will be automatically qualified for free 2GB of Google Drive storage. Google will allocate the extra space and let you know through an email.
You can also get your free 2GB Google Drive today by following above steps. So, grab this offer today. You can also check out useful Google Drive tips to get the most out of it.
In addition to the extra storage, Google is also enhancing Gmail by flagging emails from senders that are not authenticated by TLS encryption. Gmail will also display a broken icon or non-encrypted emails and a question mark in place of face logo displayed next to user's email address. This adds an extra layer of security to already robust security measures taken by Gmail.
This offer brings not only additional storage but also make sure that your security is up to notch.
Have something to add to this story? Share your thoughts with us in the comments.