About Signal Private Messenger
Signal is a free and open source app for iOS and Android users and allows you to send and receive SMS messages and all messages are automatically encrypted. It replaces your regular SMS messaging app and keeps all messages safe and secure. In addition to sending messages, one can also call contacts from within the Signal app. It allows users to make encrypted call for absolutely no charge.
Security
The app provides end-to-end encryption using modern ZRTP encryption protocol. It uses Curve25519, AES-256, and HMAC-SHA256 to secure your communications. It also uses Axolotl protocol to encrypt each message individually. Signal app offers support for encrypted text messages using a protocol called TextSecure, implying that users can communicate using voice and text.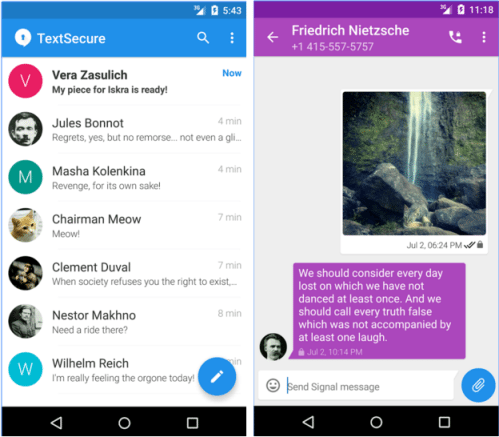 Open Source
Unlike other messaging services, Signal is open source and the app also supports forward secrecy. This means that if in case the attacker steals your encryption key, they cannot decrypt messages collected in the past. Signal holds a special place on your smartphone as you can be confident that all communications either calls or messages are always fully secure.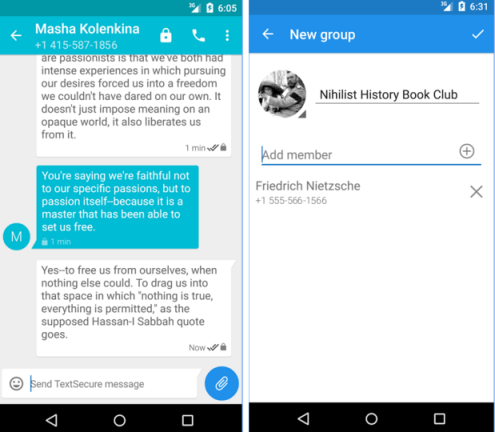 Using Signal
You need to register with Signal using your mobile number and it will generate a key pair. It makes use of your default dialer contact list. There's a group chat mode as well and an option to encrypt messages locally. Signal looks and feels good to use. It comes with a clean design and looks like any other modern app.
Signal also offers the ability to verify the identity of the people they are talking to, confirming that the encryption is not compromised at any level. As the app encrypts and decrypts all messages, they cannot be intercepted in transit. The messages are stored encrypted on the device as well.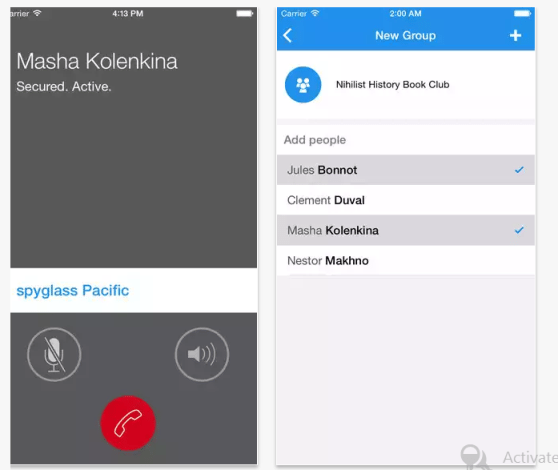 Wrapping Up
Signal Private Messenger combines security with easy usability to offer a free, well-designed, open-source package. Signal is supported by a team of dedicated developers, community donations, and grants. The app features no advertisements and all of the code is open and free. Signal is fully compatible with TextSecure and RedPhone for Android.
All-in-all, this well-designed app for Android and iOS definitely deserves your attention and time. Give it a try!
Some useful insights about Signal:
Cost: Free
Ratings: 4.5 out of 5 stars
Publisher: Open Whisper Systems
Requires Android: 2.3 and up
Requires iOS: 8.0 and up
Download Signal for Android
Download Signal for iOS
Are you a user of Signal Private Messenger? What has been your experience of using it? Share with us in the comments!
If you are an app developer and want to include your app/game in our app of the week section, contact us today.