Microsoft and Box are teaming up together to deliver Box app for the Windows 10 operating system. Box app for Windows 10 has been launched to make file sharing across different Windows 10 devices easier.
Box App For Windows 10
Working closely with Microsoft, Box has revamped the app to be a Windows 10 Universal app. The app has been designed to run across the various versions of Windows 10 with relatively little code modification required.
Box app allows Microsoft Office users can open up Word, PowerPoint or Excel and save their work directly. You can create, share and edit across devices. The app is free for anyone who has an individual, business or enterprise Box account.
Box app for Windows 10 offers content management services, easy sharing, office preview and several other features to individuals, teams and organizations.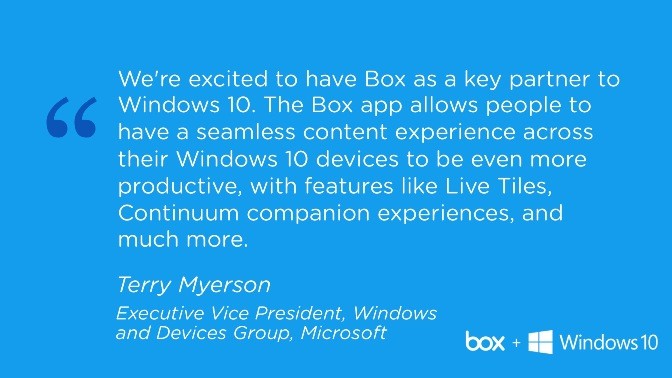 Box's Aaron Levie says,"Under Satya Nadella, Microsoft has pushed boldly into a cloud-first, mobile-first world, opening up its platforms to integrate with best-of-breed tools (like Box) and improve the experience for their customers." The company also points out that "Our app integrates with the Windows file picker so users can work in an Office file such as Word, PowerPoint, or Excel and have those changes saved directly back to Box without ever leaving Office. You can work on Office files right from the app and stay up to date on changes with the newly enhanced notification center."
Features
Content Management Services:
A large number of users can benefit from content management service. Box app allows seamless content management experience all of Windows PCs, tablets as well as smartphones.
Quick Sharing:
Box users can send shared links for a file or folder from within the app. It allows users to work on different file types such as PDFs, Office files, images and others.
Create and collaborate office files:
The app integrates with Windows so that users can create and edit Office files and have those changes saved directly to the box.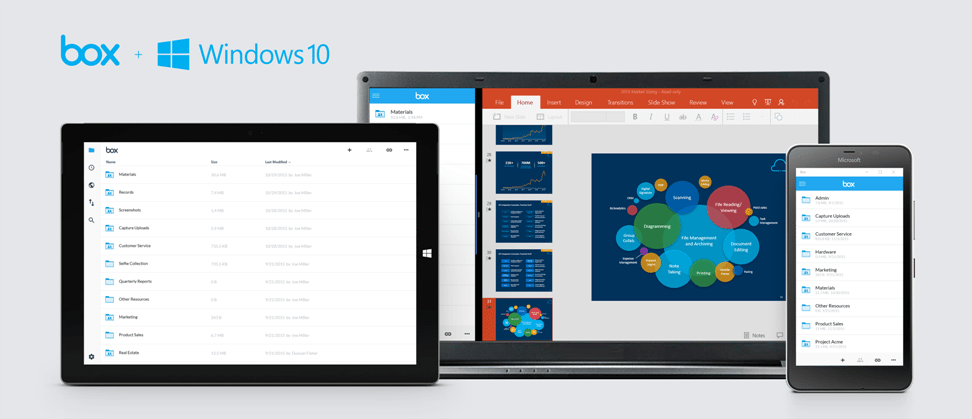 Real-time updates:
With Box app, you can work on Office files from the app and get real-time updates on changes with the enhanced Windows Notifications Center.
Find your favorites:
You can pin certain Box files and favorites to the Start screen using Windows 10 Live Tiles to quickly access them whenever you need to.
Other features:
With Box app, one can easily pin contents from the app and supports split-screen multitasking feature.
Are you excited about box app for Windows 10? Share your views with us in the comments.