YouTube is the most popular video portal and the world's largest source of moving images. It continues to offer a number of new initiatives. Now, YouTube has launched the official music app, the service's tailor-made experience. The new app has been titled YouTube Music and lets you listen to over 300 million audio tracks and boasts personalized recommendations and radio features.
YouTube Music App
The new YouTube music app is available for both iOS and Android. The app has been designed to show YouTube's power as a music service. YouTube Music attempts to capitalize on its dominance in this space. With this app, YouTube offers a new way to stream your favorite songs for free.
Ease of Use
The thumbs up button will toss the song into a saved list for later listening. A tap on trending tab serves up tracks from emerging artists and classic hits. It is a human-created list based on what's hot on the platform at any given moment. Each song you play or artist you choose kicks off a journey through the music catalog.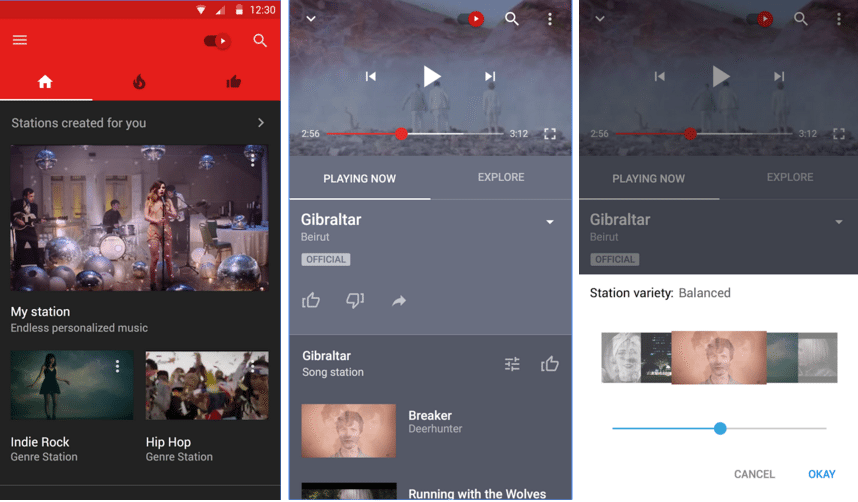 Features of App
YouTube Music also offers live concert footage, karaoke tracks and music instructional videos. When you launch this app, you will get a personalized homepage with some pretty basic genre stations. YouTube remembers what you've watched and searched for and this app takes a step further by learning more about what you like the more you use it.
Premium App
Though the app is free but comes with ads. One can go ad-free with a subscription to YouTube Red, a monthly service that disables ads and allows you to stream videos offline. It also lets you listen to YouTube videos in the background on your phone. The paid version of YouTube Music integrated with YouTube Red lets you play music in the background and get ad-free videos and listen to music offline. YouTube Red includes audio mode which lets you play audio-only. This audio-only mode is great for radio.
Some useful insights about YouTube Music:
Cost: Free
Ratings: 4.3 out of 5 stars
Publisher: Google Inc.
Requires Android: 4.0.3 and up
Download YouTube Music
Do you like this new YouTube Music app launched by YouTube? Share your thoughts with us in the comments!