YouTube Mobile Live Streaming
The Google-owned video service, YouTube, has announced on Thursday during a keynote presentation at digital video event VidCon that YouTube is bringing YouTube mobile live streaming. To use this feature, users need to hit the big red capture button in the corner, take or select pictures to use as a thumbnail and they can also broadcast live to fans. One will also be able to chat. According to the blog, "Today, we are announcing a new chapter in bringing the power of live video to creators everywhere. Soon, we'll be putting the power of YouTube live streaming in the palm of your hands."
Kurt Wilms, product lead of immersive experiences at YouTube, wrote in a company blog post announcing the development,"YouTube mobile live streaming will be baked right into the core YouTube mobile app." "You won't need to open anything else, just hit the big red capture button right there in the corner, take or select a photo to use as a thumbnail, and you can broadcast live to your fans and chat in near real time."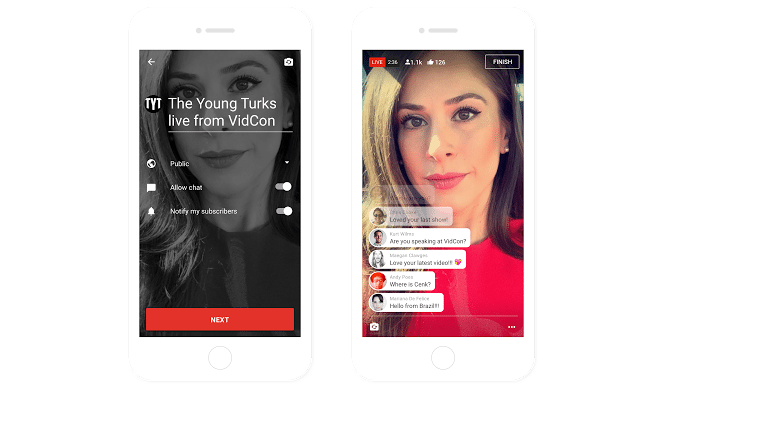 The live-streamed videos on app will have all the features of a regular video. One can find these via recommendations as well as playlists. The company has launched the feature initially with some creators and now, it is rolling out for more users. YouTube live streaming from mobile is available from today from select YouTube partners. YouTube says that the mobile live streaming will be baked right into the core YouTube mobile Android and iOS apps.
YouTube has been offering live streaming since the year 2011. In April, the company took the leap into live streaming of 360-degree videos. YouTube is starting to enable video live-streaming within the mobile apps.
YouTube move to bring mobile live streaming is a way to counter Facebook's live videos on its platform. Twitter has also acquired Periscope last year for live video streaming feature.
Do you also admire the live streaming feature by YouTube? Are you excited to use it on mobile app? Share your thoughts with us in the comments.