Meet Amazon New Kindle
Amazon has added a new e-reader to the affordable Kindle line. Amazon new Kindle is thinner with an increase in specifications while price remaining the same. The new base model Kindle has twice as much memory as the previous model and offers speedier navigation. Thanks to its rounded design, you can hold this thinner and lighter e-reader in one hand effortlessly.
Lighter and Thinner
The Amazon new Kindle is lighter in the hand as well as the wallet. It is 11% thinner and 16% lighter in comparison to the previous entry-level Kindle launched by Amazon. The new base model is the first update to Amazon's most affordable e-reader in two years.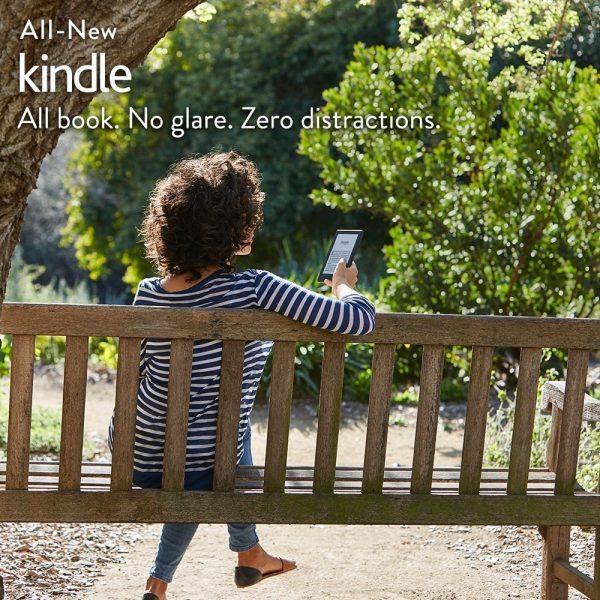 Display and Processor
Amazon new Kindle comes with a 6-inch display. The resolution is 800 x 600 pixels at 167ppi. The company has also increased the RAM from 256 MB to 512 MB. It includes 1GHz processor and will be available in black and white. It comes with a price tag of $79.99.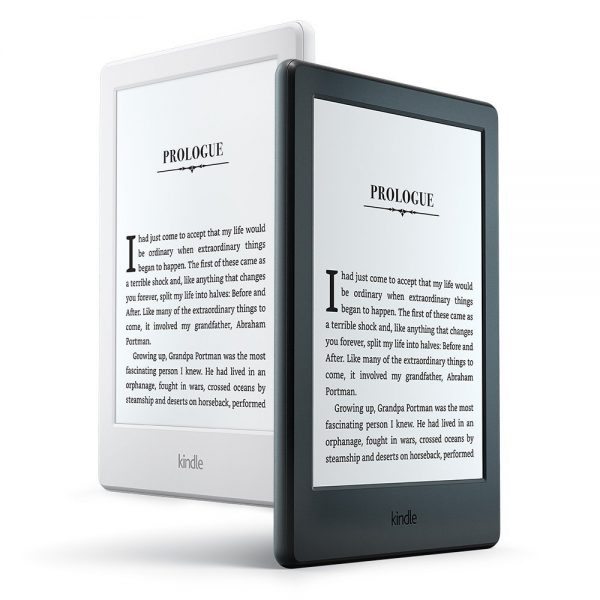 New Reading Features
It is the first Kindle that comes with built-in Bluetooth audio support. The Bluetooth wireless technology is the first for the devices. It is compatible with the new VoiceView technology for people who are blind or have vision problems. It reads e-books aloud when connected to Bluetooth headphones or speakers like Amazon Echo.
Pairing with Bluetooth is pretty easy and has good text-to-speech technology.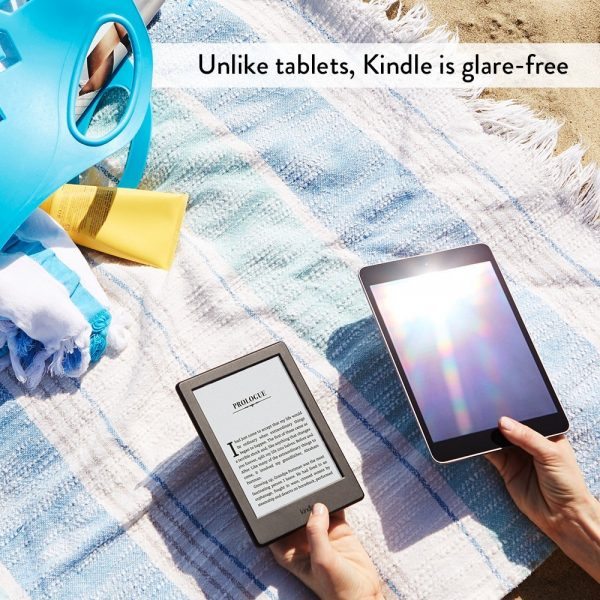 Amazon has added a new Chinese version of the Word Wise feature. This offers short hints or definitions for challenging words in tiny type. A new feature has been added that lets you export notes and highlights from a book, as a PDF or spreadsheet file. You can also add them to your emails for those important footnotes in the thesis. This feature will arrive via software update in few weeks, according to Amazon.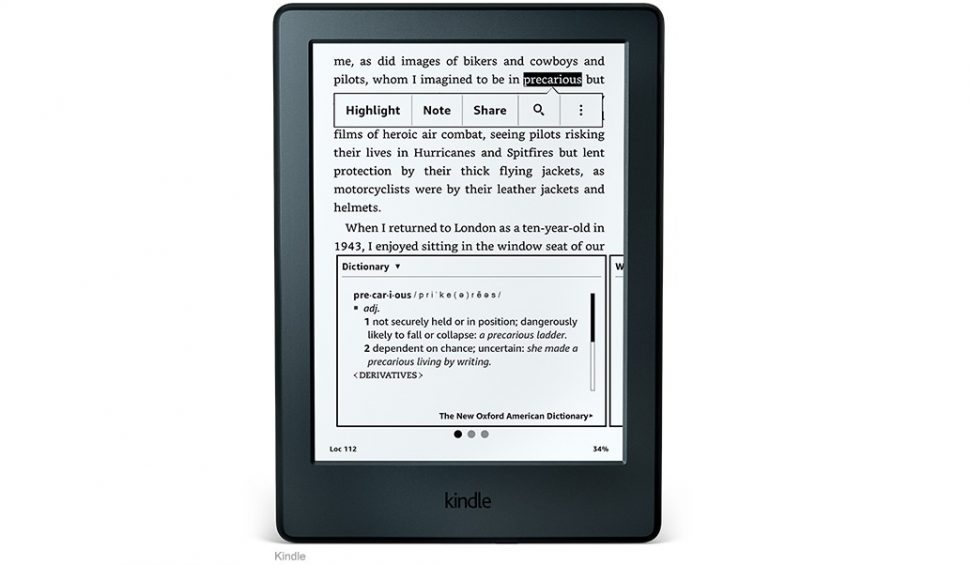 Battery
According to Amazon, the battery of the e-reader is sure to last for weeks and not just hours. So, you don't need power to maintain a page and can read for weeks on a single charge.
A quick look at specifications of Amazon new Kindle:
Specifications
Details
Display
6-inch
Dimensions
6.3″ x 4.5″ x 0.36″
Weight
161 g
Ppi
167 ppi
On-device storage
4 GB
Cloud Storage
Free for Amazon content
Battery Life
Up to four weeks
Content Formats Support
Kindle Format 8, Kindle, TXT,
PDF, HTML, DOC, DOCX, JPEG, GIF,
PNG, and more
Wireless
Yes
Colors
Black, White
Charging Cover
No
Warranty
1 year
What's Included
Kindle, USB 2.0 charging cable,
quick start guide
Price
$79.99
Release Date
July 7, 2016
Pre-order at
Amazon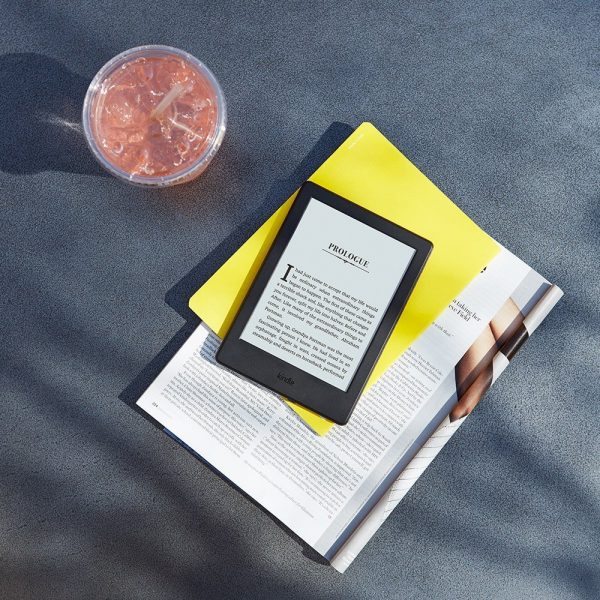 Here is a comparison of different Amazon Kindle e-readers: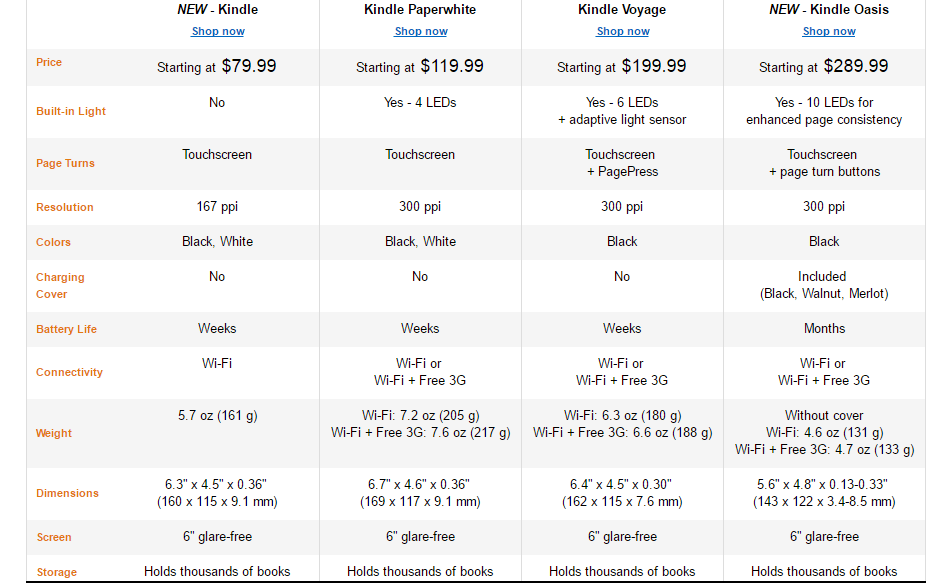 If you have an old Kindle, it might be a good idea to update it with a new one. Amazon new Kindle is available for pre-order and will ship on July 7, 2016 and thus, you don't have to wait for too long to check out the new Kindle.
Are you going to purchase this Amazon new Kindle? Let us know with us in the comments.