ADCmel.T: An App for Autism
A new mobile app has been developed that could help people with autism in the development of new technologies. The app is called "ADCmel.T" and allows people with autism as well as their families, teachers, professionals and anyone who supports someone with autism to share their ideas on new technology that would best help. The purpose of this app for autism is to find new tech solutions to some of the day to day challenges that people with autism face. It aims at involving these people in development of new technologies that could help them.
What is this app all about?
A team of researchers from the University of Sussex and University of Southampton have come up with a new solution to get inputs from people with autism to suggest ideas about the kind of solutions they need to best tackle day-to-day problems. Sarah Parsons of the Southampton Education School at the University of Southampton said, "If you've ever had a moment where you wished there was a useful technology out there to help you, or someone else, with a problem related to autism, this is the chance to get your idea heard." "We want to use this new app to crowd-source ideas which we can blend with the latest research and development", he added.
Share your suggestions via videos
With this new smartphone app for autism, one can upload a one-minute video explaining their idea and this idea will be shared with researchers. They will utilize these ideas and opinions for new tech developments for people with autism to meet their needs. Though there are a whopping number of people with autism in UK, around one in every 100, this is the first time such as initiative has been piloted.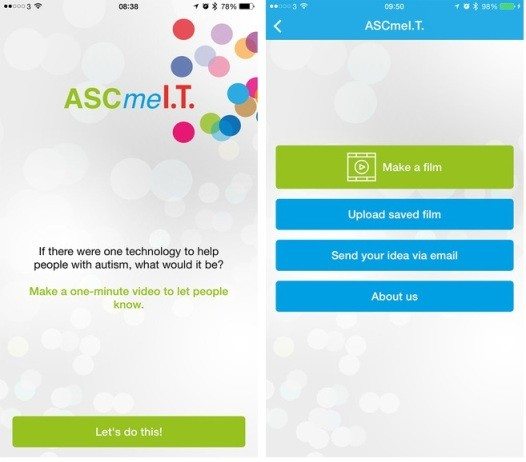 "This project is totally unique and encourages 'citizen science'," said co-investigator on the project Mark Brosnan, from the University of Bath's Department of Psychology. "ASCmeI.T is a simple yet highly effective way to enable people with autism to get their voices heard and to allow the creativity of a previously neglected group to be realised," he added.
Dedicated to help people with autism
The researchers now hope that this new smartphone app for autism will lead to new developments from technology to support transitions, to service delivery and lots more. The developments will be uniquely suited to needs of people affected with autism.
The app is available for free download for Android and iOS devices.
Some useful insights about ADCmel.T:
Cost: Free
Size: 4.7M
Requires Android: 4.0.3 and up
Requires iOS: 7.0 or later
Publisher: MyOxygen Limited
Download ADCmel.T for Android
Download ADCmel.T for iOS
Share your thoughts about this new smartphone app for autism affected people in the comments.
If you like our content, please consider sharing, leaving a comment or subscribing to our RSS feed to have future posts delivered to your feed reader.

Please follow us on twitter @CodeRewind and like us on facebook