Finally, Microsoft has officially launched official office apps for Android phones. The release has been almost after a month the company began rolling out an Office preview for Android.
Microsoft announced that the new apps are free to download. The Office suite for Android tablets was launched in February and now the Android phone apps are officially available. The office apps offer support for a variety of tasks such as the ability to review and edit files on the go, presenting PowerPoint presentations from your phone and more. One can also quickly pull up documents when stored on Google Drive or DropBox or Box. This new version of Office apps for Android phones will replace the older Office Mobile and requires at least 1 GB of RAM. Some key features require an Office 365 subscription.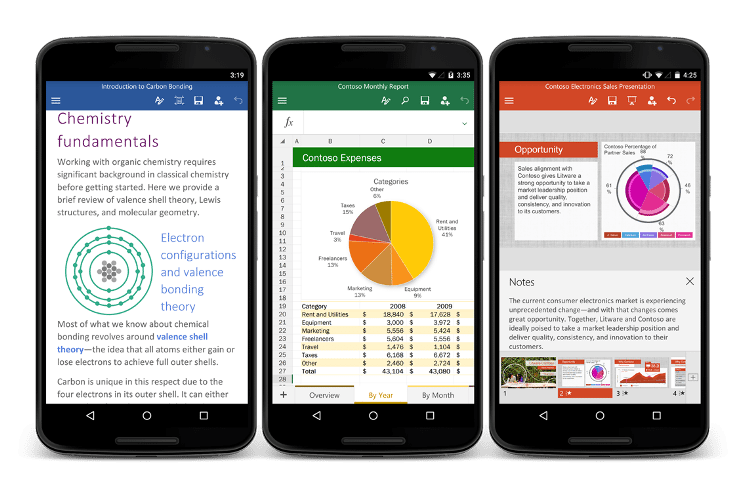 Office for Android phones needs running Android KitKat or above. The apps highlight Microsoft's strategy of targeting mobile market in areas other than Windows Phone. The company may be realizing that Windows Phone is not as popular as Android and has come up with new ways to be a part of user's mobile experience. The company has made deals with more than 30 OEMs to have the new Office apps for Android pre-installed. These companies include the likes of Samsung, LG etc.
"We are so grateful to our preview users, and with their help we were able to test the apps on over 1,900 different Android phone models in 83 countries," said Kirk Koenigsbauer, corporate vice president for the Office Client Applications and Services team. "During the preview, we heard from thousands of these users, and over the last few weeks we were able to incorporate a lot of their feedback into the apps we're launching today."
One can now download office apps for Android phones: Word for Android, Excel for Android and PowerPoint for Android from the Google Play Store.
Share your thoughts on the story in the comments!
If you like our content, please consider sharing, leaving a comment or subscribing to our RSS feed to have future posts delivered to your feed reader.

Please follow us on twitter @CodeRewind and like us on facebook