After successful launch of Skype for Business for Windows Phone, Skype is all-set to enter the Android and iOS platform. Microsoft CEO Satya Nadella has always prioritized development of core offerings for competitors' platforms as well. The aim is to help Microsoft broaden its user base. Over the last few months, the team has released the Skype for Business for Windows, Skype for Business Online in Office 365, Skype for Business Server, app for Windows Phone and now is the turn for Android and iOS devices.
Skype for Business preview shows that the app differs from standard Skype by featuring contact, recent conversations and upcoming meetings on the dashboard. The preview delivers a simple interface and an updated contact search bar for browsing global address list for first names, last names, email addresses or phone numbers. On iOS, the phone contacts are automatically included in the search.
The calling experience is also a bit different as the app features larger buttons for muting, adding participants and managing calls. The in-call and in-meeting experiences simpler navigation and there's now an option to view content and speaker's video side-by-side.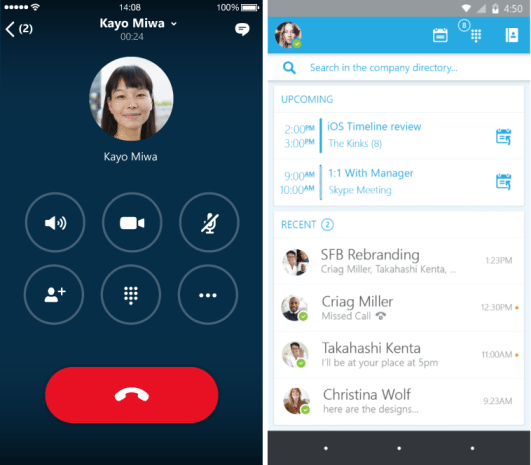 From Microsoft Blog,
Contact search bar—Search your Global Address List by first name, last name, email alias or even a phone number! On iOS, your phone contacts are also included in the search.
Upcoming appointments—Here you can see your current and next meetings in your calendar. You can either click through to read more about the meeting or click the Quick Join icon to join the meeting right away.
Recent conversations—Makes it easy to refer back to your most recent chats, phone calls and meetings.
Those with Lync 2013 apps on iOS or Android will automatically get this new app as an update. The app works for companies using Lync Server 2013, Skype for Business Server 2015, and Skype for Business Online.
One can sign up their companies for Skype for Business preview by clicking here.
Microsoft is allowing admins to nominate up to eight participants: 4 on iOS and 4 on Android to participate in the preview. August 14, Friday is the last date to apply for acceptance in the first batch of testers.
Share your thoughts on the story in the comments!
If you like our content, please consider sharing, leaving a comment or subscribing to our RSS feed to have future posts delivered to your feed reader.

Please follow us on twitter @CodeRewind and like us on facebook