When you are looking for a complete software to keep computer safe from all types of errors, look no further than PCKeeper Live. It is an efficient PC optimization tool that takes on a unique approach to PC system optimization. It offers a real human analysis of PC problems and optimizes PC with 13 utilities. Here is a chance to win a FREE PCKeeper Live license for six months.
Let's have a close look at its features:
User-friendly Interface
PCKeeper Live comes with an easy to navigate interface and a feature set that includes Anti-Theft, Disk Cleaner, and Disk Shredder. It is one of those few utility tools that make it easy for non-techs to improve computer performance. The interface is easy to navigate and users are offered personalized support from certified experts. Though it faces competition from powerful tools like IoIo System Mechanic but its competitors cannot match the level of 24/7 assistance that PCKeeper Live provides.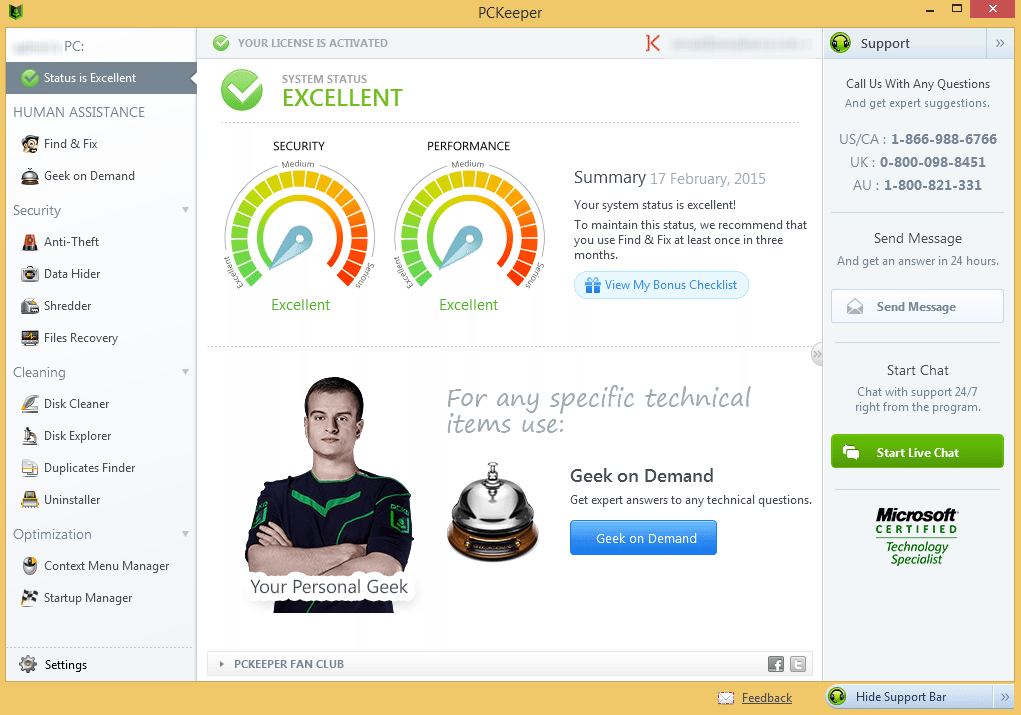 Find & Fix
Find & Fix is the most innovative feature of PCKeeper Live. It introduces a unique approach to PC care by bringing a real human analysis of the problems. Their technology allows real certified technical specialists to spot problems on PC and fix them. Here, Microsoft certified specialists leave improvement notes.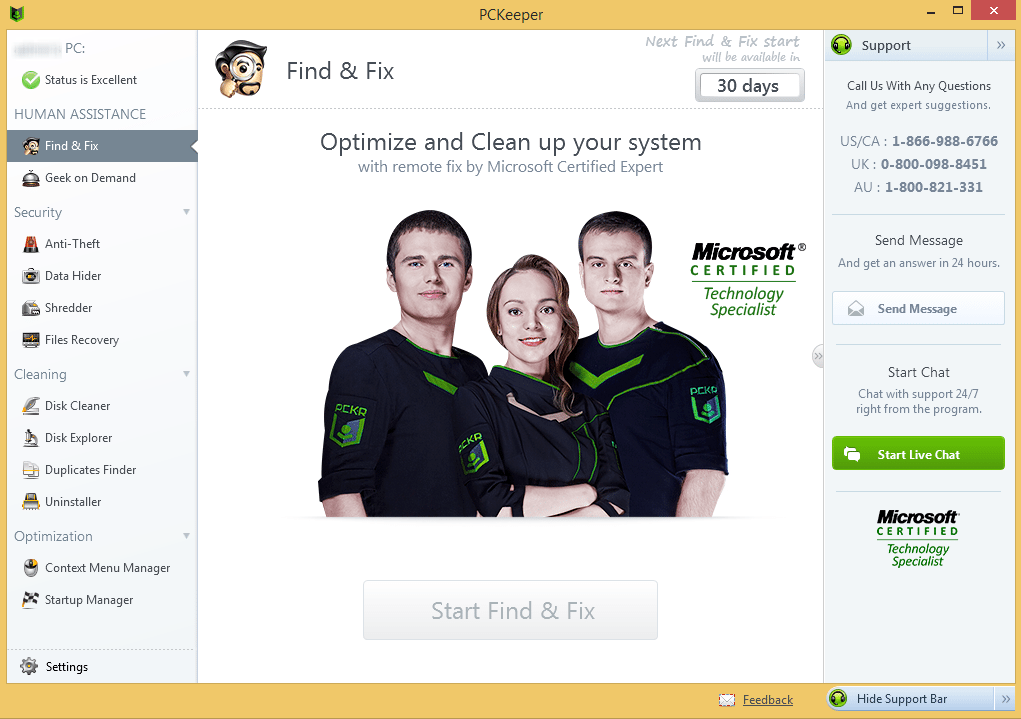 Geek On Demand
PCKeeper Live offers you real computer expert support. The personal geek is here to help you with Software, Hardware, Web or Buying related problems. The live chat feature allows you to contact him anytime. This is one of the most impressive features of PCKeeper Live.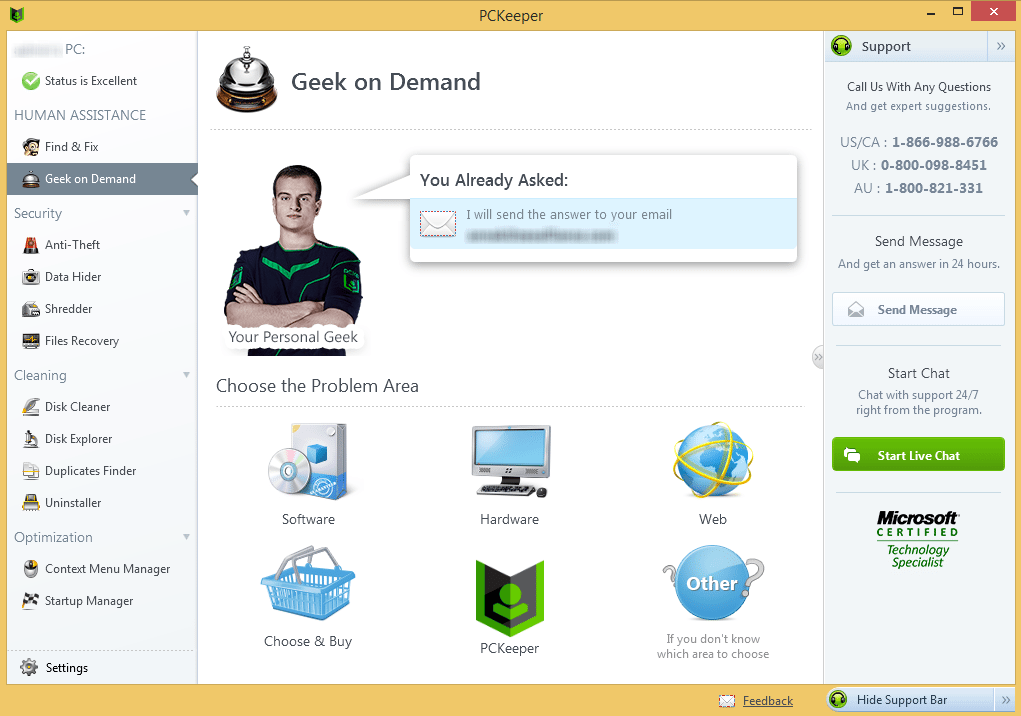 Security Tools
PCKeeper Live offers different security tools to secure your computer in a number of ways. These tools include:
Anti-Theft:
PCKeeper Live has an anti theft service to track your stolen laptop.
Data Hider:
Here, you can store your important documents and files with a password and others won't be able to see them.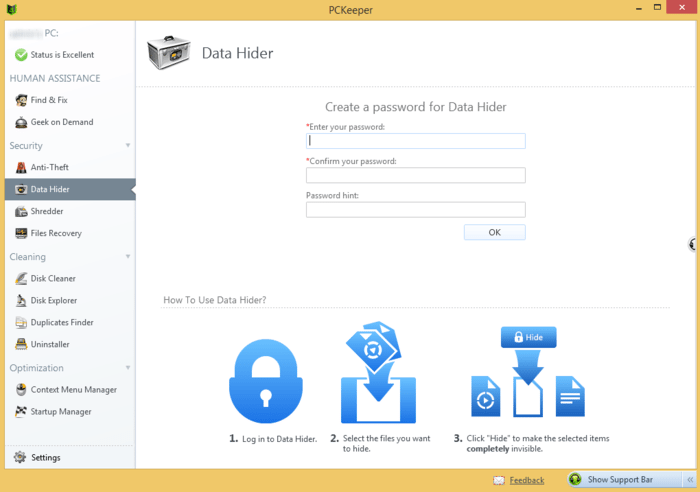 Shredder:
Shredder removes or deletes files securely from your computer. With this option, you can shred the data and will become irrecoverable.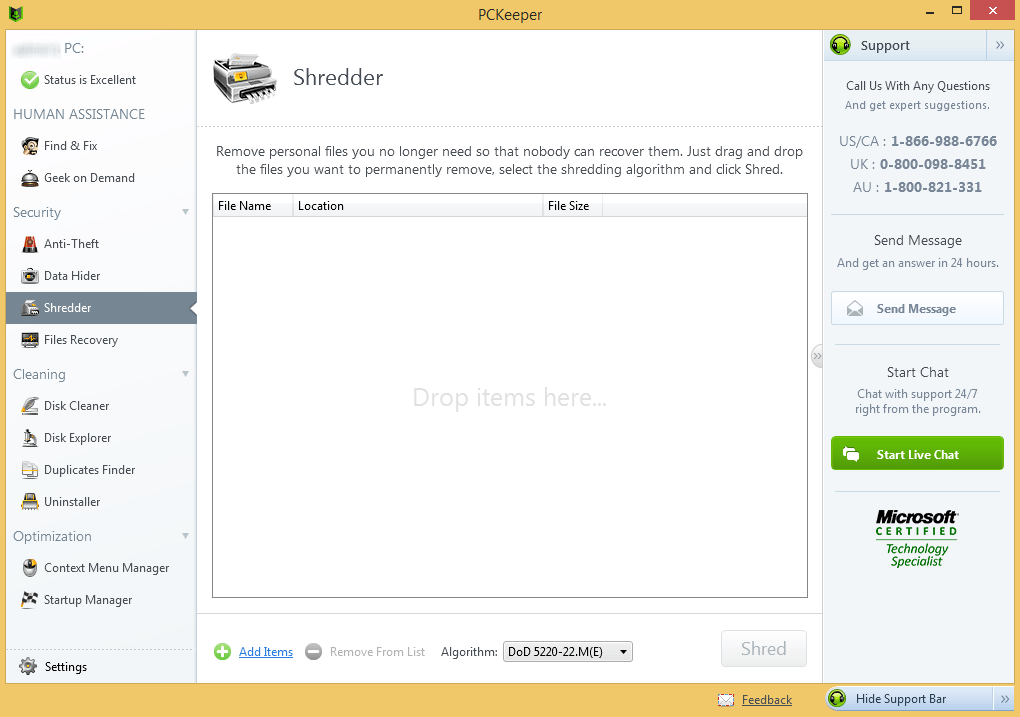 File Recovery:
As the name suggests, it allows you to recover important files that have been deleted.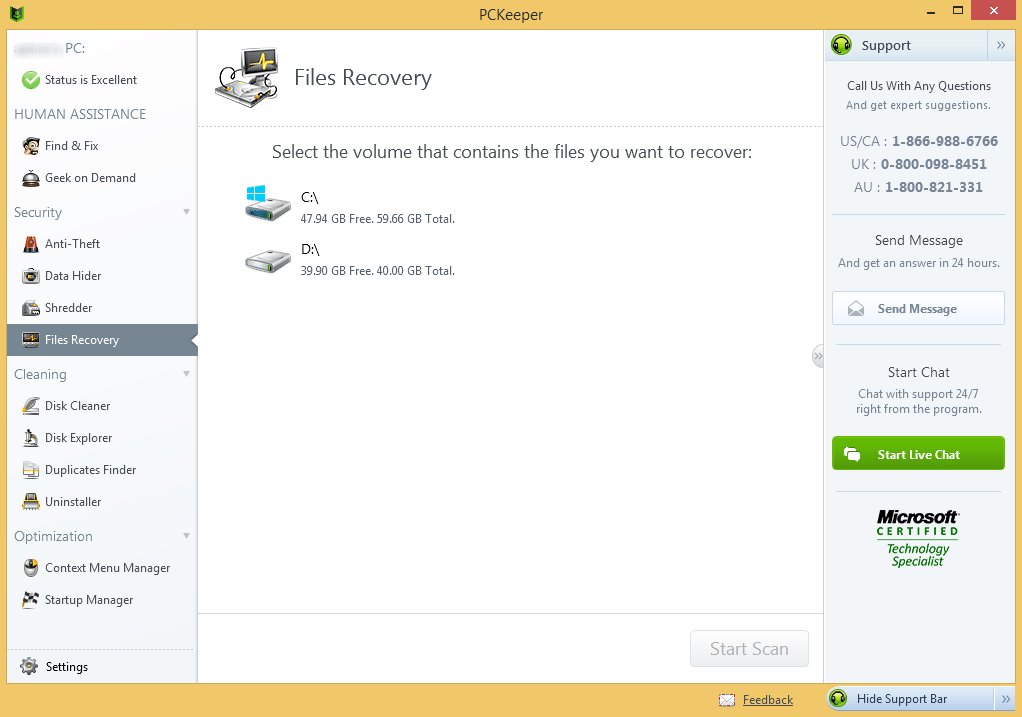 Cleaning:
In this section, you get access to several computer cleaning tools such as Disk Cleaner, Disk Explorer, Duplicate Finder and Uninstaller.
Disk Cleaner: It cleans your computer from temporary files and internet history.
Duplicate Finder: It cleans duplicate files on your computer system.
Uninstaller:It uninstalls unwanted software from your system.
Optimization Tools: PCKeeper Live comes with handy optimization tools that make your PC start faster.
Optimization Tools:
Startup Optimizer:It lets you control the programs you need to load whenever you boot up Windows.
Context Menu:It allows you to customize the options and sub-menus that appear on right-clicking the mouse.
---
Pros:
Improves PC performance
Responsive support
Easy to use
Loads of features included
Live Chat
---
Wrapping Up
PCKeeper Live is one of the useful utility software that specializes in custom PC optimization. It allows one to clean their PC without extensive technical knowledge. This user-friendly tool is great for those who require 24/7 assistance. Expert Support and Anti-Theft protection tools make it unique among other tune-up software available in the market. It comes with a powerful PC cleaner and different scans for errors, problems, junk and malware are build in one scan. This one-stop software solution helps you to keep your PC in top-notch condition and protects it against threats: online and offline. The software ensures your online privacy by identifying and removes tracking cookies to preserve your privacy.
The regular price of PCKeeper Live annual license is $39.95 but you can get the license for six months for FREE! Yes, you read it right. Share with us your views about any PC optimization tools you are using and get a chance to win full version license of PCKeeper Live for six months by commenting below. Just post your comment below and you could be the winner of FREE License.
We have 5 PCKeeper Live licenses to giveaway to our readers. Leave a comment below to participate in the free giveaway now!
In order to be eligible you will have to post at least one comment on this post.
If you like our content, please consider sharing, leaving a comment or subscribing to our RSS feed to have future posts delivered to your feed reader.

Please follow us on twitter @CodeRewind and like us on facebook