WinZip System Utilities Suite is a good choice when looking for system repair software. The software comes with a handy home screen and a simple interface. It is a complete collection of affordable PC utilities to keep the computers running at their peak performances. It comes with powerful system tools to fix common problems. The all-in-one scan and fix tool displays the health of your computer.
Home Screen
The home screen categorizes health of computer into three categories: Security, Cleaning and Optimize. Like other PC diagnostic software such as System Mechanic, WinZip System Utilities Suite has a one-click system scan. You can automatically allow it to repair errors it finds during the scanning process. The best part of this software is that it has a user-friendly interface and for those who are not very comfortable in using such software, it is a good choice.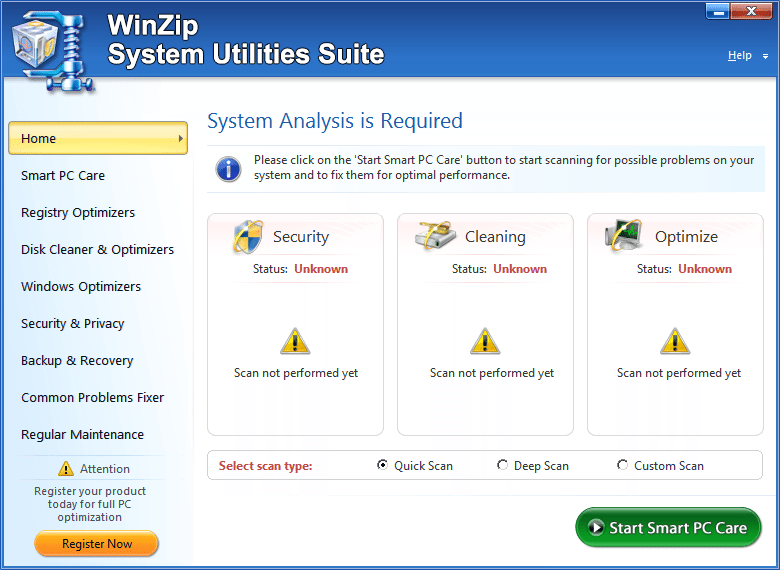 Different System Utilities
WinZip System Utilities Suite includes over 20 different system utilities to improve performance of computer. It offers a number of useful capabilities under one roof and these cover Disk optimization, hard drive SMART data retrieval, file cleanup, driver updater, registry cleaning and optimization, and more.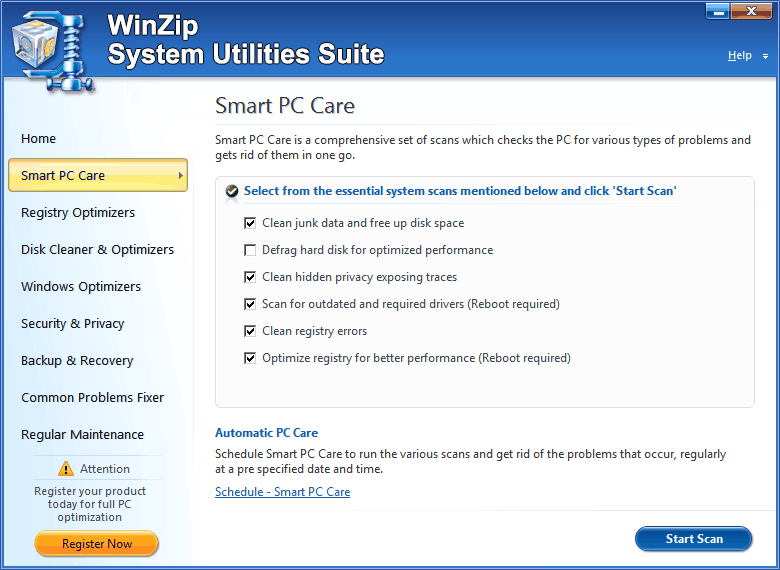 Smart PC Care
With 20 different system utilities, it may seem very complex for the novice users but it isn't. Start Smart PC Care optimizes your computer system with one click. They can also use separate tools as required to optimize specific aspects of the Windows PC. Smart PC Care performs all these jobs with just one click:
Cleans junk data
Defrags your hard disk
Frees up the disk space
Cleans registry errors
Scans for outdated drivers
Optimizes your registry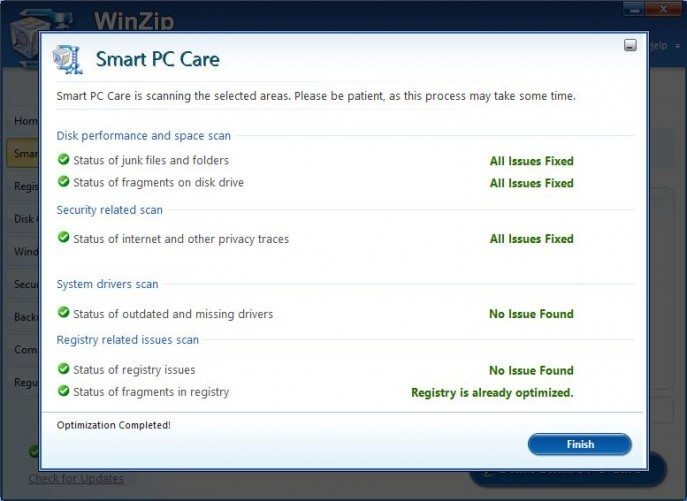 Game Optimizer
A significant feature of WinZip System Utilities Suite is the game optimizer. It allows you to run your game without other processes inference. The game optimizer provides additional processing power to your computer. It also gives you the option of settings up a virtual desktop to ensure maximum processing power.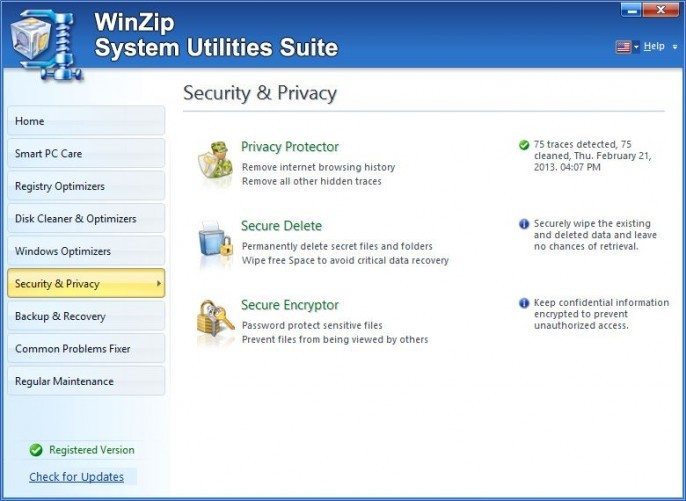 A quick look at WinZip System Utilities Suite:
| | |
| --- | --- |
| Specifications | Details |
| Platforms | Windows |
| Registry Optimizers | Yes |
| Disk Cleaners and Optimizer | Yes |
| Security and Privacy Tools | Yes |
| Backup and Recovery Tools | Yes |
| Smart PC Care | Yes |
| Windows Optimizers | Yes |
| Price | $39.95 |
Pros:
Smart notifications
Customizable Windows and Memory optimizer
Easy to use interface
Includes helpful optimization tools
Cons:
No official support for Windows 8
Competition from free programs
---
Wrapping Up
WinZip System Utilities Suite is a quality PC performance software that comes with a customizable memory optimizer and a game optimizer. WinZip System Utilities is a good choice for top two reasons. One is the good performance that it offers and second is the convenience it provides in having all utilities at one place. The only drawbacks of this software are the subscription fee and that it is not designed for Windows 8 machines. Though it runs on Windows 8 but it is not optimized for the system.
This software is subscription-based and most of the utilities work forever. Some modules like driver updater will not function when your yearly subscription expires.
Do you use WinZip System Utilities Suite? Which features you like the most? Let us know in the comments!
If you like our content, please consider sharing, leaving a comment or subscribing to our RSS feed to have future posts delivered to your feed reader.

Please follow us on twitter @CodeRewind and like us on facebook