About Futuremark
Futuremark is a reputed software company known for providing a variety of computer benchmarks. It creates benchmarks to measure, understand and manage computer hardware performance. The company has earned a niche for itself in the industry for developing industry standard benchmarks that are relevant and accurate. The company headquarters in Finland and has a sales office in Silicon Valley as well.
An Introduction to 3DMark
3DMark is used to measure the performance of computer hardware as well as mobile devices. It works by running intensive graphical and computational tests and includes everything from smartphones and tablets to multi-GPU gaming desktops. It is the first true cross-platform tool for measuring and comparing 3D performance.
3DMark is a great tool for testing high-end graphics cards and is used by millions of gamers and many of the world's leading manufacturers. 3D benchmarking tool tests notebooks on a variety of graphics-related tasks, such as real-time lighting, physics rendering and heavy particle effects.

3DMark comes with a number of benchmarks to meet the needs of specific hardware classes. Have a look at different benchmarks included.
Fire Strike
Fire Strike is a DirectX 11 benchmark and is meant for high-performance gaming PCs. Fire Strike tests are designed for high-end hardware. Fire Strike Extreme tests PCs with multiple GPUs and raises the rendering resolution to 2560×1440 from 1920×1080. On the other hand, the Fire Strike Ultra targets 4K gaming and raises the rendering resolution to 3840×2160.

System Requirements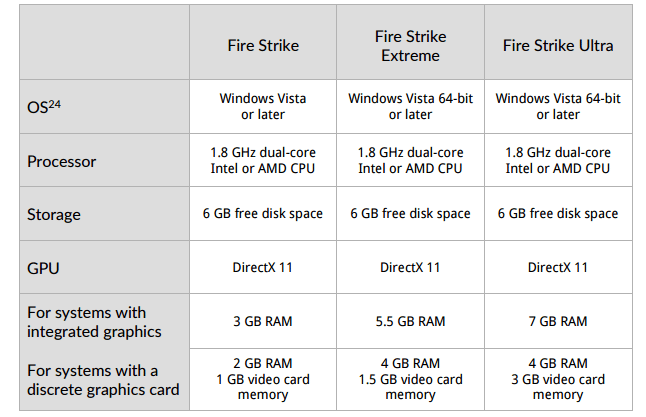 Sky Diver
Sky Diver is a DirectX 11 benchmark designed for mid-range gaming PCs and laptops. It includes twp graphics tests, physics tests as well as a combined test to stress CPU and GPU at the same time. While the Physics test benchmarks the gameplay physics simulations on the CPU, the combined tests contain both graphics workloads and physical simulations. Graphics Tests focus on tessellation and pixel processing and shader utilization.

System Requirements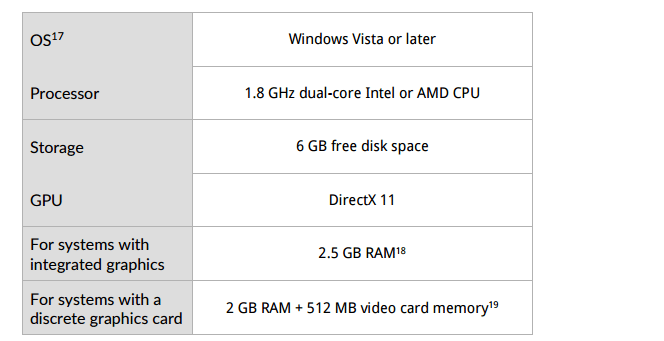 Cloud Gate
With 3DMark, Futurworks introduces a new test f.or Windows notebooks and home PCs called Cloud Gate. The benchmark uses a DirectX 11 engine limited to Direct3D feature level 10. It includes two graphics tests and a physics test.

System Requirements

Sling Shot
Here comes Sling Shot, a cross-platform benchmark for latest high-end smartphones and tablets. It has the capability to test the full range of API features such as instanced rendering, multiple render targets, and more. Sling Shot Unlimited is used for making chip-to-chip comparisons without vertical sync, display resolution scaling and other operating system factors.
Device Requirements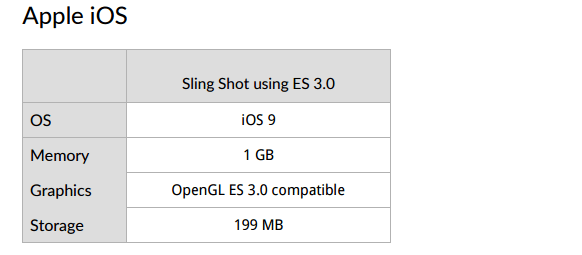 Ice Storm
Ice Storm is destined to run on smartphones and is used to test the performance of smartphone, tablet or an entry-level PC. It is rendered at a fixed 720p resolution and then scaled to the native resolution of the display. Ice Storm can be used for device-to-device comparisons of low cost mobile devices and Ice Cream Extreme is used for device-to-device comparisons of high performance mobile devices. Extreme raises the rendering resolution from 720p to 1080p and uses higher quality textures and post-processing effects in Graphics tests.

System Requirements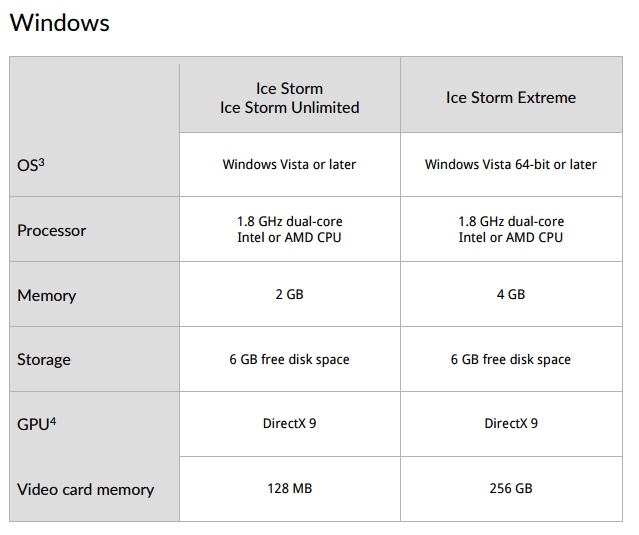 Pricing
3DMark Professional Edition: Starts from $995
3DMark Advanced Edition:Starts from $24.95
Wrapping Up
3DMark is a comprehensive app and has everything you need to benchmark your hardware. It is an ideal choice for anyone gaming on a smartphone to a high performance gaming PC. It has been designed to serve the needs of all devices including smartphones, tablets, notebooks and more.
Have you tried 3DMark? What has been your experience of using it? Share your thoughts with us in the comments.