Dashlane is one of the best password managers. A password manager stores all information for website logins including username and password. Dashlane simplifies your online activity by storing usernames and passwords securely. It secures your online passwords with a single master password and stores the data locally wit AES-256 encryption. This robust password manager comes with support for various IDs, credit cards and other payment methods, receipts and notes.
Let's explore its features:
Interface
One of the most amazing features is the beautiful and easy to use interface. The dashboard scores the overall safety of your account. The ratings feature shows how safe your passwords are. You can securely access to protected sites. For example, you want to keep your password private and the person you share it with will get an email with a link that expires after a brief time. Dashlane allows you to set an emergency contact for all accounts in case of an urgent matter. You can set contact to any coworker or loved ones.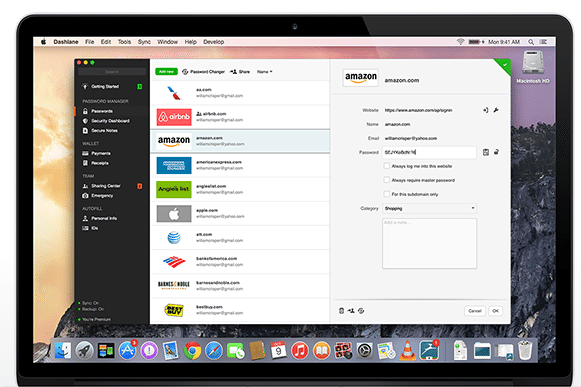 Easy Access
Dashlane securely synchronizes your logins and passwords and you can use them from your PC, Mac, iPhone, iPad or Android devices. Also, it works with most browsers including Internet Explorer, Mozilla Firefox, Google Chrome, Safari etc. With Dashlane Premium, your account backs up details to encrypted servers that only you can unlock. It synchronizes all your devices and users receive higher priority customer support than users with free version.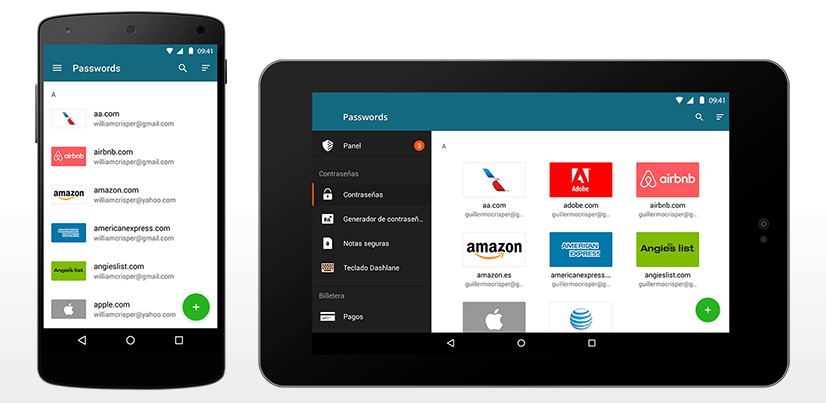 Digital Wallet
Dashlane allows you to store your payment options securely. With this password manager, you don't have to store payment types on websites. You need not to worry about your credit card details being stolen in case the website gets hacked. You can create strong passwords in just one click. From credit cards to receipts, you can save everything in your digital wallet and can access the digital wallet on any device for free.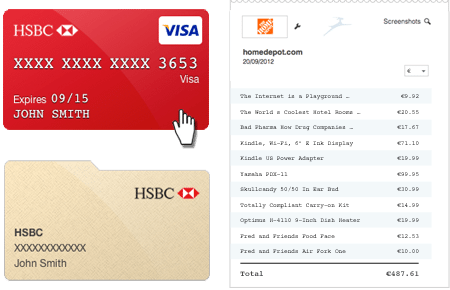 Security
Dashlane takes security very seriously. It uses AES-256 encryption and to access the stored passwords, you can use a master password. The encrypted data is stored locally on the device and syncs with your devices. One can also enable 2-factor authentication. Dashlane requires all users to have a strong password to make sure that maximum level of data protection is achieved.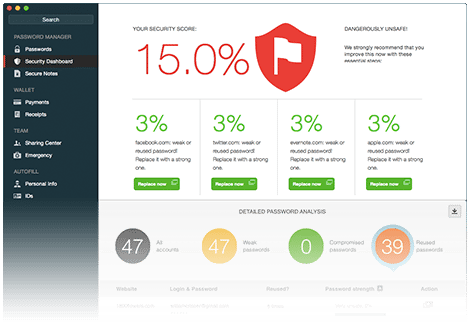 Password Changer
Password Changer is an amazingly useful feature that allows one to mass update the password quickly, saving up your time and at the same time, making them more secure. The company follows best security practices while securing communications between Dashlane, our servers and websites. The data remains encrypted with AES-256. The Password Changer automates the process of changing passwords.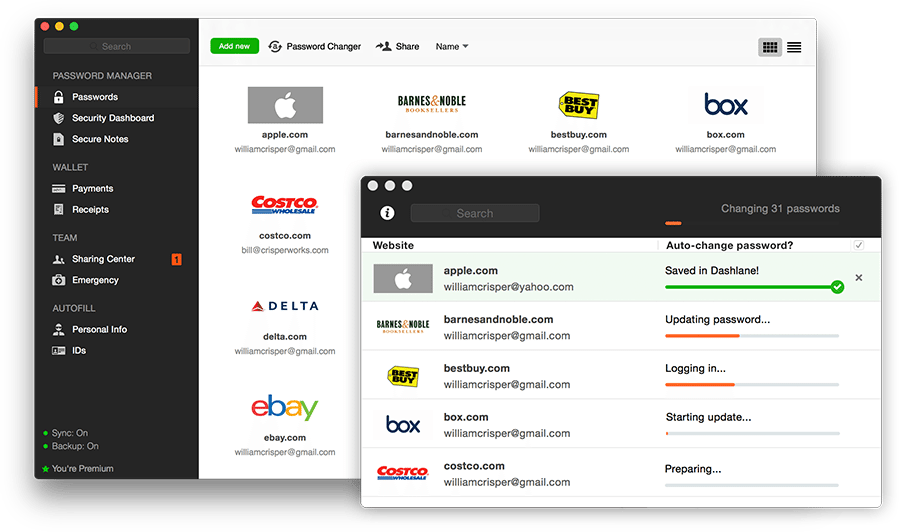 ---
Pros:
Choose to store password data on device or cloud
Password sharing
Determines the strength of each password
30 day free trial of Dashlane Premium
Easy to use
Cons:
Expensive
Does not work on Blackberry or Windows Phone
---
Final Words
All-in-all, Dashlane is a good choice when looking for password managers. It takes all your passwords and moves them into a secure wallet. Also, it helps you to create strong passwords. You can choose to store the passwords on their servers or your local devices.
Do you use Dashlane or will you consider using it? Let us know your thoughts in the comments!
If you like our content, please consider sharing, leaving a comment or subscribing to our RSS feed to have future posts delivered to your feed reader.

Please follow us on twitter @CodeRewind and like us on facebook