WWDC or Worldwide Developers' Conference, is the highlight of Apple's yearly calendar. Apple announced new features, including a few unexpected ones. The company focuses on speed, reliability and a smarter Siri. Let's get straight into the announcements made.
In this post, we bring the highlights of WWDC 2015. Let's have a look:
Apple iOS 9
Apple has now officially unveiled iOS 9 packed with welcome changes from its predecessor.
Apple has taken the wraps off iOS 9 at the WWDC 2015. The new operating system focuses on improved user experience and performance. The new mobile OS will run from iPhone 4S to iPhone 6 Plus and tablets like iPad Air, iPad Air 2, iPad Mini, iPad mini 2, iPad Mini 3, 5th gen iPod Touch and more.
A new feature called as Proactive Assistant comes in. this is basically a major upgrade to Siri that has now the ability to offer contextual search results based on location, search history and time of the day. With iOS 9, new performance enhancements have been added. A new low-power mode lets you enjoy extra three hours out of your battery. iOS 9 requires only 1.3GB of storage space, as compared to iOS 8's 4.6GB.
Improved Siri
Apple is adding smart features to the voice query feature, Siri. A new feature dubbed Proactive, Siri will optimize your phone depending on what you are doing. Siri gains wider support for natural language commands across all phones. Apple is also opening up further to third party apps to tie queries into specific apps, locations and searches.
Apple Pay
Apple Pay has added support for loyalty cards and in-store credit cards. It will now be acceptable in United Kingdom also. Other countries will also be supported in near future. Apple Passbook is now renamed as Apple Wallet and can be integrated with your debit card, credit card and loyalty cards.
Updated Maps app
Apple's Maps app is getting upgrades such as support for transit directions supporting trains, buses, subways and more. It is launching in over 20 cities such as New York, San Francisco, London and others.
The Notes app is refreshed and new multitasking features for iPads are created. Apple has also unveiled an app called News, which is designed to aggregate various new sources into one interface.
Apple Music
"Today we're announcing the Apple Music, the next chapter in music," Tim Cook said at the very end of the keynote. The service will cost $9.99 a month or $14.99 for a family plan of up to six individuals, with a three-month free trial. Apple says it will be available June 30th and 30 million tracks on Apple Music are also going to found on Spotify. A feature called Connect lets artists upload music, photos and messages that are shared with their fans.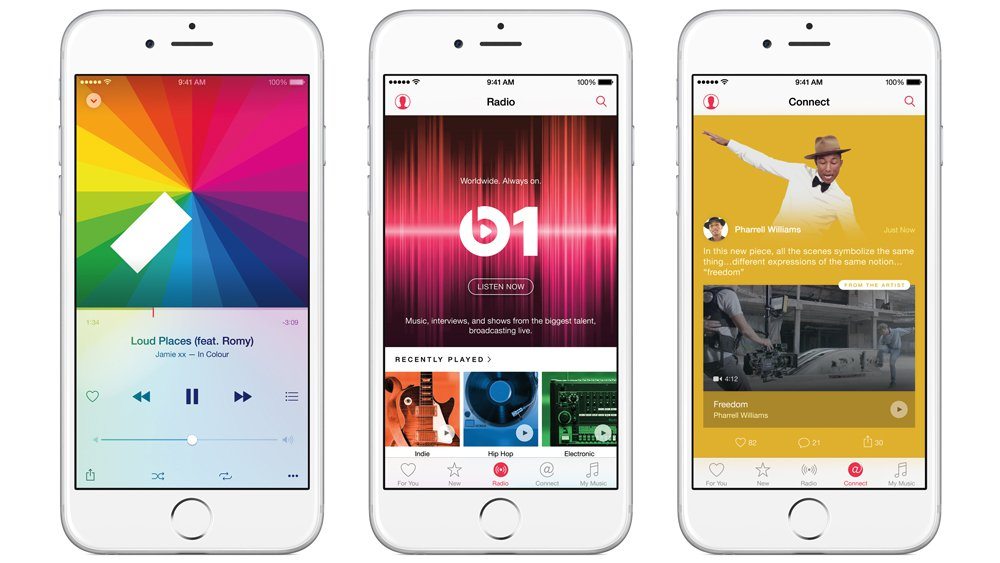 Improved Spotlight
Spotlight gets an upgrade and becomes its own little search engine. Apple's search app will now be able to pull information directly from the web and apps. It will also be able to search via voice for pictures and other apps.
Watch OS 2.0
The recently launched Apple Watch gets an update to bring more options for watch faces. Now, users can also reply to emails. There's also added support for HealthKit and HomeKit.
Apple will first release iOS 9 to registered developers, followed by public beta in July. It will then be available as final release and compatible with devices as old as iPhone 4S and iPad 2.
OS X EI Capitan
Apple has announced the latest iteration of Mac OS X, called as EI Capitan. It focuses on two areas: experience and performance. Apple's Craig Federighi says that EI Capitan is 1.4 times faster than Yosemite. The company is bringing Metal to OS X, which offers up to 40% greater rendering efficiency. OS X EI Capitan is available to developers and will be offered as a public beta in July.
Are you excited about the features launched at WWDC 2015? Let us know your views in the comments section!
If you like our content, please consider sharing, leaving a comment or subscribing to our RSS feed to have future posts delivered to your feed reader.

Please follow us on twitter @CodeRewind and like us on facebook