At the WWDC 2015, after announcing OS X EI Capitan, Apple announces iOS 9. The latest OS aims at improving productivity. Siri comes with a new user interface, Passbook has been renamed to Wallet, Apple Pay has been updated and more. It focuses on enhanced security and privacy of the users.
Here's everything you will enjoy with iOS 9:
New Proactive Assistant
The new Proactive Assistant feature comes to iOS 9. This is the main feature of iOS 9 and is Apple's way of taking on Google Now. It will suggest apps, contacts and media based on your location, activity and time of the day.
According to Apple, the intelligent processing with Proactive Assistant is happening on the device and data is not being sent to any server. Proactive is essentially Apple's version of Google Now: an assistant that aggregates data across Siri, Contacts, Calendar, Passbook as well as third-party apps.
Increased Security
iOS 9 comes with improved security. Stronger end-to-end encryption will be used for syncing information like notes and reminders. Security extensions will be used to prevent unauthorized access to secure files. iOS 9 advances security by strengthening the passcode that protects the devices. This will make it harder for others to get unauthorized access to your Apple ID account. These security features by Apple make it harder for anyone to get access to your personal details.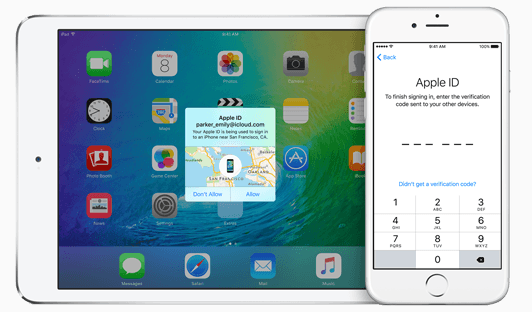 Privacy Enhancements
With iOS 9, you can be sure that your data is secured and kept private. It won't be tied to your Apple ID or any Apple service. Also, iOS 9 will feature robust six-digit passcodes and two-factor authentication to keep your data secure.
Powerful Built-in Apps
iOS 9 brings key enhancements to several apps such as mail, messages, web browsing, making notes and lots more.
Apple announced the most unlikely update – Notes. It gets a new checklist feature where one can add photos to any note. They will also able to add links from the share sheet.
The Cupertino-based giant also brings in an improved keyboard. Keyboard with iPads get shortcuts to cut, copy, paste, attachments etc. The Shift key has also been fixed and you can also put two fingers down on the keyboard and becomes a trackpad to move the cursor around. iPads are also getting the ability to Multitask. Users will be able to use multiple apps simultaneously.
A new app has been added to Home Screen and is called as News. It comes with a rich and immersive design offering you all the stories you want to read, from top news sources, based on your interested topics. News will let you enjoy interactive and engaging stories, rich with photo galleries, videos and animation.
News App has been tied with The New York Times for 33 articles a day along with magazine publisher like Conde Nast and countless bloggers. The content has been optimized for both iPad and iPhone and will be available in US, UK and Australia.
Android Migration
You can now wirelessly switch from Android device to your new iOS device with the app called Move. It securely transfers all your data and help you rebuild your app library.
HomeKit
iOS 9 HomeKit adds support for Windows shades, motion sensors and security systems. HomeKit devices will also be accessible via iCloud so that one will be able to log into your home from a web browser and control everything.
HealthKit – A minor, but welcome and overdue change in iOS 9.
CarPlay – iOS 9 enables Apple's in-car platform to provide wireless pairing.
Photos – A new thumbnail bar will appear when swiping between photos.
Apple Wallet – new name for Apple Passbook. It will be a central hub for tickets, loyalty cards, and also supports reward points.
Is iOS 9 promising to fulfill your expectations? Let us know your thoughts in the comments!