Apple iPhone 8 Rumors
Apple is expected to announce iPhone 7S, iPhone 7S Plus and the iPhone 8 in September and rumors have been around over the past couple of months. Here's a roundup of what we think we know about the much rumored Apple iPhone 8 based on several leaks.
Design
As far as the design is concerned, Apple accidentally leaks it when the company put out the firmware for its upcoming HomePod smart speaker. In the process, it released key details about iPhone 8. It will incorporate advanced facial recognition technology. Developer SteveTroughton-Smith also unearthed a glyph of the new iPhone with sleek edge to edge display. Troughton-Smith via Twitter communicated that the Apple iPhone 8 will not likely to incorporate a Touch ID sensor directly into the display. Based on one of the tweets, at least one of the models will have face unlock. The higher-end model will have a bezel-less screen wrapping around the speaker and cameras at the top.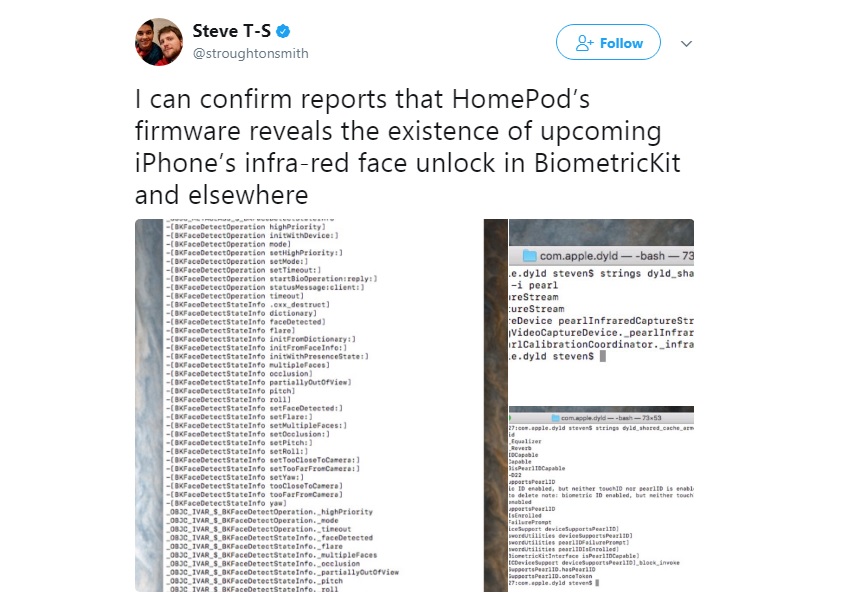 Image Source: Twitter
Facial Recognition
It is yet not known whether Apple is going to eliminate the Touch ID fingerprint sensor for facial recognition or not. But, there have been speculations that the company will be moving Touch ID fingerprint sensor to the back of iPhone 8, like Samsung Galaxy S8. So, we can expect to see a new look with slimmer bezel, no home button and a powerful face-recognition feature.
Display
The edge-to-edge screen on iPhone 8 is expected as the code found in the same HomePod smart speaker firmware. The code also suggests that iPhone 8 would have a 6.5-inch display; conflicting the previous reports saying 5.8-inch display. It is expected to ship with pixel density of 412 ppi.
Other Details
Apple iPhone 8 is also expected to feature wireless charging, a rating of IP67 or better and an A11 chipset. Most analysts are expecting its price to be most expensive ever in the range of $1100-$1200.
What are your thoughts about the rumored features of Apple iPhone 8? Let us know in the comments!