JBL Charge 3
JBL Charge 3 is an ultimate, portable and waterproof Bluetooth speaker. It comes with IPX7 rating and can be submerged in water and can still work without any issues. Thanks to its waterproof design, you can take it to everywhere whether in the poolside or in the rain.
With so many Bluetooth speakers available in the market today, what features distinguish JBL Charge 3 from them? Which features make it stand out from the competitors? Let's have a close look at its features:
Design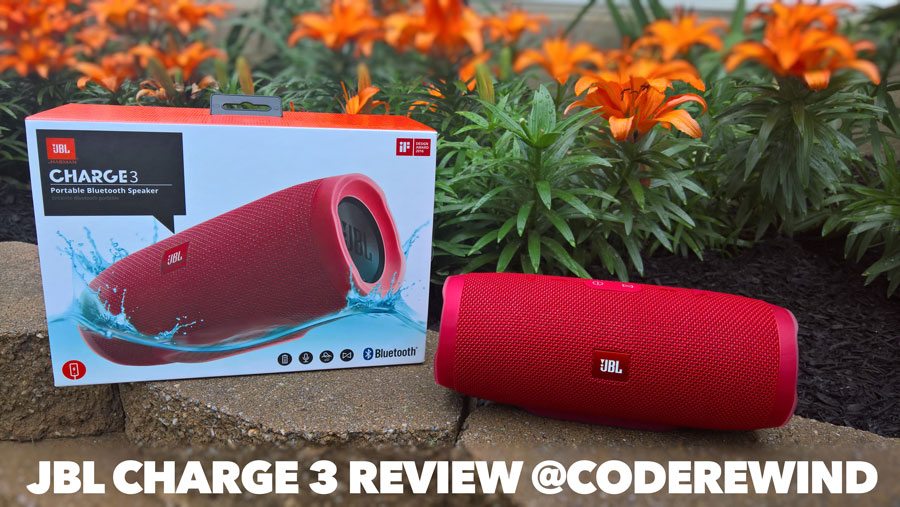 The JBL Charge 3 comes with a beautiful design and various on-board controls. There are Bluetooth pairing button, volume button, power button, JBL Connect button, play/pause button and answer calls. Underneath the JBL logo, there's a row of white LEDs that tell you about the remaining battery life. At 1.76lbs/800g its definitely on the heavier side in the mid size speakers but weight is well balanced. The rugged fabric material holds well and feels premium.
There's a 3.5mm audio output, micro-USB charging input and the signature feature. The USB charging output doubles as a portable backup charger. This implies that you can charge your smartphone/tablet/camera etc. using the USB power. All-in-all, The Charge 3 features an amazingly durable and robust build quality.
Amazing Audio Quality
JBL Charge 3 comes with two 10W drivers and passive bass radiators that deliver some impressive bass that is even better than its predecessor. It can hit a frequency range of 65Hz – 20 KHz producing a precise, crystal clear mids and highs.
Noise-cancelling Speakers
You can also accept or make calls using your smartphone and these Bluetooth speakers come with built-in noise and echo-cancelling speakerphone so as to offer crystal clear call quality.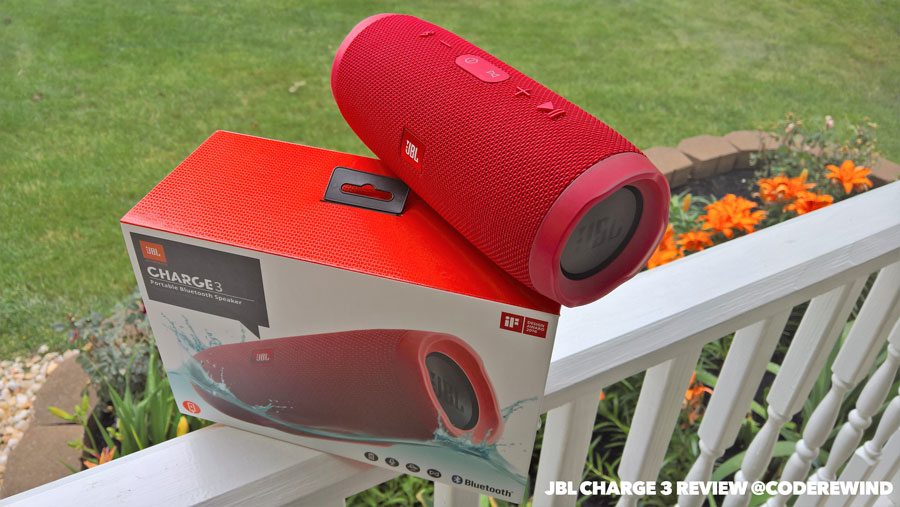 Battery Life
JBL has made a substantial improvement when it comes to battery life compared to Charge 2 or Charge 2+ which offered around 12 hours. JBL Charge 3 however claims over 20 hours of use.
IPX7 Certified Water Proof
While many speakers in the market are only splash resistant. But this Bluetooth speaker can be submerged in water up to 3.3 feet for a maximum 30 minutes. This is one of the few speakers that can float. The ports on the back are protected by a rubber sealed cap.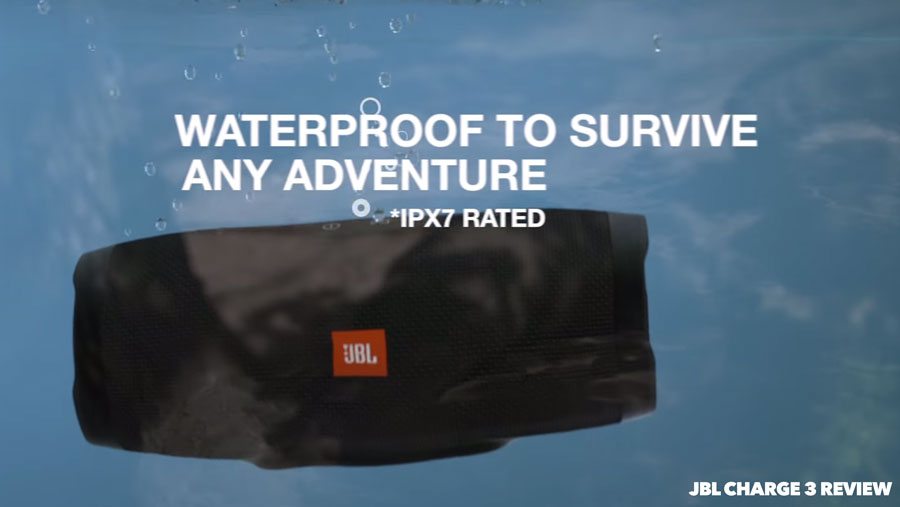 JBL Connect – Link JBL Speakers
With JBL Charge 3, you can wirelessly stream music via any Bluetooth enabled device. You can also wirelessly link multiple JBL Connect-enabled speakers and enjoy awesome listening experience. The wireless multi-pairing feature dramatically amplifies your audio experience when you play music from your smartphone or tablet. You can pair this with another JBL speaker of same or different model.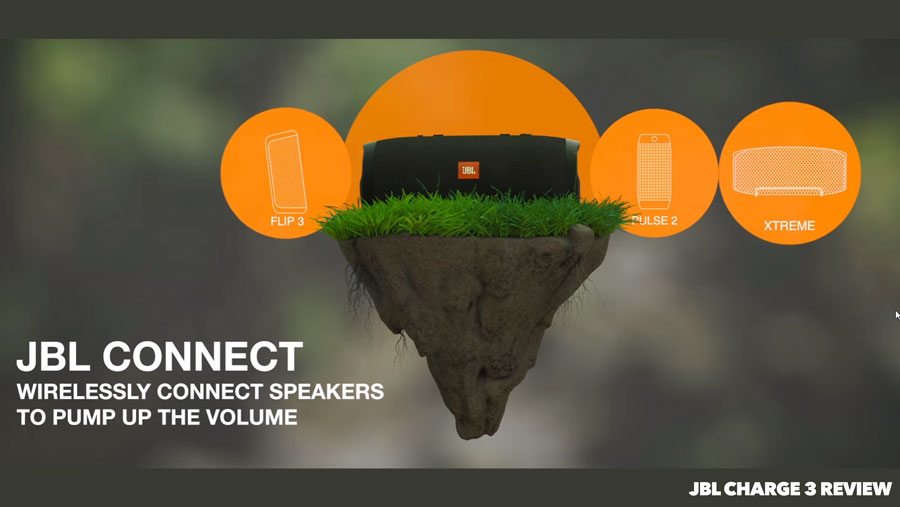 Charges Your Smartphone
It includes a huge-capacity battery of 6,000mAh that can provide 20 hours of playtime. It can also charge your smartphone/tablet simultaneously while playing music. It charges mobile devices via the USB port. With JBL Charge 3, you can connect up to 3 smartphones or tablets and experience powerful stereo sound.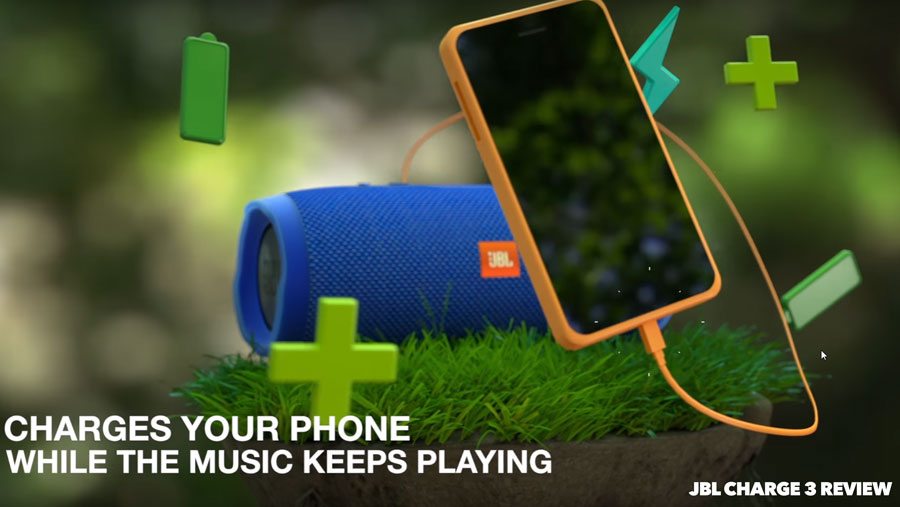 Specifications
JBL Charge 3
Display
12.9-inch
Dimensions
213 x 87 x 88.5mm
Weight
1.76lbs/800g
Battery type
Lithium-ion Polymer (22.2Wh)
Music playing time
Up to 20 hours
Rated power
2 x 10W
USB charge out
5V / 2A (maximum)
Frequency Response
65Hz-20kHz
Support
A2DP V1.3, AVRCP V1.5,
HFP V1.6, HSP V1.2
Transducer size (mm)
2 x 50
Battery charge time
4.5 hrs
What's Included
1 x JBL Charge 3
1 x 5V 2.3A USB Adapter
1 x Micro USB Cable
1 x Safety Sheet
1 x Quick Start Guide
1 x Warranty Card
Price
$149.95
Available at
Amazon.com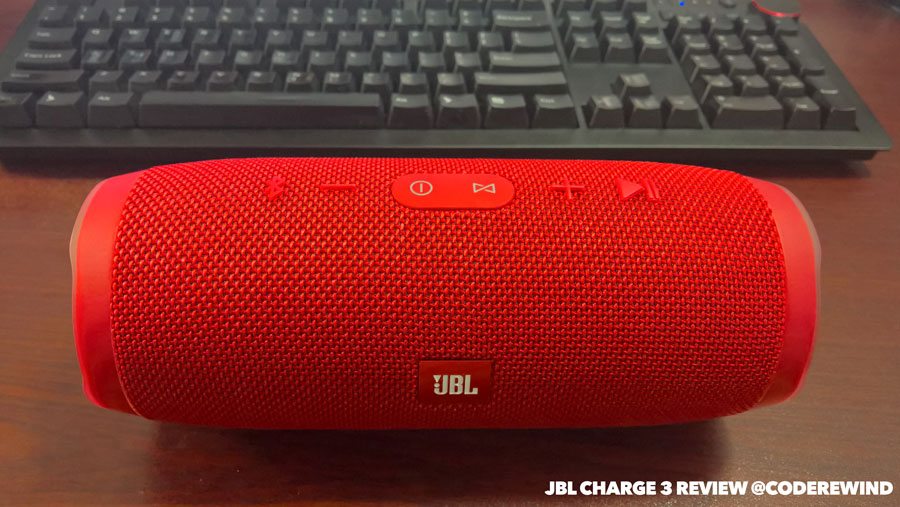 Wrapping Up
TheJBL Charge 3 has an overall power output rating of 20W whereas the CHARGE 2+ has an overall power output rating of 15W. The CHARGE 3 is also slightly larger than the CHARGE 2+. CHARGE 3 is also waterproof while the CHARGE 2+ is only splash proof and the most distinctive difference would be the JBL Connect feature that the CHARGE 2+ does not have.
Charge 3 is one of the most reasonably priced waterproof wireless speakers. It is durable, rugged, sleek, great battery life and is capable of charging other portable devices as well. When you are looking for a Bluetooth speaker providing extraordinary audio quality and great value for money, Charge 3 is the best bet. The only thing missing is NFC for easy pairing.
Do you like JBL Charge 3 Bluetooth speaker? Which is your favorite speaker? Let us know your thoughts in the comments.