With many activity trackers available, it's difficult to select the one for you. We provide you detailed review of these wearables so that you can better decide for which one to go. If you don't like the design and look of typical fitness bands and don't find them comfortable in wearing everywhere, Withings Activité deserves your attention. Most activity trackers come with rubber straps and little LED displays are not fine when you are presenting to the board or attending a wedding. But, this activity tracker is in keep with most men's watches. This Swiss-made analogue watch comes with sensor tech hidden away underneath the Sapphire glass dome.
Let's get into the details:
Design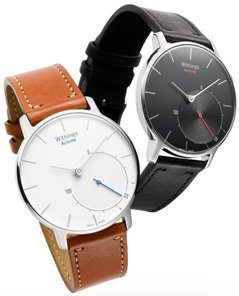 Withings Activité has been designed using exclusive watch materials and bears Swiss made label. The dials come in two colors: a sleek black pattern and a glistening white face. Both colors look classy and attractive. The strap is made in black or tawny Barenia leather. There's also a grey silicone strap in the box which is designed for sports. Every aspect of the watch from shining dials to creamy white face and stainless steel case, it is excellent watch. The minimalistic face has dashes to show the time.
Performance
You can download the HealthMate app for Android or iOS and turn on Bluetooth to get started. You can use Withings tool to start the watch up. The app will then prompt you to adjust the dials. You can then set up your HealthMate accounts and set reminders to eat fruit, drink water and other healthy habits. Activité tracks your every step, any swimming you may do, and the quality of your sleep. It has a silent alarm that wakes you with a gentle vibration.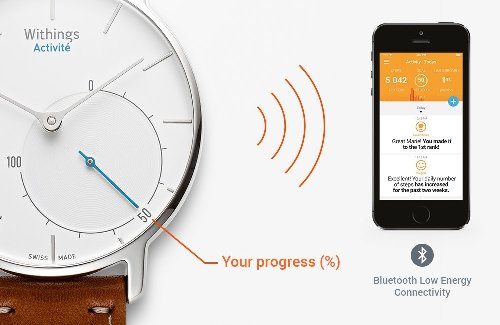 Sleep tracking is also one of the features included in this watch. It also estimates when you asleep and watches over your sleep patterns. It automatically tracks the sleep cycle reliably and even tell you when you're in a deep sleep or a light sleep.
Battery
Here comes with the most admirable feature of Withings watch. You never need to charge it. Instead of wasting time to squeeze in a small battery and room for charging port, it is powered by a CR2025 button cell that lasts for 8 months. Withings even offers second battery for free when you buy the watch. Also, the batteries are relatively inexpensive.
I am sure you're going to love this feature of Withings Activité. No more hassles of finding out your charger before you go for your fitness training.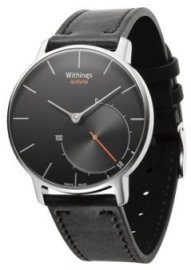 A quick look at Withings Activité:
Specifications
Details
Dimensions
Watch: 1.3 inches (36.3 mm)
Displays
Analog Display
Weight
37g
Battery
CR2025 Button Cell Battery
Silent Alarm
Yes
Compatibility
iOS (iOS 7 or higher)
Android (4.3 or higher)
Free App
Yes
Cost
$450
Available At
Amazon.com
---
Pros:
Luxury Design
Excellent Battery Life
Attractive App
5 ATM water resistant
No charging required
Cons
Expensive
Limited functionality
Watch batteries required
---
Final Words
All-in-all, it is an outstanding watch that is a complete activity tracker as well. It's beautiful and smart and tracks your steps with accuracy. It also monitors your sleep. It may not be a fully featured smartwatch but is one of the beautiful fitness trackers available in market today. It comes with a high price tag of $450, but most designer wrist watches come at same cost. And, this designer watch is fitness tracker too. If you are looking for full-fledged smartwatch, its features may be pretty limited.
For those looking for a fabulous watch that tracks activity and sleep, Withings Activité is a good choice. What are your views about this watch? Let us know in the comments.
If you like our content, please consider sharing, leaving a comment or subscribing to our RSS feed to have future posts delivered to your feed reader.

Please follow us on twitter @CodeRewind and like us on facebook