BeeRaider is known for delivering quality innovative keyboard products to its users. This Irish based company plans to makes a difference in the world of keyboard with its new optimised radial keyboard that comes with a unique design.
The new BeeRaider Optimised Radial Keyboard design helps you double your typing speed as compared to an ordinary QWERTY keyboard. The keyboard will be available in two main layouts. The first will be ergonomic version of QWERTY layout and second will be a similar one featuring Optimised character-layout, which aims to greatly improve users' typing speed. Here we are reviewing Optimised Wireless Keyboard
Design
BeeRaider Optimised Radial Keyboard comes with a unique layout that resembles a Bumble bees butt with wings sticking out. It comes with all the keys necessary to type and adjust your message. The keyboard has made major location changes for the keys. For example, the most keys you need at the center including spacebar. The more useless keys like Q, K, X are placed farther away. The keyboard comes as a desktop 2.4 GHz wireless PC keyboard and mouse combo set.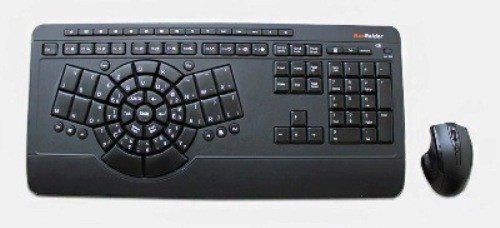 Unique Features
Testing has showed that the BeeRaider Optimised Radial Keyboard's alpha-character layout can be memorized in 10-20 minutes. As the alpha-characters are those characters that majority of people would type on, this keyboard design aimed at untrained computer keyboard users. The new design will solve problem of cramped small keys on Laptops and Net-books. It integrates successfully with mobile and non-mobile devices. It is logical, efficient and ergonomic. In short, this is the keyboard designed for the 21st century.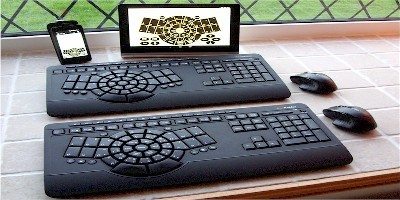 Android App
BeeRaider Keyboard Android app provides you with Radial Keyboard design. The design represents something landmark in the development of Human Interface Devices. Just install this app on your Android based device and then follow simple steps to make it work for you. Change the Language and Keyboard settings on your phone and select BeeRaider. Now, open any application and do a long press, a small dialog box will appear that says Select Input Method. Choose BeeRaider and your BeeRaider keyboard will be displayed on the screen.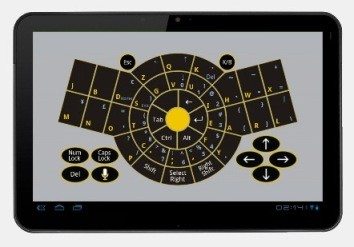 ---
Pros:
Unique Design
Improves Typing Speed
Clean layout
Fully programmable keys
Good price
Ergonomic and Compact
Cons
Not compatible with Apple Products
No app for iPhone and iPad
---
Wrapping Up
Well, as the specifications have not been disclosed yet, it will be early to determine the worth of this keyboard. No doubt, the company has come up with a really innovative and catchy design that aims to improve typing speed of users. These keyboards are in their first production run and it will be limited to total of 1,000 units for both Optimised and QWERTY keyboard. The company presently offers a discount of 25% for those who pre-order at the website. Get more details at their website.
What are your thoughts about BeeRaider Optimised Radial Keyboard? Do you like its design and concept? Let us know in the comments!
If you like our content, please consider sharing, leaving a comment or subscribing to our RSS feed to have future posts delivered to your feed reader.

Please follow us on twitter @CodeRewind and like us on facebook