Today, we are reviewing a useful pair of headphones that are claimed as the world's most advanced headphones. They are called as Parrot Zik 2.0 headphones. Their engineers have combined the best of audio and innovation to create most comfortable and trendy headphones. They are compatible with Bluetooth enabled smartphones, tablets as well as computers.
As they come with built-in NFC technology, they automatically connect with NFC smartphones via Bluetooth. Let's explore its interesting features:
Design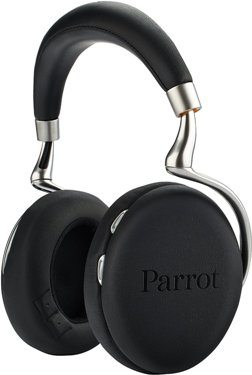 Parrot Zik 2.0 comes with a smart touch panel, allowing you to control your music. You can change tracks, set volume and stop the music with its touch panel. The gorgeous curves are even more sensual than its first model. Every joint is polished and rounded and hinges are stylish. The design is impeccably well manufactured. The frame is made from aluminum and the headphones are extremely comfortable on the head.
The pleather-coated design of these headphones is very appealing and attractive. The features found around its perimeter are a microUSB port, 3.5mm input for wired listening and a power button.
Sound Quality
With Parrot Zik 2.0, you will enjoy amazing sound quality of your favorite tracks. It offers a digital 32 bits audio processing and the frequency of signal is fully customizable. These headphones come with a powerful digital sound processor. Also, the Concert Hall effects reproduce the sound of real stereo system. All-in-all, with this pair of headphones, you will get a new and intuitive way to equalize your music.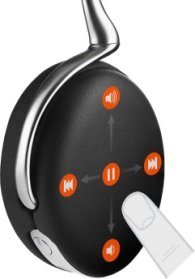 Comfort level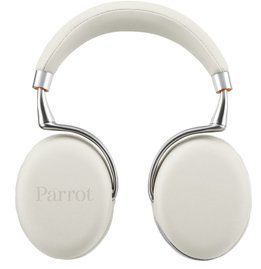 Parrot Zik 2.0 headphones are the most comfortable and modern headphones and are 17% lighter than the previous generation. They come with built-in NFC technology to automatically connect via Bluetooth with NFC smartphones. Parrot offers you a noise control technology that adapts to your environment. When you're in office or in public place, disturbing noise is eliminated and it offers you a great listening comfort.
Compatibility
They are compatible with smartphones, tablets and computers. You can conveniently use them with your iPhones, iPods and iPads and enjoy listening to your favorite music tracks. You will enjoy Bluetooth v3.0 calls hands free. You will enjoy clear conversations with HD voice. The street mode is a great feature that comes with these headphones. With Street mode, it will remove passive isolation effects and offers you optimized listening comfort.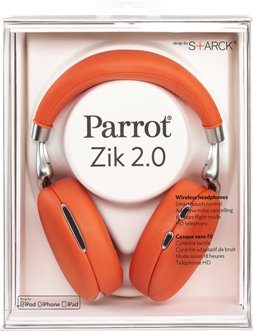 ---
Pros:
Intuitive controls
Excellent noise reduction
Superb design
Comfortable
Cons:
Charging takes long time
Sound is a bit dense
A quick look at Parrot Zik 2.0 headphones:
---
Specifications
Details
Dimensions
Width: 175 mm
Height: 202 mm
Thickness: 39.3mm
Weight
270g
App compatibility
iOS and Android smartphones
Noise reduction system
Yes
Battery
Li-Ion 830 mAh battery
Wireless
Yes
USB Cable
Yes, 1m
Special Features
Touch controls on the ear cups
Colors
Many different choices like Black, Blue, Orange, White, Yellow, Mocha and more
HD Voice
Yes
Headphones Type
Over the ear
Wrapping Up
Parrot Zik 2.0 headphones are some of the most technologically advanced headphones available in the market today. They come with an impeccable design and excellent comfort. There's also a free app for Parrot Zik 2.0 and is compatible with smartphones and tablets running on iOS and Android. Its new and effective noise cancelling technology adapts to the environment and eliminates disturbing noises. You can buy them from Amazon.com at discounted price.
What are your views about this pair of headphones? Let us know in the comments!
If you like our content, please consider sharing, leaving a comment or subscribing to our RSS feed to have future posts delivered to your feed reader.

Please follow us on twitter @CodeRewind and like us on facebook