Bose QuietComfort 25 headphones come with a refreshed design to offer you a comfortable listening experience. It allows you to enjoy powerful sound as it monitors the noise around you and cancel it out. Though these headphones come with a high price tag, but it's worth every penny for its amazing set of features.
The customization tool is a unique feature that comes with QuietComfort 25. With this tool, you can tweak nine specific points on the headphones such as earcups, outer headbands, spacers, domes etc. You can add customization for another $100 to $299 tab.
Let's have a look at them:
Design
The design of Bose QuietComfort 25 is the most amazing part. You're sure to love it. The top of the band is wrapped in a soft-touch black canvas cloth and the lower part is made of matte plastic. Bose has refreshed the design as compared to executive-style QC15. The headphone cups have received an overhaul and feature a ridged chrome Bose logo. A large R and L is added in a striped pattern to help in wearing the headphones properly.
Noise Cancelling Technology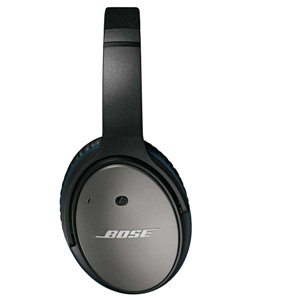 QC 25 headphones have strategically placed microphones along the interior and exterior of earcups that detect outside noise. This creates a noise-cancelling signal and blocking the background noise. It blocks all the sounds you don't want to hear and you can focus on what you were listening. It utilizes Bose® Active EQ and TriPort® technologies to deliver crisp and full-range sound.
Comfort
The QuietComfort 25 are comfortable to wear over long periods of time. The headphones are lightweight around-ear fit so that you can enjoy listening to your favorite tracks all day long. With earcup cushions, it offers optimal performance, great comfort and reduced ambient noise for your listening sessions. Also, folding earcups allow you to carry them easily.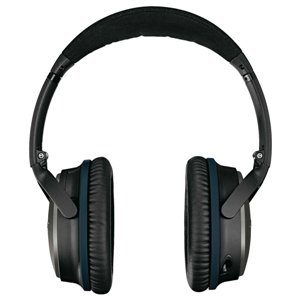 In-line microphone and remote
The Bose QuietComfort 25 headphones come with a 25-inch audio cable featuring an in-line mic. The remote works with Apple, iPhone, iPad and iPod models as well as other popular phones. With it, you can easily make and receive phone calls, control music playback, skip tracks and more.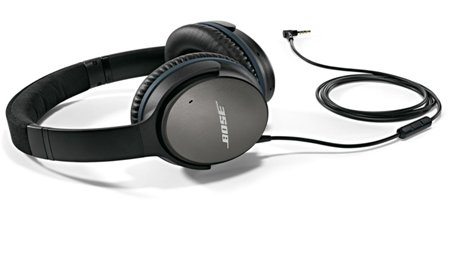 Audio Performance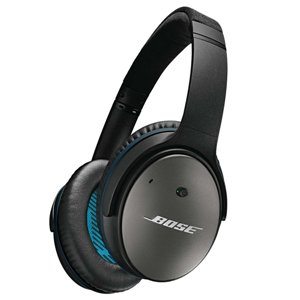 The sound engineered in QC 25 is extraordinary. You can enjoy music of all sorts with incredible sound quality and performance. With noise-cancellation, the headphones go a step further to offer the best experience to the users. It is simply the best at reducing constant outward noises of machines, work environments, trains and others.
---
Pros:
Attractive design
Comfortable fit
Commendable active noise-cancelling technology
Superb sound quality
Cons:
Pricey
Customization costs additional price
---
Specifications
Details
Dimensions
1.8 x 6 x 7.5 inches
In-line volume control
Yes
Phone Control
Yes
Noise Cancelling
Yes
Auto On/Off
No
Wireless
No
Built-in microphones
Yes
Built-in Bluetooth
No
Color
Black, Dark Blue, White, Tan and Turquoise
Price
$299
Available at Amazon.com
Bose QuietComfort 25 Headphones, Black
Bottom Line
QuietComfort 25 has done a remarkable job in providing the premier noise-cancelling headphones. They offer a perfect blend of great design, pleasing features and good sound performance. Although $300 is a high-price but the headphones represent a good value for its stunning quality and vibrant sound quality. Customization adds on another $100.
So, when you want the best noise-cancelling headphones, there's no better option than Bose QuietComfort 25. You can buy them from Amazon.com.
What are your views about QC 25? Have you purchased them or would like to buy them? Let us know your thoughts in the comments section!
If you like our content, please consider sharing, leaving a comment or subscribing to our RSS feed to have future posts delivered to your feed reader.

Please follow us on twitter @CodeRewind and like us on facebook