Fitness bands have been around for a long time and are catching attention of fitness freaks. Garmin Vivosmart looks to differentiate itself from Apple Watch by being a fitness tracker with smartphone features, instead of a smartwatch that tracks your activity. Vivosmart is a fitness gadget that works as a great activity trackers. It also has an OLED screen to show you notifications and incoming calls.
Let's have a look at its features:
Intelligent activity tracker
Garmin Vivosmart is a superb activity tracker that lets you track time, date, steps taken as well as calories burned. It creates vibration alerts for calls, texts and emails from your smartphone. With vivosmart wearable technology, you'll stay active and connected. It provides you accurate calorie burn information for your fitness activities. There's a silent alarm feature to wake you up in the morning.
Design
With its rounded edges and soft finish, Garmin Vivosmart is a comfortable band. It comes with a hidden OLED displays that lights up when you double-tap it. A great feature here is called Move Bar, a lone that appears on the screen if you remain inactive for an hour. You will feel a gentle vibration on your wrist and onscreen notification will say "move". The bar will stay until you get up and walk around. This feature is quite effective and keeps you motivated towards your goals.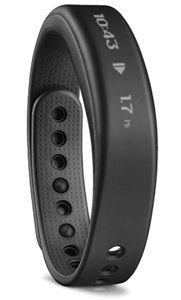 Great personalization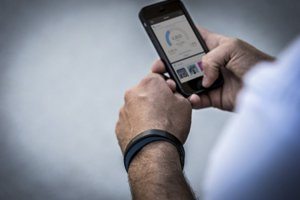 It learns your current activity level and accordingly assigns you daily goal. It adjusts your goal for the next day as you meet your current goal. It gradually nudges you towards an active lifestyle. It automatically syncs with your Bluetooth movie device. With Garmin Connect, you can track your progress and earn virtual badges.
Smart Features
Garmin Vivosmart comes with some "smart" features. For example, when you will receive any notifications on your smartphones, it will vibrate. The Vivosmart can play, pause, skip tracks and increase the volume of music from your phone. But, the band doesn't display the song information you're listening to. Android users can set the music controls to open Google Play Music, Pandora, Spotify or others.
"Find my Phone" is another good feature. The band will display a proximity bar that displays how far you are from your smartphone. It will also ring and vibrate your phone so that you can locate your phone easier.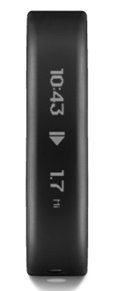 ---
Pros:
Impeccable design
Comfortable and waterproof
Remote controls for music
Displays smartphone notifications
Amazing combination of activity tracker and smartwatch
Cons:
Can't reply to text messages
Confusing setup
Does not have smartphone app
---
A quick look at Garmin Vivosmart:
| | |
| --- | --- |
| Specifications | Details |
| Dimensions | 6.8 x 1 x 0.4 inches |
| Waterproof | Yes |
| Buttons | 1 |
| Display technology | OLED |
| Screen Size | 1 in |
| Batteries | 1 Lithium ion batteries required |
| Voice Command | Touch Screen |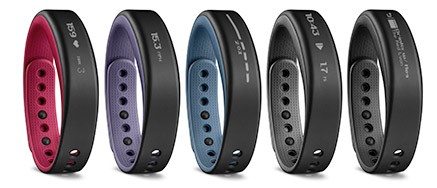 Wrapping Up
All-in-all, Garmin Vivosmart features all the features that keep you motivated to achieve your fitness goals. It also uses a heart rate monitor to record your heart rate and zone data. OLED touchscreen, notifications from phone, vibration for silent alarm are some of the excellent features that come with Vivosmart. At the same time, you can't interact with notifications, music information is not displayed on band etc. are some of the shortcomings.
You can buy it from Amazon.com at the best prices and let us know how you feel about it in the comments!
If you like our content, please consider sharing, leaving a comment or subscribing to our RSS feed to have future posts delivered to your feed reader.

Please follow us on twitter @CodeRewind and like us on facebook