Today, we are looking at BK1002E Bluetooth keyboard by Inateck. With so many keyboards to choose from, this keyboard stands out from the crowd for its distinctive features. It's a lightweight wireless keyboard and is very comfortable to use. This keyboard has been designed to turn your iPad into a laptop, making it a great productivity tool when you are using iPad for office work.
Design
The BK1002E Bluetooth keyboard is a good replacement for the Apple Wireless Keyboard, with all keys in same locations and same dimensions. It is very comfortable and feels no different than any other keyboard. There are few controls on top of keyboards as well such as brightness and volume control, and basic word processing controls. You can easily hold it with your tablet in one hand.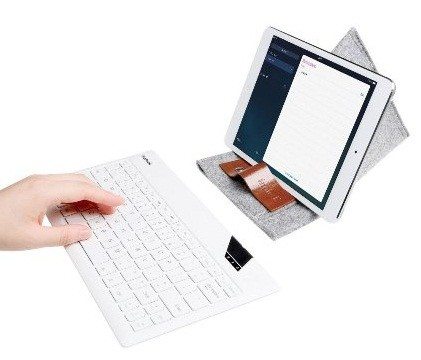 Specs
It uses Bluetooth 3.0 for connection, transfers up to 24 mbs, which is 8x more than Bluetooth 2.0 standard. It has high speed connection and takes two AAA rechargeable batteries. It has simple connection like any Bluetooth device. BK1002E Bluetooth keyboard is fully functional with Mac OS/iOS, Android and Windows and even a PC version for Windows users.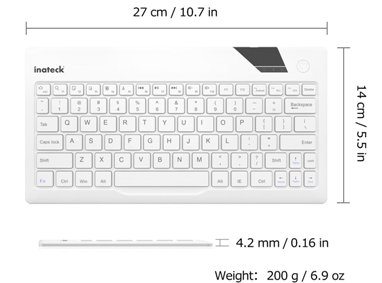 Light and portable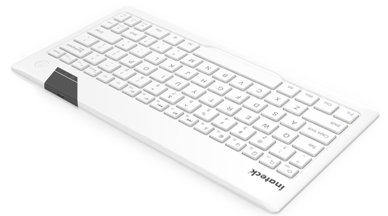 The keyboard is a perfect choice for travel. It is light, portable and connects to any Bluetooth enabled device. This easy to transport keyboard works anwhere anytime. Browsing the net or writing emails using BK1002E Bluetooth keyboard is much easier without wording about smudging the screen. Inateck has also provided few controls on top to adjust brightness and volume control.
Great functionality
The design is pretty and provides the proper functionality to boot. The front of keyboard has main keys, along with hot keys at the top. Also, a battery light to warn you about low battery. At the back of keyboard, there is on and off switch and connect button, in addition to the battery compartment that includes two AAA batteries.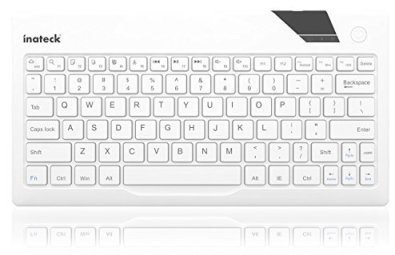 Good Battery Life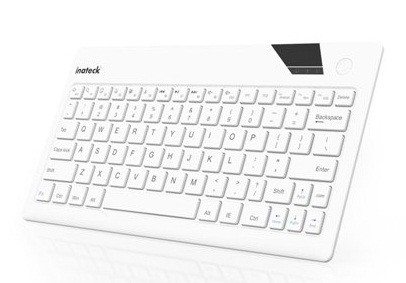 The battery life of the keyboard is good and it runs on AAA batteries. It is fairly comfortable and price is amazing. It comes with integrated Li ionic accumulators and there's no need of changing batteries. Also, Micro USB output allows you for easy charging. Some of the other striking features of this keyboard are low audible background noise, good keystroke, dust repellent and many more.
---
Pros:
Cost efficient
Performs excellently
Turns your iPad to laptop
Comfortable to use
---
A quick look at Inateck BK1002E Bluetooth Keyboard
| | |
| --- | --- |
| Specifications | Details |
| Approximate Size | 10.63 x 4.72 x 0.87 inches(285 x 120 x 22 mm) |
| Approximate Weight | 9.8 ounces(277.8 grams) |
| Bluetooth | Yes 3.0 |
| Compatible With | MacOS/iOS, Android and Windows |
| Batteries | 2 AAA |
| Battery Life | Up to 60 days |
| Palm Rest | No |
Pricing and Availability
The Inateck BK1002E is available for purchase at Amazon. Presently, it is available at discount and you will get at just $19.99.
Final Words
BK1002E Bluetooth keyboard is a great product and is priced at a point that any bargain hunter will love to purchase it. It is an excellent low-cost replacement for Apple Wireless Keyboard. At such price, you will not find any better alternative to highly priced Apple keyboard.
Let us know your views about this Inateck Bluetooth keyboard in the comments below.
If you like our content, please consider sharing, leaving a comment or subscribing to our RSS feed to have future posts delivered to your feed reader.

Please follow us on twitter @CodeRewind and like us on facebook