Keyboards come in a variety of technology and Rapoo is one of the trusted makers of keyboards. Rapoo is known for providing innovative and high-quality wireless peripheral products to countries all around the world. Its KX Mechanical Keyboard comes with an attractive brushed-aluminum top and solid plastic casing. Thus, there's no need to worry about its durability and longevity. Let's have a close look at this Rapoo KX wireless mechanical keyboard.
Features:
Rapoo KX Mechanical keyboard is sleek and comfortable. It comes with backlit mechanical keys and tactile multimedia keys. Also, it is offered in a variety of keycap colors. Rapoo KX offers mechanical keys that are housed in a stainless-steel keyboard chassis which offers you three levels of backlighting. Its sturdy stainless-steel casing provides durable placement and the keys offer you a comfortable typing experience for up to 60 million operations.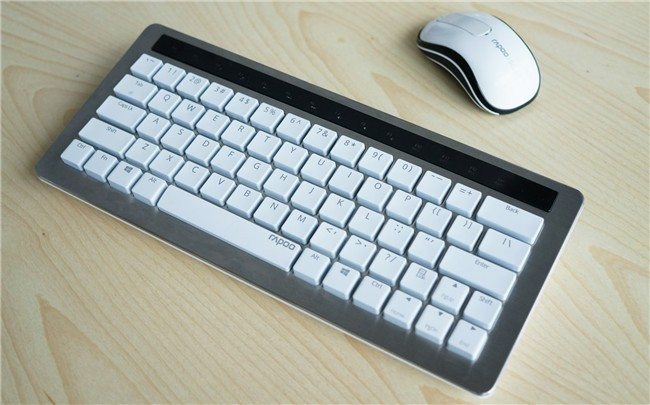 Image credit: Rapoo.com
Design
This mechanical keyboard runs on 5GHZ connection for a wireless and interference-free connection. Also, it has standby time of up to 40 hours. Its integrated Dual-Mode features allow you to plug-in micro-USB cable for a wired connection, allowing you to recharge while in use. The keyboard features adjustable key illumination that allows you to easily type whether you're in dark or dim lighting. You have the choice to use wired or wireless mode. A nano receiver is plugged into your computer to facilitate the use of this keyboard wirelessly.
Performance
In normal function mode, the keys are white and when you press the Fn key, backlighting turns blue. This indicate that you can trigger media keys, volume controls etc. You can toggle between three levels of lighting intensity for customized typing experience. The keys feel smooth and resistant but, you can't adjust backlighting of the strip.
Amazing color choices
Rapoo KX offers you a variety of fashionable colors to choose from. All of them look pretty and feels good. The keys are extremely comfortable and you'll enjoy typing on this keyboard. The multimedia keys come with tactile feedback vibration.
Mechanical axis keys
KX keys are great for typing. You'll notice that during regular typing, the soft keys are white and when you use a specific function, the soft keys turn blue once you have pressed FN button. Also, Rapoo has included an excellent feature to save battery life during wireless usage and the backlight will time-out.
---
Pros:
Sleek, compact design
Value for money
Exquisite craftsmanship
Cons:
Lacks typing precision
Uneven backlighting
---
A quick look at Rapoo KX Mechanical Keyboard
| | |
| --- | --- |
| Specifications | Details |
| Approximate Size | 12.4 in x 5.39 in x 1.14 in |
| Approximate Weight | 21.8 oz (618 g) |
| Interface | USB 2.0 |
| Wireless | Yes 3.0 |
| Compatible With | MAC OS, Android and Windows |
| Mechanical | Yes |
| No of Multi-media Keys | 14 |
| Mechanical Switch Color | Yellow |
| Palm Rest | No |
| Bluetooth Version | No |
| Mouse Included | No |
Final Words
Overall, Rapoo KX Mechanical Keyboard is well priced and appeal to both desktop and laptop users. It is an attractive and lightweight keyboard. Though there are many better mechanical keyboards out there, but they come with a high price tag. When you are looking for a cheaper keyboard, Rapoo KX is a good choice.
Will you purchase it? Let us know your views about this mechanical keyboard in the comments section below.
If you like our content, please consider sharing, leaving a comment or subscribing to our RSS feed to have future posts delivered to your feed reader.

Please follow us on twitter @CodeRewind and like us on facebook