Insightly CRM is a simple yet powerful CRM solution being used by a large number of small businesses and freelancers in more than 100 countries. It provides businesses an amazing way to manage projects, track contacts, sales, projects, documents and more via a single platform.
Every small business has its unique needs and this CRM solution is meant to offer the best features. It starts with basic, simple functionalities and these can be extended as the business expands. This simple and affordable CRM software is feature-rich. It comes with time-saving CRM capabilities such as contact management, project management, detailed sales reports and more.
Let's explore its features:
User Interface
The dashboard provides you real-time information with the use of dashboard and opportunity reports. The clean and intuitive interface allows you to easily find the different functions of the software. The sidebar navigation is divided into sections like Home, Tasks, Contacts, Opportunities, Projects, Emails, Organizations and Reports. The right hand side sidebar allows you to perform tasks like accessing reports; filtering items by tags; or adding, importing and exporting content.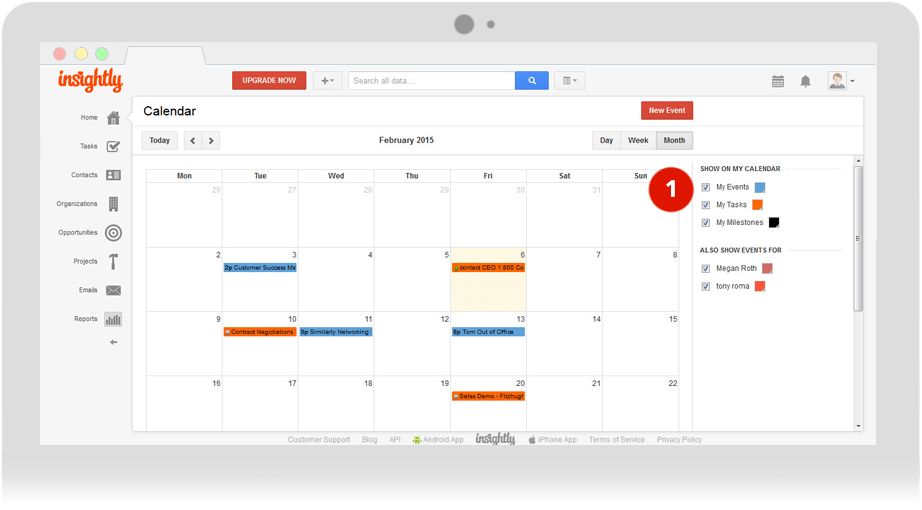 Contact Management
Contact management becomes a simple task with Insightly. You just need to add the information about your contacts and the software will do the rest. The details like social media profiles, work experience from LinkedIn show up automatically. You can also use tag contacts, add additional information using custom fields and notes and link contacts to projects to organize them in the way you desire.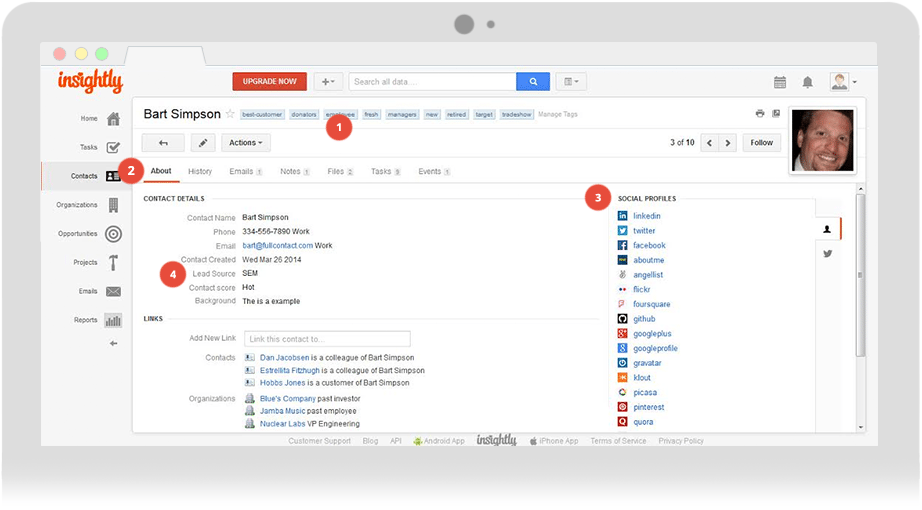 Project Management
When it comes to project management, Insightly helps to keep your projects on track with tasks, milestones and pipelines. You can efficiently manage your team's work without needing additional app. By providing an automated, one-stop destination for managing tasks, events and projects, it eliminates the need to use multiple solutions. The detailed project reporting and deep email integration saves time and effort.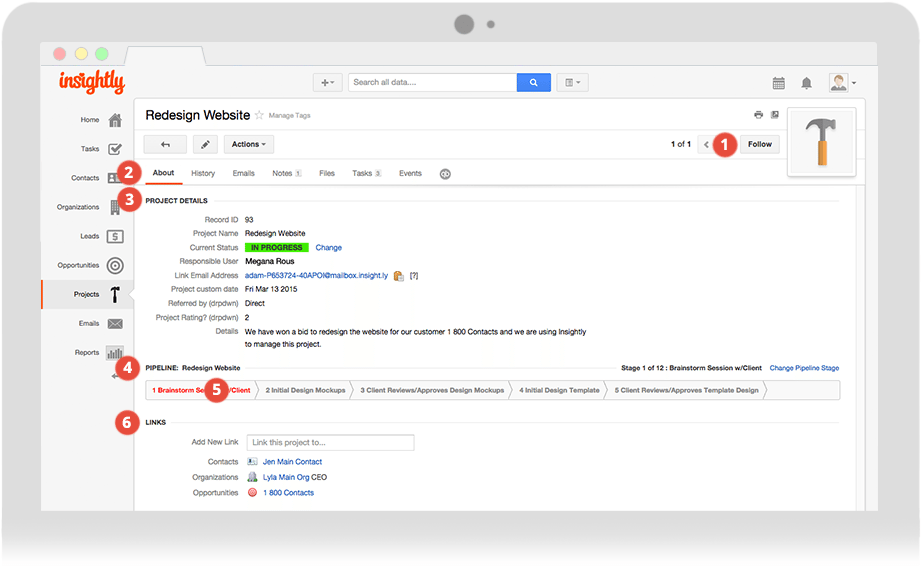 Detailed Reports
Insightly provides most types of reports and report customization options. Opportunity reports provide you details like pipeline stage, close date, responsible user, and more. You can view real-time data and reports, daily progress reports and more. Also, you can set automated activities to save time for manually performing repetitive tasks.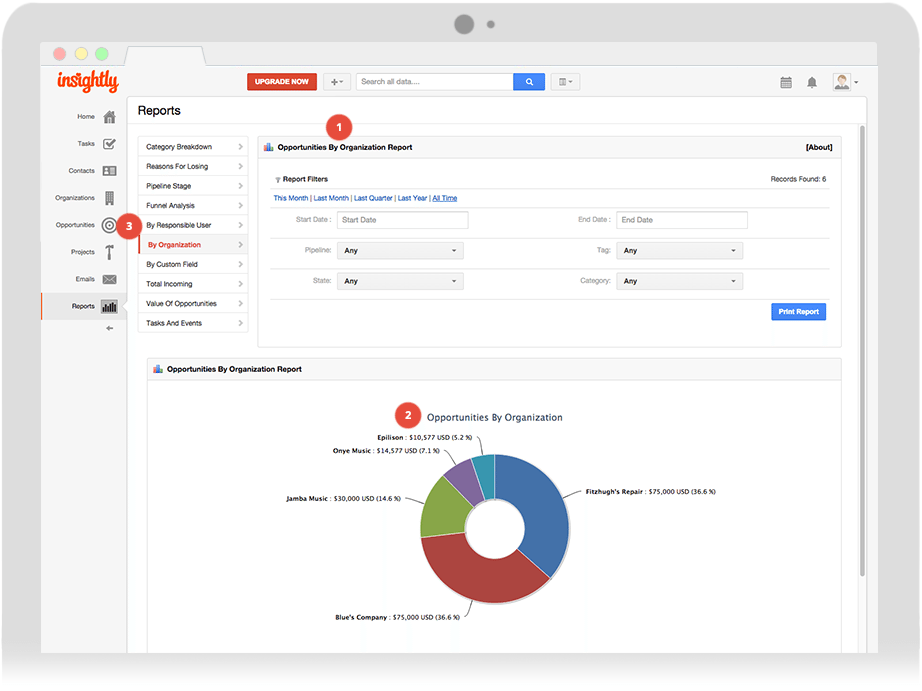 Powerful Linking and Integration
Insightly allows you to link the related items together such as tasks related to opportunities, employees related to employers, emails related to projects etc. The integration of Insightly with Office 365 and Microsoft Calendar helps to improve your productivity. You can get a complete email history within the CRM with just a click.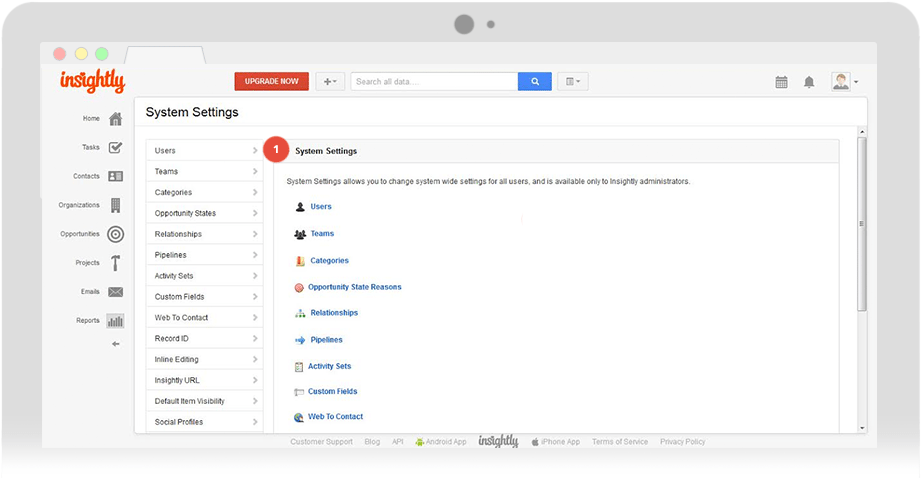 Flexible and Social CRM
One of the most amazing features of Insightly is the flexibility to associate any item with other. The custom pipelines and custom activity sets are another plus. One can create with multiple pipelines and assign them to different projects or opportunities. Their mobile apps allow you to take Insightly on the road. It supports tablets like iPad, Google Nexus, iPhone as well as Android devices.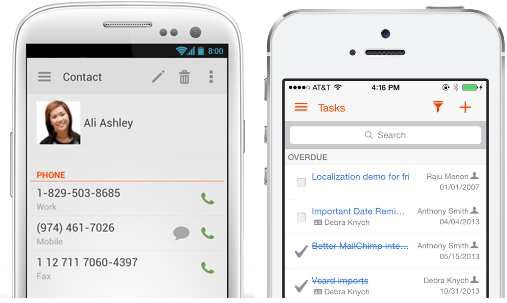 Pricing
The free accounts allow up to two users. Single user pricing is $12 per user, per month or $99 per user per year. The software comes with a free 14-day trial.

---
Pros:
Powerful email integration with Google apps
Automatic address book
iPhone and Android apps
Outlook and Gmail integration
File Sharing
Cons:
Offer limited customizable reports
No automatic email forwarding
---
Wrapping Up
Insightly is a beautiful CRM that comes with powerful features. It is affordable and comes with user-friendly features. One can easily create a team and track all members' activities from the website or using iPhone or Android apps. Its integration with Gmail and Google apps allows you to add emails and contacts directly from Gmail and create tasks, opportunities and projects. Also, it supports integration with other popular tools like Mailchimp.
What are your thoughts about Insightly? Do you use it or consider using this affordable CRM for your business? Let us know in the comments!
If you like our content, please consider sharing, leaving a comment or subscribing to our RSS feed to have future posts delivered to your feed reader.

Please follow us on twitter @CodeRewind and like us on facebook