Developing a new positive habit is never an easy task. Whether you want to change your daily routine or include a new task in your routine, forming positive habits is challenging. Thanks to the amazing Windows Phone app called HabitChamp that helps you to form positive habits and break negative ones.
Whether you want to start working out each morning or read a book, this app helps you to form new habits by tracking the progress.
How does it work?
Simply enter the habit you want to start in the app and check the boxes for when you want to do it and for how long. Now, your Windows Phone will remind you to do it. You will see all your habits in a list with different colors. Green color implies the habit, red color means it is still pending and violet represents an inactive habit. You can press the blue circle to change the habit's current status. Your activities will then continue to become a habit. Within a few weeks, you may not need your Windows Phone to remind you to do it any longer and can remove it from the list. The app allows you to add, edit or delete unlimited habits.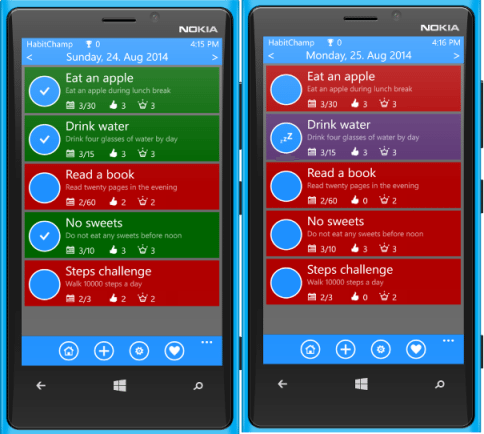 Let's have a look at its amazing features:
Customize color scheme
HabitChamp allows you to customize the color scheme to personalize the experience. You can easily get the look you want with simple color selection tools.
Set habit periods
The app allows you to set habit periods for a specific number of days or you can also activate the forever mode where it will continue to remain in the list.
Easily keep track
With HabitChamp, one can easily keep track of total number of days checked and your current streak. The live tiles for individual habits keep you informed at all times. You can also set an overview over all habits in the live tile view.
Supereasy to use
The app is fun and easy to use. It comes with an intuitive interface and shows all your habits at a glance. You can switch between timelines to get daily or monthly or even a yearly view.
---
Pros:
Easy to use
Password sharing
Backup via OneDrive
Free app
Beautiful layout
---
Some useful insights about HabitChamp:
Cost: Free
Ratings: 4.7 out of 5 stars
Publisher: Matthias Meilicke
Size: 2.01 MB – 2.67 MB
Download HabitChamp
Wrapping Up
HabitChamp is a free and fun to use app. It gives you a powerful initiative to develop a positive habit. A small ad is shown at the bottom of the screen which can be removed with an in-app purchase.
Give it a try and start building a new positive habit. Let us know how you feel about it in the comments!
If you like our content, please consider sharing, leaving a comment or subscribing to our RSS feed to have future posts delivered to your feed reader.

Please follow us on twitter @CodeRewind and like us on facebook