If you have an Android phone or tablet, making free calls is a huge advantage. With ever-increasing rates of mobile plans, these apps help you save big on your domestic as well as international calls. Check out our list on the most popular free apps that help you make free calls on android.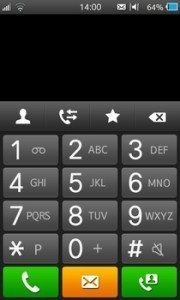 Best 7 Free Apps to Make Free Calls on Android
1. Google Voice
Google Voice app allows you to make domestic and international calls. Google Voice synchronizes text messages, missed calls, voice mails, and contacts across various devices to let you enjoy great calling experience with your loved ones. It works excellently on phones as well as tablets. The service is available only in the US.
Special features
Calls from within Gmail
Number porting
Call recording
Inexpensive international rates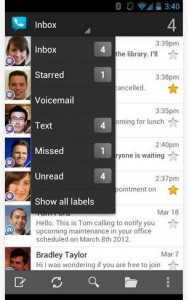 Cost: Free
Developer: Google Inc
Requirement Android: 2.2 and up
Download Google Voice for Android Phone

2. Skype
Skype is the biggest name in the Wi-Fi calling sector. It has more than 100 million installs and the mobile version is much like the desktop counterpart. It lets you stay in touch with your friends by sending instant messages, voice or video calls. You can make as many as you want free voice and video calls on Skype.
Special Features:
Free unlimited calls
Simple and user-intuitive interface
Massive user base
Share your favorite photos and videos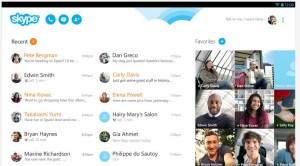 Cost: Free
Developer: Skype
Requirement Android: Varies with device
Download Skype for Android Phone
3. Facebook Messenger
Facebook has recently allowed free calls on its messenger service. Many people are looking for ways to get rid of Facebook. However, Facebook has an advantage here. As most of the apps require both parties have the same applications to make phone calls. Facebook Messenger has an undeniable benefit as most likely your friends already use Facebook. This feature makes Facebook a good option for making free calls on Android.
Special Features:
Free calls, even to friends in other countries
Record voice messages
See who's available on messenger and who's active on Facebook
Send messages with stickers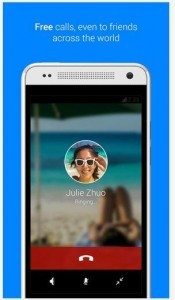 Cost: Free
Developer: Facebook
Download Facebook Messenger for Android Phone

4. Tango
Another popular free app, Tango works well for desktops as well as other mobile devices. It has also cross platform support and video chatting. Tango surprises are animations that work over the top of the text conversions. It is one of the simplest app to make free calls on Android.
Special features:
Free international voice and video calls
Support for sending audio messages
Sharing photos to Facebook
Tango surprises
Play games from within video calls, and avatars


Cost: Free
Developer: Tango
Download Tango for Android Phone

5. Line
Line is another popular medium to make free calls on Android. An excellent feature of this app is that you can also call non-Line users but at a small fee. Along with video-calling, there are many other features like text messaging and group texting. It has more than 460 million users worldwide.
Special features:
Make free voice calls and video calls
Free international calls as well
Send free messages using stickers and emoji
Send photos and voice messages with ease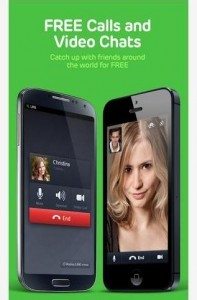 Cost: Free
Developer: LINE Corporation
Download Line for Android Phone

6. Kakao Talk
Kakao Talk is one of the most useful free apps that allow you to communicate with your friends and family, enjoying unlimited group chats. With this app, you can make free calls on Android using 3G, Edge, or Wi-Fi.
Special Features:
Multi-platform support: Android, iOS, Blackberry, Windows OS, Asha, Bada
Call multiple people at once
Exclusive coupons and deals from popular brands
Fun free calls with Talking Tom and Ben's voice filters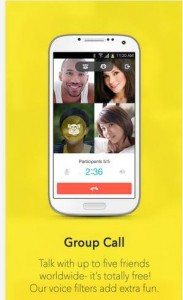 Cost: Free
Developer: Kakao Corp.
Download Kakao Talk for Android Phone

7. Viber
With over 200 million users, Viber is one of the most widely used apps for making free calls on Android. You can call other Viber users for free and can also use it for text and group messaging. It is a simple interface and is easy to operate.
Special Features:
Make free calls with HD sound quality
Cross platform support
Share photos, videos, voice messages, stickers and emoticons
Stickers make messaging fun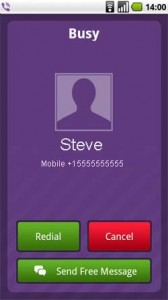 Cost: Free
Developer: Viber Media
Download Viber for Android Phone

Wrap Up
Most of these free apps require both parties to use same app for making free calls on Android. Like, if you are using Skype and it's only free when the other person is also using Skype. Other than that, they are a good way to save on your monthly mobile bills and stay in touch with your friends and family all over the world.
If we missed a great app, let us know in the comments below.