About qTest Tool
qTest is one of the best cloud-based test management tools developed by QASymphony. It provides elegant and scalable test management solutions to efficiently manage test cases. It has been designed to provide a comprehensive set of options for testing of any project. qTest is a useful test management tool that can be integrated with Jira as well as other testing tools including FogBugz, Bugzilla etc.
Let's have a detailed look at its features:
Intuitive Interface
qTest tool comes with a simple and straightforward setup process. It comes with an intuitive interface and is easy to learn and use. It automatically syncs project requirement structures with test case structures. The custom dashboard allows for visualizing testing progress. You can view real-time data in a meaningful way.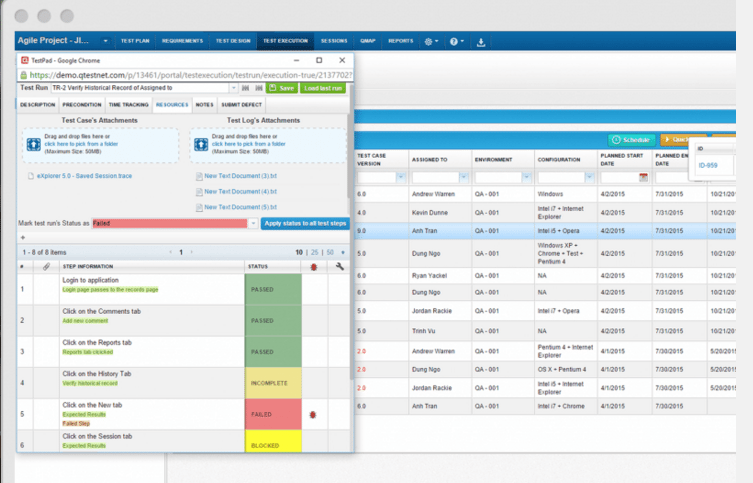 Creating Projects
qTest is a cloud-based SaaS solution that can access work from anyplace on any browser at any time. First, you create a project and add your start and end time. You will then see options like Test Plan, Requirements, Test Design, Test Execution, Defects, and Reports. Then, there is a tools menu to configure user permissions, custom fields, external systems, notifications, and environments. The final option is the help guides where you can submit bugs or feature requests. On entering each section, you will see a hierarchy of project modules and their attendant requirements, test cases and defects.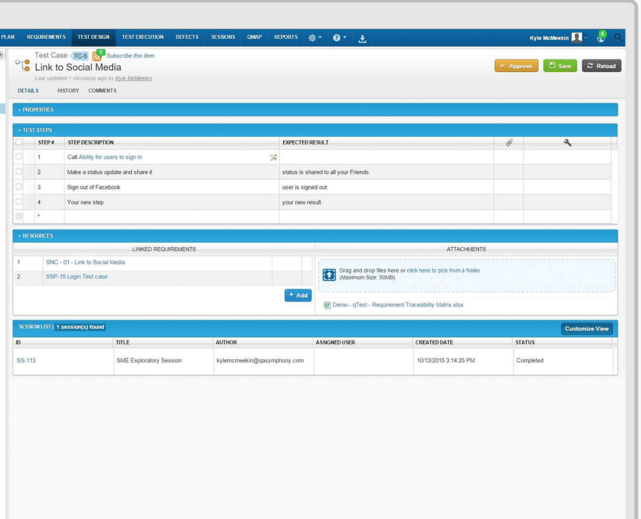 Managing Test Cases
On entering each section, you will see a hierarchy of project modules and their requirements, test cases and defects. Here, you can also import data, export XSL files, link up an external system and more. To link up an external system, go to Defect Management in the tools menu and all new defects will be exported automatically. The tool also integrates with defect tracking and ALM providers like JIRA, Bugzilla and VersionOne. Additionally, it integrates with defect capture tool to submit defects directly to ALM system of record.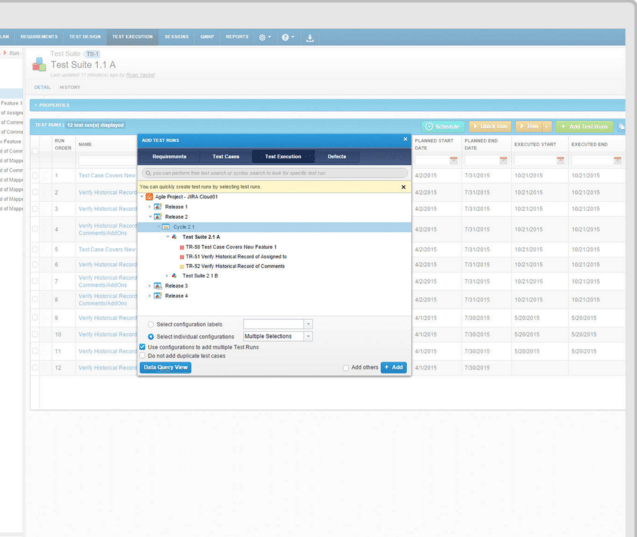 Generating Reports
qTest provides real-time interactive reports that drill down into details. You can make use of pre-built reports or customize your own one. With these reports, you can track quality, progress and productivity for each project.
You can also use its intuitive interface to manage requirements. It creates; baselines and modifies requirements with proper version controls. The tool also allows for automatic sync of project requirement structures with test case structures.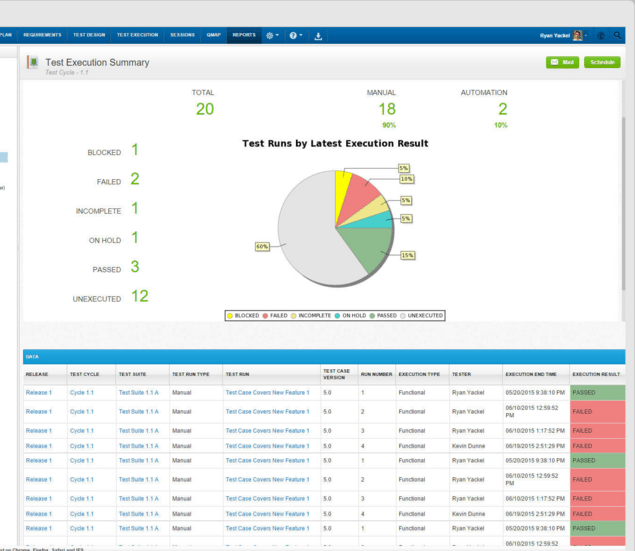 Defect Module
qTest comes with a complete Defect Module where you can manage the defects, eliminating the need to have a separate tool. There are options to turn off internal tool and use an external tracker. The tool is fairly straightforward to work through and if you run into any problems, the help guide is always there. Also, there is a notification icon in the top right to provide real-time updates about what's happening on your project.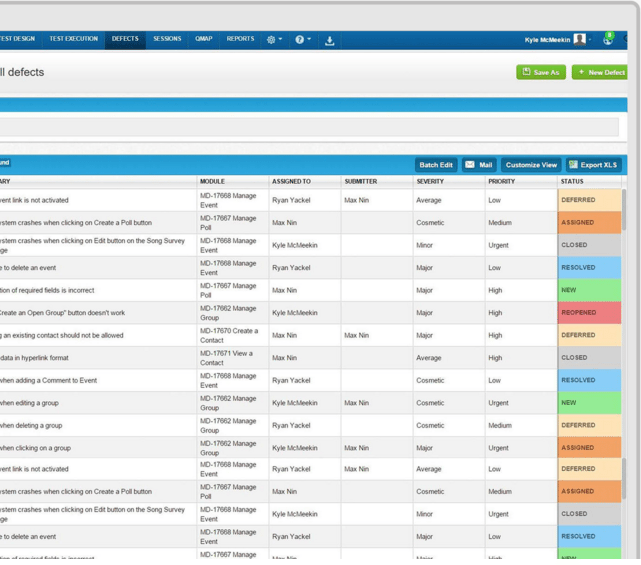 JIRA Integration
qTest lets users import JIRA requirement to qTest. A robust JIRA test case management tool, it deeply integrates at requirements and defects level. qTest provides greater testing visibility, efficiency and collaboration with an easy to use interface. Whenever JIRA requirements are created or modified, it provides real-time updates. One can also submit defects from test runs directly to JIRA.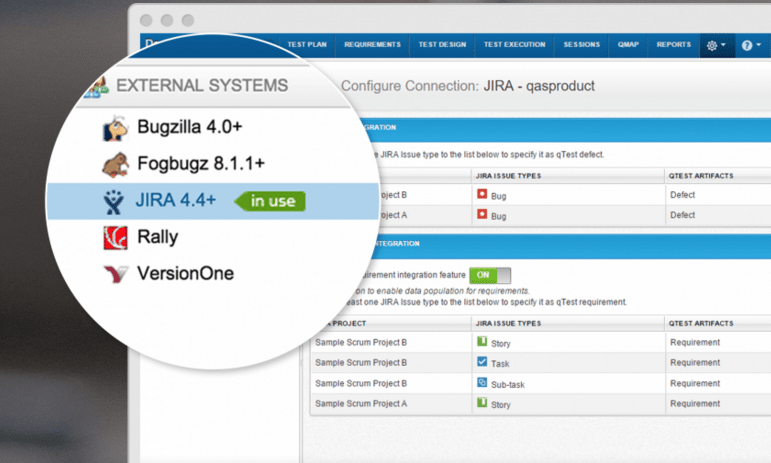 Exploratory Testing
qTest offers a smarter exploratory testing tool with qTest-Explorer. qTest-Explorer saves your time by automatically recording all test execution environment data and user interactions on desktop, mobile and web apps. It tracks all interactions from the testing sessions and automates defect documentation. It provides a centralized location for keeping all your test documentations.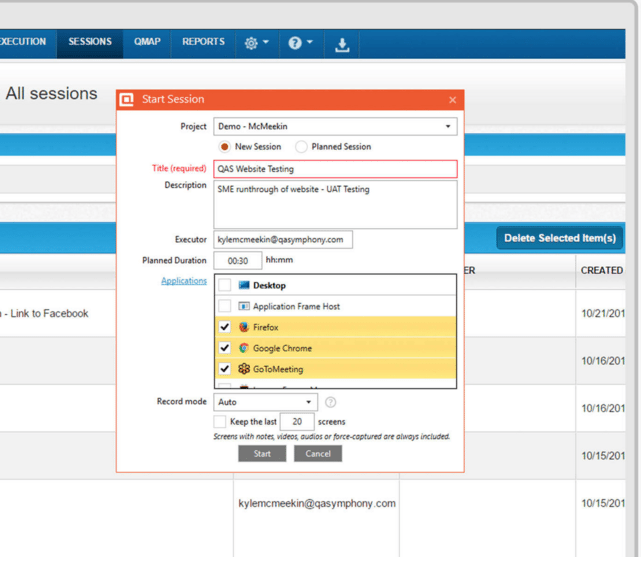 Agile Testing
qTest provides agile testing tools to allow teams to test faster and communicate better. It is designed to mesh seamlessly with a typical Agile development. It provides comprehensive set of options to meet your testing needs.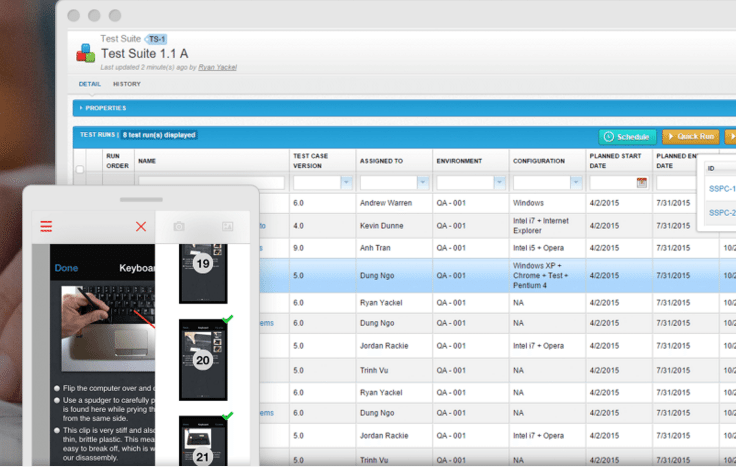 Pricing
qTest is a SaaS solution and comes with a 14-day free trial that provides five licenses.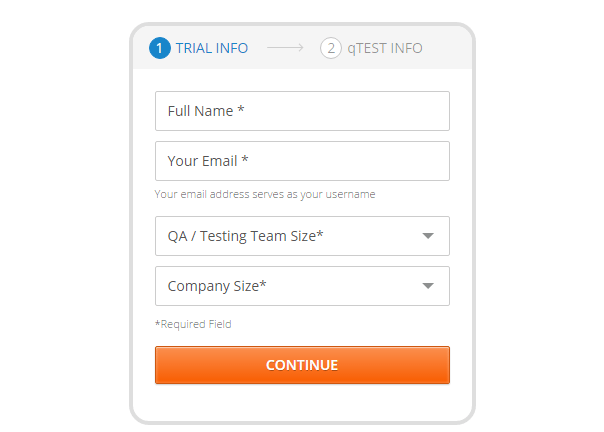 Benefits
Here is a brief snapshot of the benefits that come with qTest:
Real-time analysis of the entire metrics
Extend load tests to all Windows client/server and ERP applications
Adapts to specific environments
Allows testing of a range of project types
Integrates the entire application development and quality control cycle
Aggregate results from different sources to give a complete testing picture
Take a more forward thinking approach compared to other tools
Conduct effective reviews of testing practices and test case history

Wrapping Up
Whether you are a small team requiring organization of test activities or a large enterprise looking to track and manage many software testing products, qTest is an ideal choice. It is a quick and intuitive tool for handling complicated projects. Simple to use, and easy to setup, it is enough to fit every project needs.
You can get the free trial version to get an insight about its amazing set of features. Just fill up the basi details and you will get a confirmation email to verify the account.
Summary
Test Management tools are used to plan and store manual testing, execute or gather execution data from automated tests, manage multiple environments and to enter information about defects identified. Test management tools also give teams the ability to consolidate and structure the test process using one test management tool, instead of installing multiple applications that are designed to manage only one step of the process.
Give qTest a try and let us know how you feel about it in the comments!