LG Tone Infinim Bluetooth Headset comes with a slim, ergonomic design. These retractable earphones are quite flexible and light. Their ergonomics have got better as compared to Tone Ultra. The on/off slider is easier to toggle and volume and playback controls are way easier to use than the controls on the Tone Ultra. The retractable earbuds are a special feature of these headphones as they stay in place for hours and offer comfortable fit.
Let's explore its features:
Design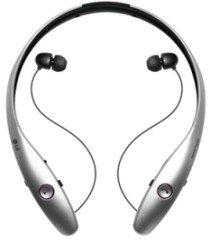 The overall design of LG Tone Infinim may not appeal to everyone. These headphones sit around the neck and its retractable cables extend up to ears. These are a secure fit that eliminates tangled cables. The eartips fit well on their own and are also free of the pull of gravity on long cables. The left side houses Volume controls that work together with your phone's volume controls. On the left side, there is also a call answer/end button and the micro USB connection. On the right side, a single Play/Pause button is on the top and along the outside, is a sliding track navigation control.
Sound Quality
LG Tone Infinim feature Harman Kardon Signature Sound. You will enjoy crisp audio and rich bass with this pair of headphones. As the headphones have a nice and thick bass line and clear highs, you will enjoy your favorite music tracks in the best quality. In short, they come with superior music and voice quality. The ear buds retract into headset.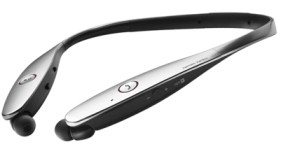 Comfort level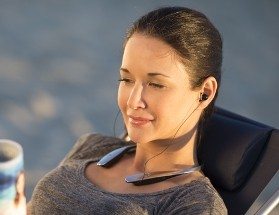 When we talk about comfort level of these headphones, they stay in place very easily. They are light and comfortable and you'll even forget that you're wearing them. It offers you one-touch volume and playback controls and you can skip songs with just a touch of a button. The neck wraparound design is very comfortable. The headset rests around your neck conveniently and so you can wear them all day long easily.
Performance
With LG Tone Infinim, there come three listening modes: Bass boost (default), Normal and Treble Boost. All the sound presets work readily with Bluetooth headsets. LG provides a nice Android companion app called Tone and Talk. You can download it for free from the Play Store. You can toggle which apps will read out notifications to you, the default notification sound, TTS engine you want and more.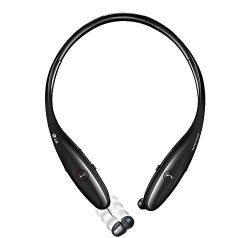 ---
Pros:
Unique design
Secure fit
Crisp audio performance
Rich bass response
Retractable earbuds
Cons:
Design may not appeal to everyone
Costly
Need to purchase charger separately
---
Wrapping Up
The ease of use and convenience of this headset are the positives. Also, the voice prompt feedback about the battery level and connection status is another plus. The main highlight of this headphone is the retractable earbuds. It has a great build quality and use of on-board controls is amazing.
On the other hand, tone Infinim rigid neck band may not always liked by users. Also, it is more expensive than the Tone Ultra (HBS-800). All-in-all, they are a good set of Bluetooth earbuds with good audio quality and handy handware controls. Even if their design may not appeal to all, but when main concern is quality or using them as voice command, they are a good choice.
You can get them from Amazon.com at the best prices. Let us know your views about it in the comments!
If you like our content, please consider sharing, leaving a comment or subscribing to our RSS feed to have future posts delivered to your feed reader.

Please follow us on twitter @CodeRewind and like us on facebook