Here's Bluesmart Smart Carry-on Luggage
Bluesmart is a New York City-based company founded by group of students, seasoned product designers, engineers and entrepreneurs to build a 21st-century suitcase. The Bluesmart Smart carry-on luggage is claimed as "the world's first smart, connected carry-on suitcase."
The company said in a press release that the suitcase's technology uses "micro sensors, actuators and a microcomputer with GPS that communicated with smartphones via Bluetooth to track and communicate data to the user."
Let's check out the details of this suitcase.
Firstly, it's A Suitcase
As a suitcase, Bluesmart Smart carry-on luggage is efficient and spacious, with an easy-open front pocket to store documents and a laptop and rotating wheels. The electronics take up less than 10% of the main component, leaving plenty of room for your gear. The main compartments can be secured with a key or via smartphone. This suitcase connects wirelessly to your smartphone so that you can remotely locate it, lock it and also weigh it. The suitcase features two USB charging ports, one in the laptop sleeve and another on the back of the suitcase. There's also an exterior pocket for easy laptop access and built-in charger for gadgets.
Bluesmart App
The Bluesmart app allows you to control your suitcase from your phone, receive smart alerts as well as track your travel data. You will be notified if you are leaving it behind. The app is available for free download. The app also tells you the approximate weight of your suitcase as well. As it comes with built-in scale, so you can just find out its weight and see if it's approved by airline. In addition, you will also get to know more about your travel habits. The app can also lock or unlock the suitcase via Bluetooth.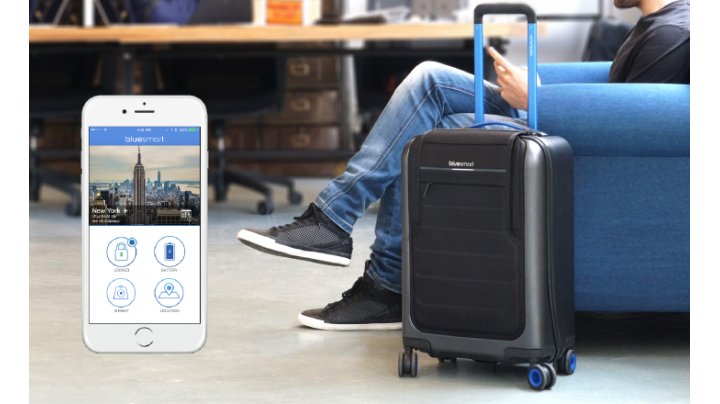 Security Features
Bluesmart Smart carry-on luggage comes with built-in security features to work in part with the app so that you don't leave it behind. Its proximity sensors allow you to receive alerts when are separated from your Bluesmart. The proximity heat map allows you to locate your Bluesmart and you will also receive a reminder of the last recorded location.

Built-in Battery
The Bluesmart Carry-on has a 10,000mAh battery to handle all of its smart functions. One can make use of stored-up power to charge your gadgets over USB. This-capacity battery plugs into a standard outlet and can juice up a smartphone six times over a single charge. The battery charger can charge two devices – your smartphone, tablet or eBook at the same time.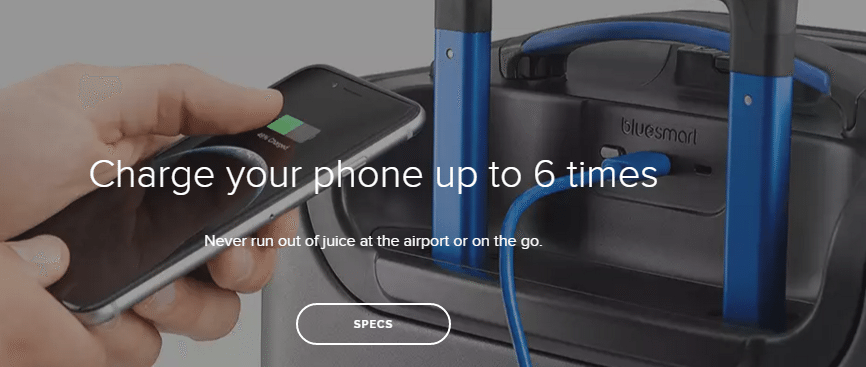 A quick look at Bluesmart Smart carry-on:
| | |
| --- | --- |
| Specifications | Details |
| Dimensions | 22″ x 14″ x 9″ |
| Weight | 9.4lbs / 4.26 Kgs |
| Storage | 34L |
| Compatibility | iOS and Android |
| Connectivity | BLE + 3G + GPS |
| Battery | 10,000 mAh |
| USB ports | 2 |
| Available at | Amazon.com |
Wrapping Up
Bluesmart Smart carry-on luggage has been designed to solve all the problems of modern travelers. You will travel smarter and it forever changes the way you travel. Bluesmart is compatible with both iOS and android and the company says that Apple Watch app is also in progress. The android devices need to have support for BLE to be compatible.
All-in-all, for frequent travelers, it looks very smart. You can buy it today from Amazon.com at $399.99.
What are your thoughts? Do you like Bluesmart Smart carry-on? Share your views with us in the comments.