Meet World's Smallest SSD
Samsung is one of the leading producers of NAND flash and SSDs. This tech giant continues to entice customers with its new and innovative products. The company supplies SSDs to Apple, HP and Lenovo. It has now come up with the world's smallest SSD.
Samsung has announced the release of a new product: the smallest Solid State Drive. This world's smallest SSD weighs about just 1 gram and is in form of a tiny square of 20×16 mm.
Solid State Drives are memory cards that come with ability to store data through electronic circuits. They store data on flash memory and are considered to be more durable than HDDs as they don't have any moving parts. When compared with traditional HDDs which are capable of processing up to 120 IOPS, this new SSD is 1500 times faster.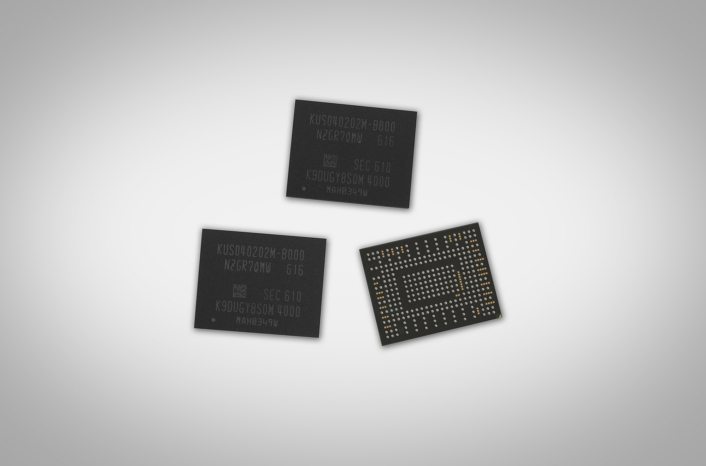 "Samsung's new BGA NVMe SSD triples the performance of a typical SATA SSD, in the smallest form factor available, with storage capacity reaching up to 512GB," said Jung-bae Lee, senior vice president, Memory Product Planning & Application Engineering Team, Samsung Electronics. "The introduction of this small-scale SSD will help global PC companies to make timely launches of slimmer, more stylish computing devices, while offering consumers a more satisfactory computing environment."
Design
Samsung has begun production on the world's smallest SSD, a 512GB NVMe PCIe fitted in a small package. The hard drive is even smaller than a US postage stamp. The reduced size gives manufacturers the flexibility in design. With this nano SSD, the new options have been opened up for computer manufacturers. Other companies can now develop computing equipment with more room to other components.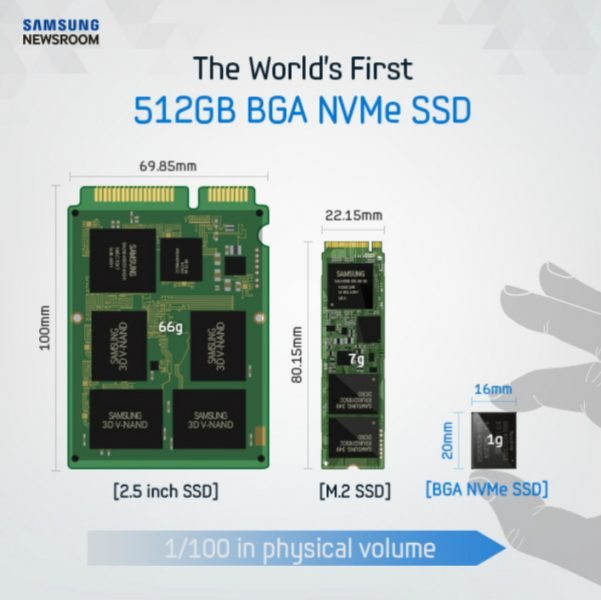 Small yet Powerful
The SSD may look small but is very powerful containing 18 Samsung chips, a high performance controller along with 4GB of DRAM as well. Samsung claims that it takes only 3 seconds to transfer a 5GB equivalent full HD-movie. It is up to 1500 times faster than a standard hard drive when talking about random read/write input output operations per second.
This world's smallest SSD has been designed for next-generation PCs and ultra-slim notebooks. The volume of PM971-NVMe is just about a hundredth of a 2.5-inch SSD and offers magnificent performance. It is capable of offering sequential read/write speeds of up to 1500MB/s and 900MB/s respectively.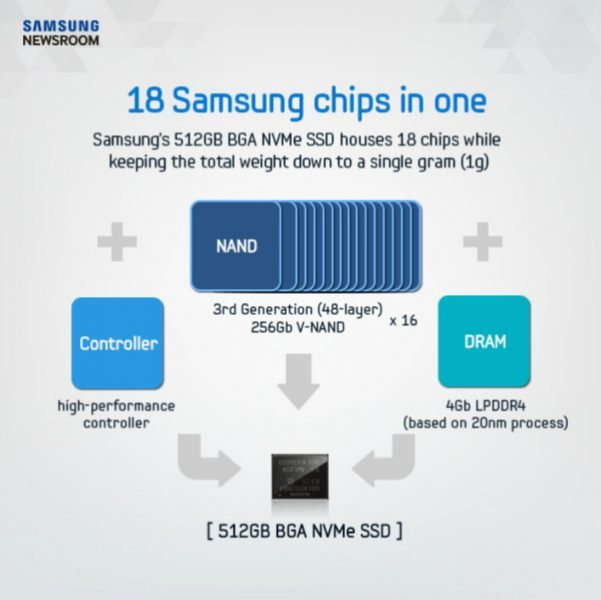 High Storage
The storage of this smallest SSD goes up to 512GB. It combines the 16 of Samsung's 48-layer 256-gigabit V-NAND flash chips and comes in a single GBA package. The company is planning to offer the SSD in 128GB, 256GB and 512GB configurations.
Also, have a look at world's thinnest laptop, HP Spectre.
Share your thoughts on the story in the comments.