Every computer user finds ways to improve the typing speed. When it comes to improving typing skills, one may think of typing classes and computer skills courses. An easy way to improve your typing speed is offered by online websites.
These websites offer free to use, interactive games that can dramatically enhance your typing skills. These online tools, programs and apps focus on increasing speed of your typing and also let you compare your score against your friends and guests. But lets not forget, every typing experience starts with a good keyboard and if you typical day involves lot of typing then I would highly recommend getting a mechanical keyboard. It will surely change your typing experience. If you would like to see what mechanical keyboards are available and which one is good for you then please read our reviews on the top mechanical keyboards.
Best ways to improve your typing speed:
Typing.com is a free online typing tutorial and is ideal for all skill levels. It includes several entertaining typing games as well as free official typing certifications. It offers you a proven way to improve your typing skills. You just need to sign up for free at the website and get access to loads of courses available for you. It supports a large number of international keyboards such as United States Standard, United Kingdom, Italiano, Dvorak, Finnish and many more.
Cost: Free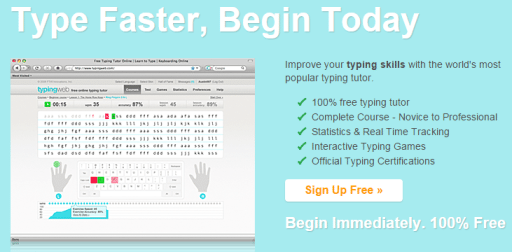 Keybr.com is a web application that teaches you touch typing. You can sign up at the website and save the results and compete with others. It is one of the best sites to improve typing speed. For beginners as well as professionals, it offers a good way to get insight about your current typing speed and improve it dramatically. Just go to the website and click on Practice Typing and start your tests that moment only.
Cost: Free

Typeracer is one of the popular online apps to improve typing speed. It lets you increase your typing speed while racing against others. There are several options to enhance your typing speed such as you can practice on your own, race against opponents or can also invite your friendly to a private race with chat. It offers you an entertaining and exciting way to improve your typing speed.
Cost: Free

Rapid Typing Zone offers you a large number of typing games that let you improve your typing speed. You can choose the ones according to your preferences. Some of the popular ones include Fast Typer 2, Snow Typer, Type Fast, Fast Typer Game and Albarn's Attack. Just go to the website and start your journey towards improving typing skills.
Cost: Free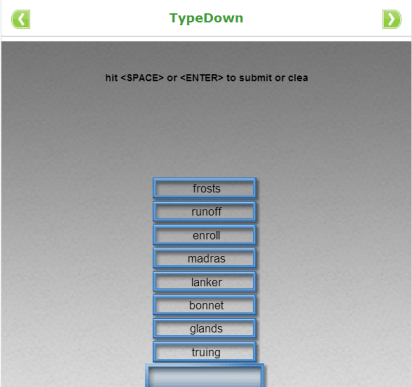 The website provides you a number of options that help you enhance your typing skills. You can choose from several exercises and lessons and gain speed in typing. One can also take speed test to analyse the WPM. It comes with a user friendly layout and with regular practice, you can greatly increase typing speed.
Cost: Free

10FastFingers.com offers you a quick way to test your typing speed. It offers you free Typing Speed Test, allowing you to see how fast you can type. You can also compare your results with friends. The typing test uses top 200 words of over 40 languages to let you type the most frequent faster. It offers easy to use typing tests, typing competition and more to improve your typing skills.
Cost: Free

Do you use some other program or tool for improving typing speed? Let us know about it in the comments!
If you like our content, please consider sharing, leaving a comment or subscribing to our RSS feed to have future posts delivered to your feed reader.

Please follow us on twitter @CodeRewind and like us on facebook