Beautiful Bear Notes App
If you are looking for a replacement for Evernote or Apple Notes, take a look at Bear app. It is a gorgeous new app for writers and note-takers. The app offers the ease of note-taking to both editor and organization. It is our app of the week. Let's take a look at its features:
User-Friendly Interface
Bear Notes app features a simple and intuitive design with neat formatting options and a clean design. The app includes three parts: sidebar on the left, editor on the right and Notes List in the middle. It includes nicely designed themes with complementary colors that are aesthetically pleasing on the eyes.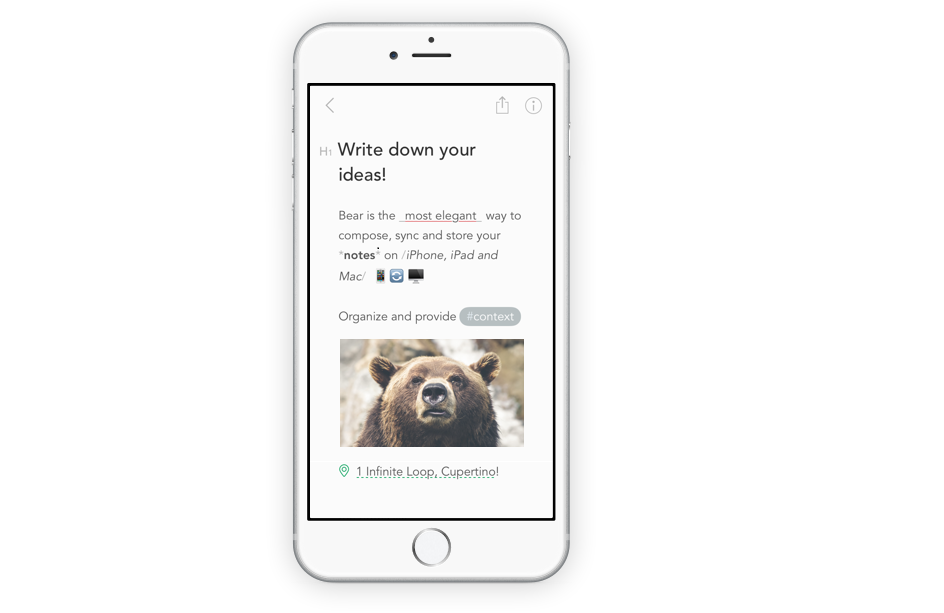 Easy Organization
You can also link to notes within notes. The feature that makes Bear different from most other note taking apps is the ability to link notes to create a whole body of work. It also allows you to easily use hashtags to organize your thoughts. Organizing notes is very easy with this free app. One can use hashtags to quickly find and organize notes in the way you like.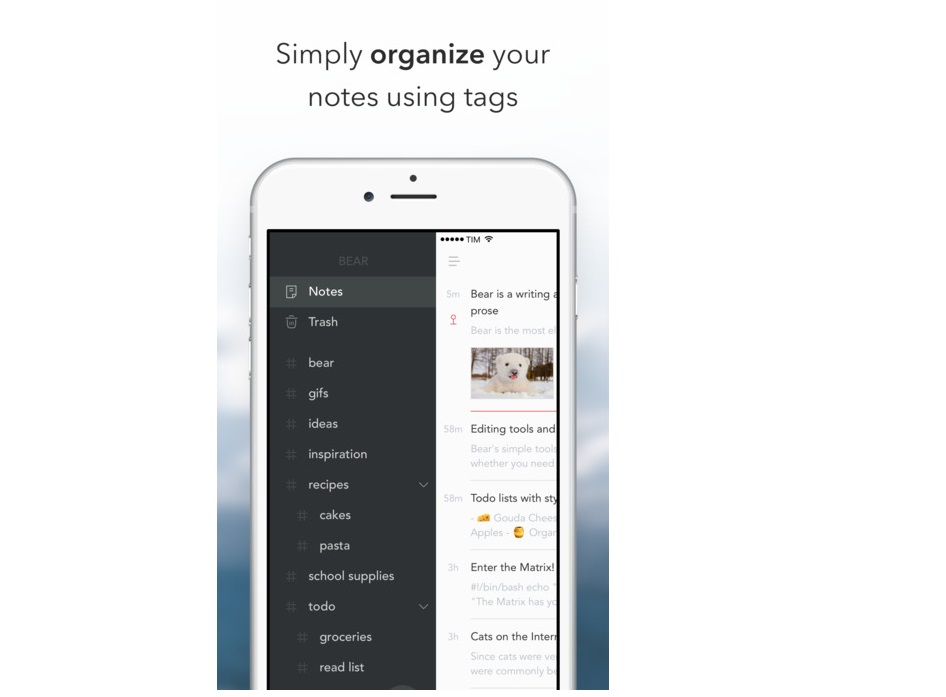 Useful for Writers
This flexible app does lot more than basic notes and to-do lists. The app is targeted towards all kinds of users while appealing mainly to those who write frequently for blogs or busy social media accounts. It is also very useful for coders or serious pose writers. When you try it, you are sure to fall in love with the app's intuitive design. Each and every detail of the app has been optimized. One can add checkboxes, bullet points and ticks to list items on the iPhone app simply by typing a hyphen or plus or asterisk sign.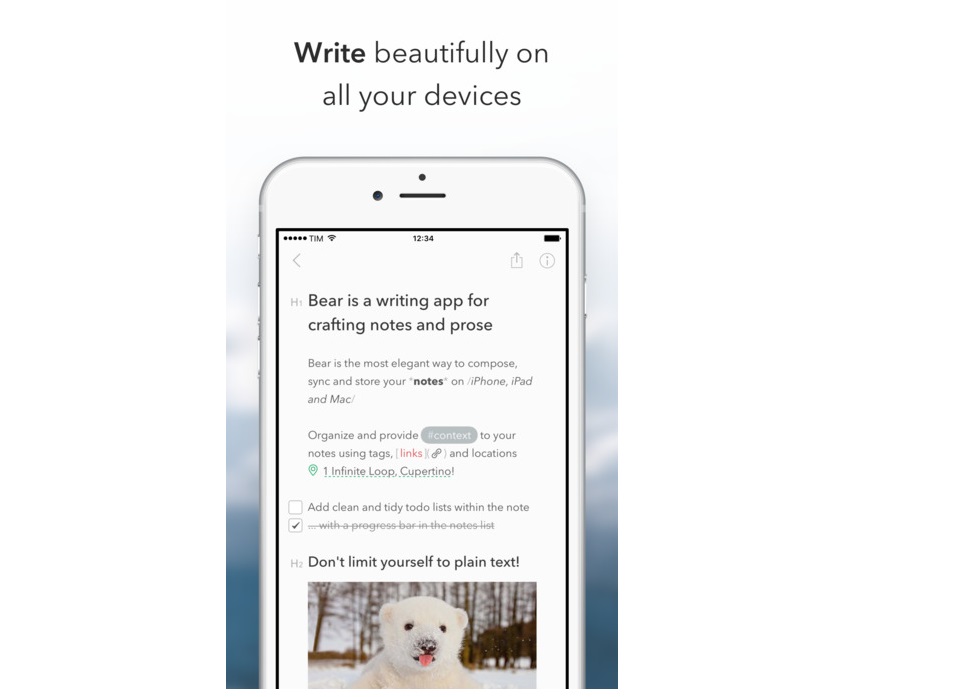 Advanced Markup Editor
The app offers in-line support for images and pictures. It can be comfortably used to compose complicated content embedding images and links. Bear is compatible with external keyboard so that you can do some serious typing without need to carry your Macbook. In addition, it also comes with a full-screen mode to let you concentrate on your writing. The advanced markup editor supports and highlights more than 20 programming languages. The app allows effortless, secure and private multi-device sync via iCloud.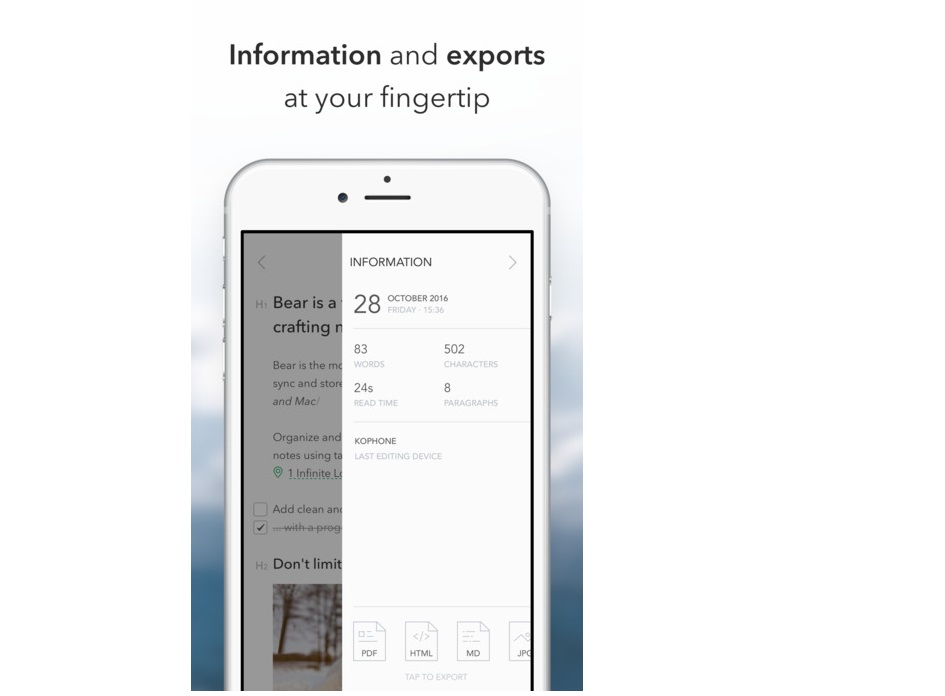 Some useful insights about Bear:
Cost: Free
Ratings: 4 out of 5 stars
Publisher: Shiny Frog di Matteo Rattotti e C.S.N.C.
Requires iOS: 9.0 or later
Download it
Wrapping Up
All-in-all, Bear Notes app has been designed with a lot of care. It has powerful functionalities and gives a strong competition to Apple Notes. The app is completely free to download but if you want to use pro features such as cross-device sharing, you can sign up for a paid service. It costs $1.5 per month or $15 for a year.
Give it out a try and let us know how you feel about it in the comments!